Just outside Berlin, in Brandenburg, lies Spreewald, a forest with a canal running through it. It's a good place to enjoy some distinctively German natural landscape. The Spreewald region was named a UNESCO Biosphere Reserve in 1991. The biosphere is 475 square kilometers and the canal is 1,575 km long.From Berlin, it is easy to get to Lübbenau Station. Spreewald is a very popular spot for recreation and sightseeing and it always has a lot of sightseers. There are various other ways to get into Spreewald, and you can hire boats in the pretty town of Lübbenau. Renting a canoe or boat, or riding by bike lets you explore Spreewald forest by yourself. But to really enjoy the flow of the Spree River and the canal, Spreewald's special features, it is of course best to ride a boat and soak up the views from onboard as you go through the forest.If you are not very interested in watersports, or you are worried about your poor sense of direction, there are boat tours as well, so it would be a good idea to go on a tour.
The broad river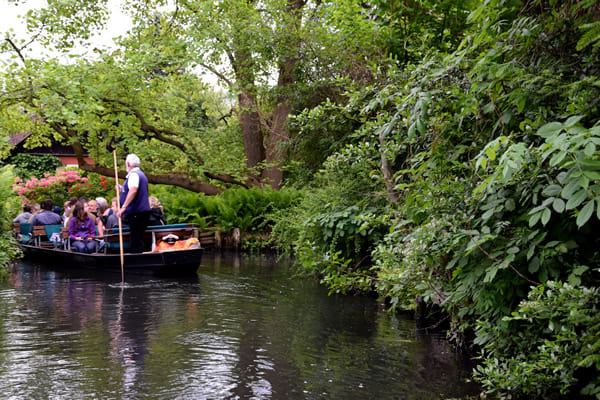 The boats used for the tours let you sit in comfort while you enjoy the slowly unfolding scenery.
Apart from the postman, no one is permitted to use a boat with a motor attached, so as to protect the environment. There are of course people who live in the forest. Typically the houses in Spreewald are old wooden houses. Most of the houses are located by the water's edge, so they also have places for boats to tie up.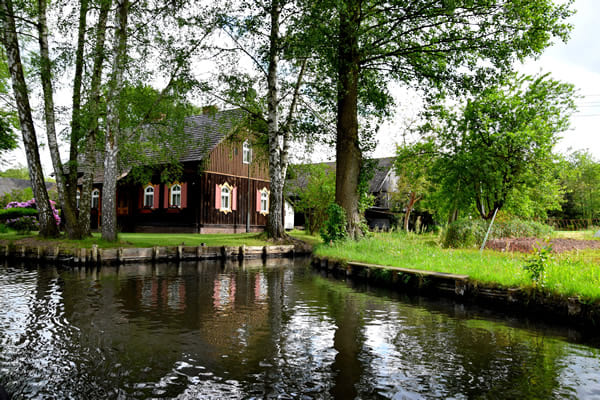 A house in Spreewald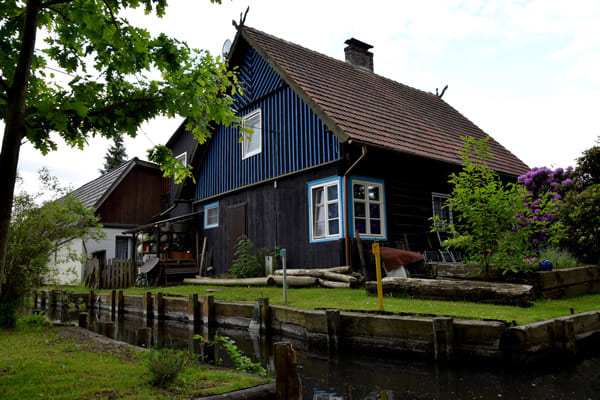 You can see the symbolic figure of a snake in a cross shape on the roof of this house. It's a symbol for the snake king (Schlangenkönig). This imaginary figure, the snake king, is thought to protect the inhabitants of the house.
In the area around Spreewald you can see signs of the culture of a small ethnic group called the Sorbs, who have lived together in the area as well as Brandenburg and Saxony since the 6th century. Place name signs appear in both German and Sorbian and there are also numerous Sorbian festivals. Some schools use Sorbian, and there are even Sorbian language TV programs.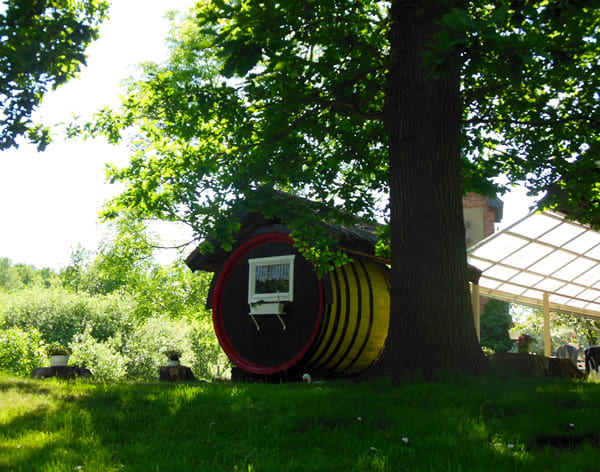 Someone has built a cute little house using a barrel previously used for pickling cucumbers.
If you've developed an appetite by the end of your boat tour, I can recommend the Spreewald fish specialty or renowned pickled cucumbers.