I have a friend who wanted to get a cat, so I went with her to the tierheim. Tierheim literally translates as "animal home," and it's what we would call an animal protection center (dobutsu aigo senta) in Japan. In Germany, though, you can't buy dogs and cats in a pet store like you can in Japan. You either get them from someone whose pet has had babies, or buy them directly from a breeder.People who aren't concerned about having a breed with a specific pedigree go to the tierheim. These animal shelters are typically operated by an animal welfare organization—meaning that they run on the donations they receive. Animals that have been abandoned or pets that have been given up by owners who are no longer able to care for them live in the tierheim until they can find a new home. The tierheim in Berlin is huge, so they can't put it in an urban area. The facility that was originally set up for the shelter in 1901 was in the city, but in 2001 it moved to a modern building located in the outskirts of Berlin. It's far, so we borrowed a car from a friend in order to get there.The Berlin tierheim is on an enormous 16-hectare site. In addition to three cat buildings and six dog buildings, there's also a building for small animals—and even one for exotic pets. One thing that's a little different about this place is the spacious cages they have for the monkeys. There are monkeys that were formerly in a zoo or with the circus, and some that have lived at the tierheim since they were given protection from being used as lab animals in the days of East Germany.The tierheim therefore gives a loving home even to animals that are not meant to be pets, and when they pass away, buries them in an on-site graveyard.The map not only shows where things are at the shelter, but it also gives you an idea of how the buildings look from above.
The map not only shows where things are at the shelter, but it also gives you an idea of how the buildings look from above.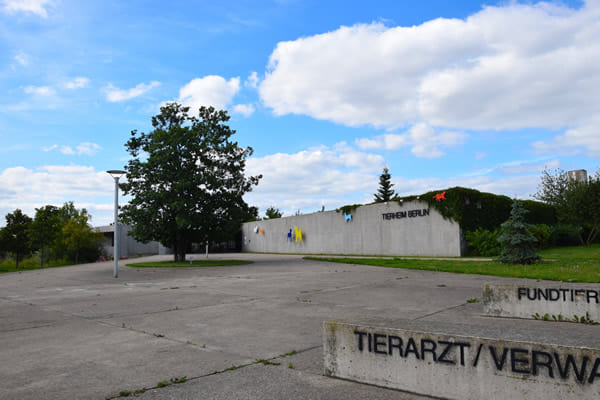 Entrance to the tierheim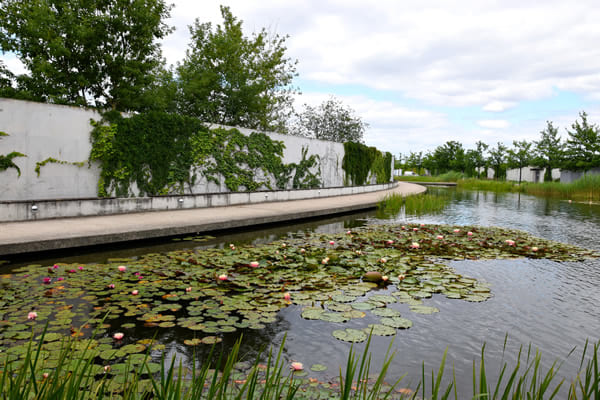 Dietrich Bangert's modern architectural features are especially apparent when viewed from above. This modern building has even been used as a backdrop in several movies, among them the American film Aeon Flux.
Some 12,000 animals remain at the tierheim for a full year. Many find new owners right away, but sadly, a few of them have to stay for a long time. Animals that are skittish or have poor dispositions because of negative experiences with past owners require a person who is kind, patient, and experienced with pets. The staff at the tierheim work to retrain these difficult animals while they are waiting for someone like that to come for them.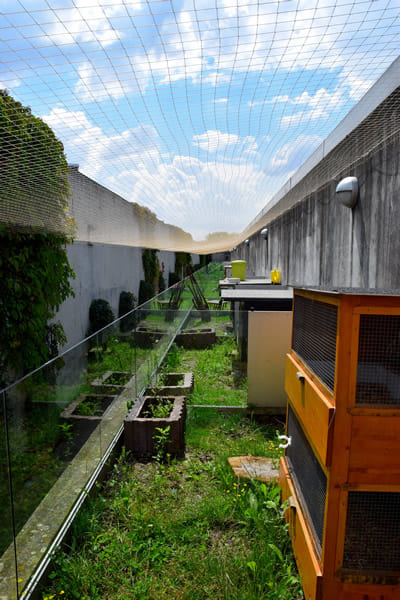 The animals are not just caged—they can also go outside. This is a play area for small animals.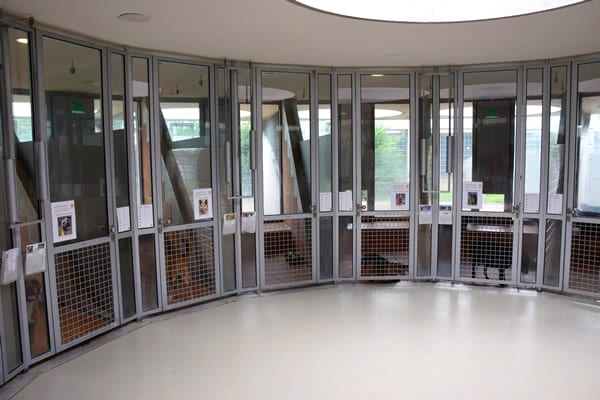 Inside the dog building. A brief description of each animal is posted next to the cage.
Animals who are dropped off at the shelter are given a medical examination by the tierheim veterinarian. If they have a chronic disease like diabetes, they qualify to receive medications from the tierheim vet for life—even after they leave the shelter.The most important thing when choosing a cat here is not how it looks, but how compatible it is with the owner. Because the tierheim makes the happiness of the animals its first priority, there are qualifications for the future owners as well. There were four cats who were supposed to be well-suited to my friend's lifestyle and living environment. The staff gave us a detailed explanation about how to get to know the cats, and we were able to go inside the cat cage as well.After careful consideration, my friend decided on one of the male cats and signed the ownership agreement. In addition to information on the cat, the contract included information on the owner and the owner's living quarters, which would be the cat's future home.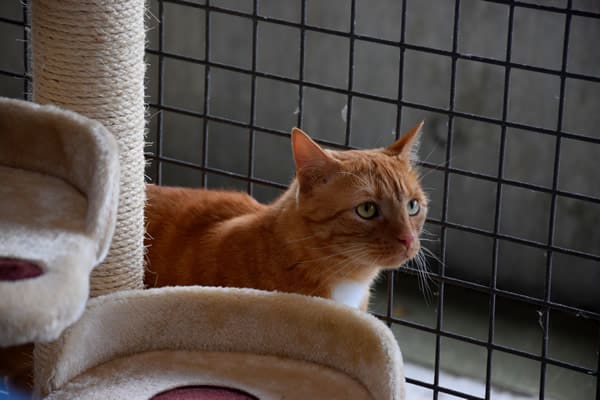 This is the cat that my friend ended up choosing. He was quite shy at first, but now he spends hours sleeping on the sofa at his new owner's side.
The tierheim does follow-up survey to make sure that the cats are happy and healthy in their new environment, so staff sometimes drop by the owners' places at random.I had always thought of animal shelters as depressing places, but now that I've actually gone to one, I realize how hard the staff and volunteers are working for the sake of the animals—even though it's of course still sad to know that they've been abandoned. Although there's no obligation to do so, many of the people who get animals from this shelter do end up becoming members of this animal protection group and supporting its activities.If you're thinking about getting a pet, I think it's important to consider whether you might be able to give a loving home to one of the many animals looking to be adopted, rather than purchasing one at a store where they're simply treated as merchandise.