There are about 20,000 Vietnamese people living in Berlin. The former East Germany and Vietnam were both socialist countries, so there was a link between the two.
Migrant workers from Vietnam started coming to work in West Germany (Gastarbeiter or guest workers) and East Germany (Vertragsarbeiter or contract workers) in the 1960s. Migrants were accepted into both the West and the East because of a lack of manpower. Both West and East Germany miscalculated that these workers would work for a number of years then return to their home countries.
A large number of Vietnamese people came to East Germany under a 1980 agreement with Vietnam. By 1989, about 60,000 people had arrived in East German cities like Dresden and Berlin. The workers had to live in special dormitories because they were doing poorly paid, grueling work, in the textile industry for example. There were many migrant workers among the first to lose their jobs following Germany's reunification. The new government decided to repatriate these workers. There were Vietnamese people living in West Germany, including West Berlin, but they had arrived in Berlin as refugees, so they were given opportunities to learn German. On the other hand, the Vietnamese people in East Berlin were working as laborers, so their circumstances differed.
To stay in Germany they needed to have work, so many of them started up their own businesses in cafés, vegetable shops, flower shops, or clothes alteration shops.
And of course there are wholesale markets catering to Vietnamese people, because of the large Vietnamese population.
The largest Vietnamese market is Dong Xuan Center, in Lichtenberg. Four prefab warehouses make up this market, which takes its name from a famous market in Hanoi.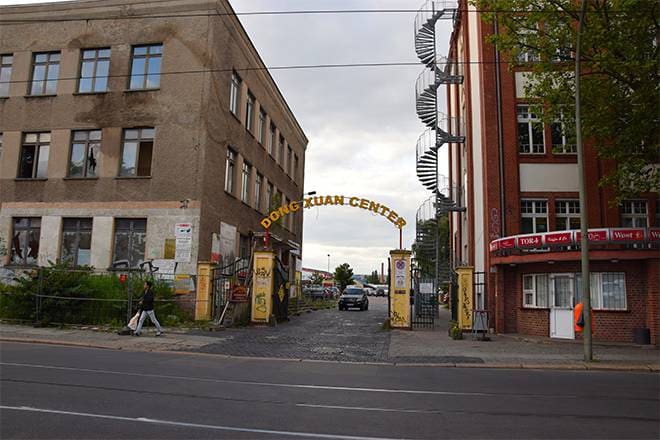 The entrance to Dong Xuan Center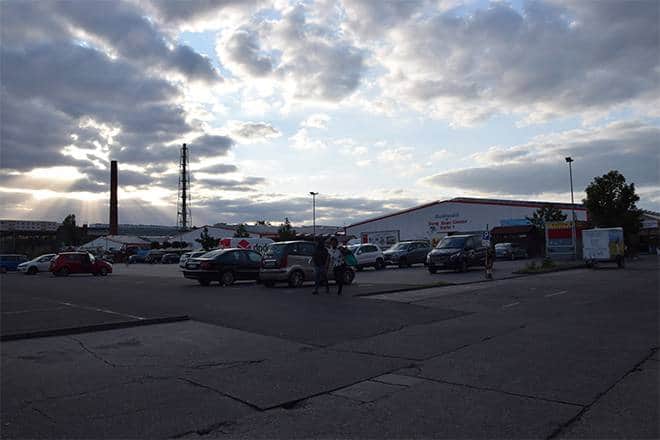 You can see the prefab warehouses in the background.
All sorts of people come to the market, including shop owners purchasing stock, individuals doing their shopping, and people just having a look out of interest.
When you go to Dong Xuan Center you find goods that are available at any retail store across Berlin, so you know where they're from. But the license plates on the cars in the parking space show that some shoppers come from a long way away. The goods on sale include clothes, artificial flowers, toys, and so on. If you want to buy food for home or restaurant, you can get anything at the Dong Xuan Center supermarket.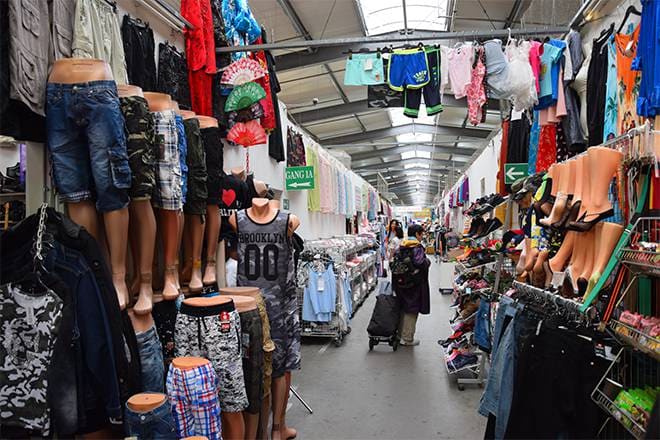 I only took 2 photos in the prefab warehouses because people don't like being photographed in the middle of work. The photo at top is the prefab warehouse where they sell only clothes.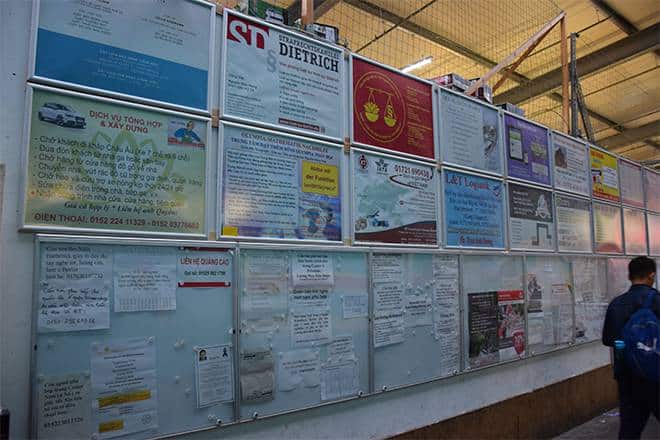 These ads are all in Vietnamese, from car dealers (many of those) to home tutors.
There are also all kinds of services on offer. Next to a small beauty salon is a massage and nail salon, and also a hairdresser that young Vietnamese go to.
And after your shopping, you can eat some delicious Vietnamese food at any of the various restaurants.