Germany's waste sorting system has been frequently publicized even in Japan. This time, I'd like to share with you information detailing just how effective this system is in reality, and what waste sorting system as well as unique countermeasures for waste disposal are in place throughout each of Germany's regions. The common waste disposal method in Germany is separating waste in the household similar to Japan. What's different, however, is that a waste disposal bill is included in the rent for an apartment. In addition, landlords are supposed to prepare waste bins for sorting trash, and tenants can take out the waste at their preferred time. Depending on the region, there are differing waste disposal rules, by which waste such as paper, glass, plastic bottles, drinking water packaging, etc., are then passed onto the recycling market. In general, collecting days for bulk waste are set for the entire year, and if you leave the waste out on the street during those specific days, the waste collection vehicle comes to take them to the treatment plant. Typically, waste bins for throwing out waste are attached to a building. Based on a color-code system, these bins are colored blue, yellow or green to serve as labels for sorting the waste. In Berlin, waste bins are separated into the following colors. Yellow bin = paper packaging for beverages, thin plastic materials, plastics Black bin = everyday waste Brown bin = food waste Blue bin = paper and cardboard Orange bin = glass only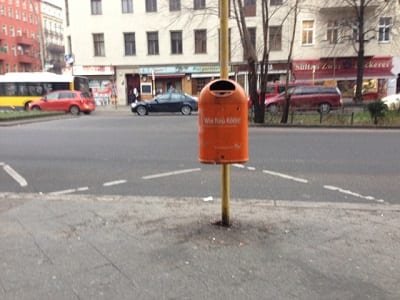 The glass only waste bins are further separated into white glass, brown glass and green glass. In cases when it has been found that this sorting method has not been followed, you will be required to resort the waste. Depending on the situation, you may be fined. In Berlin, share houses where a number of people rent a house together are very common. But since Berlin and other towns all have their unique rules, you realize that there really is no common concept when it comes to sorting waste. Especially when those from different towns or nationalities share a house, the differences in each of their methods can turn out to be a source of confusion. Since the bulk waste collection center in Berlin is in a remote location and citizens are to take the bulk waste there and throw them out themselves, that would mean that many of Berlin's youths who don't own cars must rent a car in order to go. But few are willing to take action to that extent, and the sight of electronic goods thrown out on the streets is very commonplace.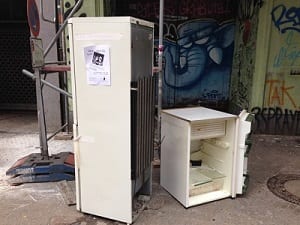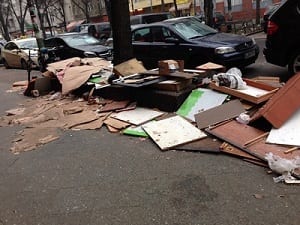 Right in front of me is a very nice piece of furniture that has actually been dumped on the street. Hidden in it are probably lots of stories about its previous owner.