In sharp contrast to September and its blue skies and fine weather, the temperature often drops to about 5 to 10 degrees in October, and you can feel the Winter approaching. I have started turning on the heater at home and wearing gloves and a scarf when I go out. Now that the summer has ended, the sky is always white or gray, and it will only continue to get colder. However, no matter what the season or weather, the one thing that never changes in the Netherlands is the sight of people riding their bicycles. As I touched upon last time, cycling is an essential part of daily life in this country The flat streets have designated bicycle lanes and traffic lights, so cyclists are not disturbed by vehicles or pedestrians, and can cycle at their own speed. You can see a vast number of people from young to old riding bicycles everyday. Cycling is my own main method of transportation. I cycle everywhere if it is accessible by bicycle, including to school, friends' homes, shopping, and workplaces. I use my bike to carry heavy items, and, since riding double is not illegal in this country I sometimes pick up or drop off friends. It is convenient not having to think about the time. You do not have to worry about the last train, bus, or subway, and can stay out as late as you want. On fine days, I have cycled with friends to places as far as 70 km away. Although I have not done this myself, some families take cycling trips together, even going to other countries, like Germany, Belgium, and France. Writing it like this makes it seem like it is all just fun, but, Dutch people take cycling seriously, and designated bicycle lanes are no playground. Those of you who have been to Amsterdam probably learned very quickly that this transportation system can be dangerous if you are not accustomed to it. While not everyone follows them, there are traffic rules for cyclists as well, like riding on the right and using hand signals when turning. If you do not turn on your bicycle light when riding in the dark, you can get fined 55 euros (about 7,400 yen). That said, the police were monitoring this very meticulously several years ago, but have luckily turned their attention elsewhere in recent years.   Cycling is different from public transportation in that the rider can choose what time to leave at their own convenience and can choose what route to follow. If you only want to cycle for certain parts of your route, you can carry your bike with you on the subway, train, or bus, and many people use folding bikes for commuting. In addition to folding bikes that are compact and easily portable, there are all sorts of bikes around. Recently, mountain bikes, trunk bikes (bikes with a large trunk on the front for carrying loads or small children), and road bikes have become common. You can even sometimes see bikes with a really unique construction made by creative mechanics and artists. The bike you can see in the video below was made by Fred Abels who made Dirk, the robot presented at Knowledge Capital. As there are so many different kinds of bikes, it is not unusual for people to have two or three in this country.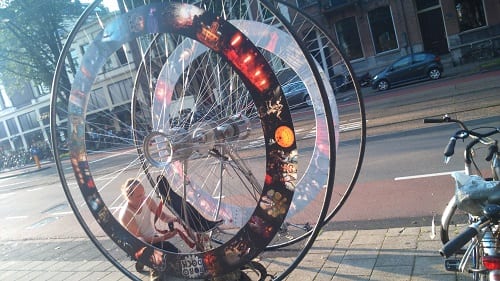 While the rules have become strict around Amsterdam Central Station, it is generally free to park your bike anywhere. When I parked my bike in front of a station in Japan, I was very surprised to come back and see a bill for a fine stuck to it. I was even more surprised when I went to pay it, and it was only 100 yen. There are many bicycle racks for parking your bike in town, but it is common to see bikes locked to bridges or poles, or just left standing on their kickstand. However, you must lock your bike properly in Amsterdam. This is because otherwise it might get stolen by dodgy people wanting to make some money by reselling it illegally. I have never bought one, but I have been approached a few times with, "Want to buy a bike? 20 euros." Some people paint their bicycle bright colors or decorate it so that it will not get stolen. Then it will stand out and be harder to sell.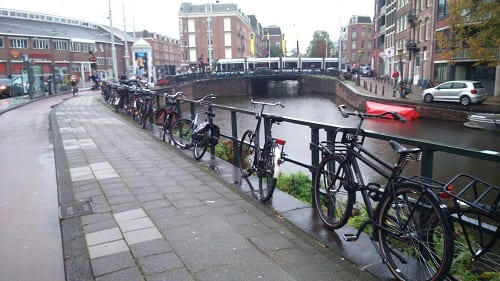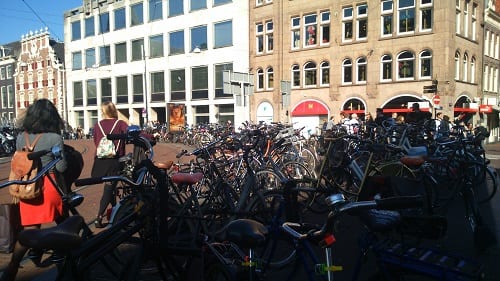 For many people in the Netherlands, bicycles are not only a vehicle to ride, but are an essential daily commodity, and are connected to all sorts of memories. I recommend even when just visiting Amsterdam, and by all means try riding a bike while you are here. It is a carefree, fun, and very Dutch activity.