One thing to enjoy in Holland when it is getting colder and darker outside is Dutch food. Hearty soups, stews, boiled potatoes and vegetables and tenderly cooked meat or juicy sausage with a side of applesauce warm up the body after a long day of work or studying. Although Dutch cuisine is not well-know outside of Holland, and Dutch people themselves don't take much pride in their gastronomic heritage (apart from Dutch cheese perhaps), it does have a very interesting history as it has gone through various periods of foreign influence. In the sixteenth century, Dutch cooking was not only influenced by the French kitchen which was very popular, but also starting at the end of the sixteenth century various new spices and flavours were introduced due to the colonization of countries such as Indonesia, Surinam, The Dutch Antilles and South Africa. Needles to say, the ways of cooking were also affected by the development of kitchen supplies (such as having a brick furnace at home) and what was in fashion at the time. In this respect, it might be difficult to determine what solely traditional Dutch cooking is. However, there is a broad range of foods which are considered unmistakably Dutch. Some of my favourites I will introduce below.First of all, bread is a big part of Dutch people's diet. Most people eat bread for breakfast and lunch and there are a lot of kinds to choose from, such as white bread, brown bread, whole-grain, multi-grain and spelt. Different from Japanese bread, Dutch bread is not sweet and even white bread is less fluffy than shokupan. This might not sound very appetizing, but to me there is nothing more delicious than a whole-grain sandwich with Dutch cheese.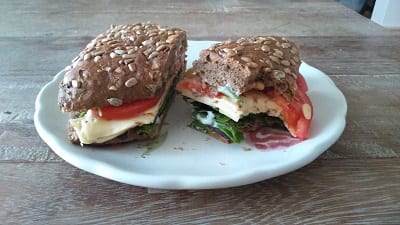 Although most bread is savoury, there is one type of sweet bread from the north province Friesland which is self explanatory called suikerbrood, or "sugarbread'. Big chunks of sugar are mixed in with the dough of the bread which partly melt during the baking process, resulting in a very sweet and partly gooey type of bread. It is delicious when eaten with a smear of butter.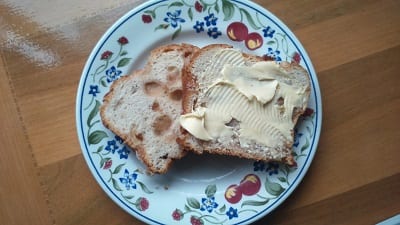 Next, a typical Dutch snack is de kroket. This is a deep fried ragout filled snack with breadcrumb coating. It is different from the Japanese Korokke in shape and filling, but it is said that the two are historically related. People eat them simply as a snack or on a slice of bread with mustard, as is shown in the photograph below. Although it does not look very inviting, it is definitely worth trying.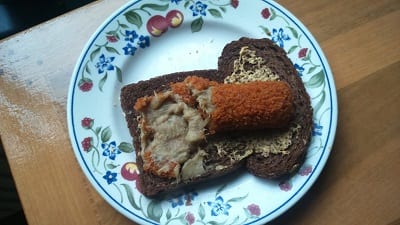 Lastly is an example of a dinner meal. Namely, hachee and mashed potatoes with red cabbage and apple. The red cabbage is sliced very thinly and mixed in with the potatoes, as is the apple. Hachee is beef cooked slowly with onions and some spices such as bay leaf and cloves. The two elements of this dish complement each other perfectly. Dutch put all food on one plate when they eat.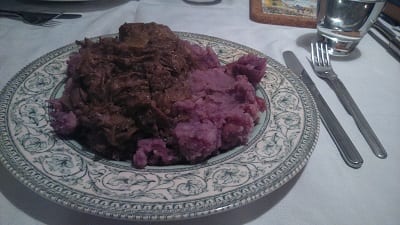 Many Dutch dinner recipes include potatoes, either boiled or mashed. Most of the time vegetables and meat or sausage are added and topped up with some gravy. It is a relative simple style of cooking, but the combinations are endless. If you would like to give Dutch cuisine a try, there are various restaurants in Amsterdam which serve Dutch home cooking. If you don't have the opportunity, there is also a Dutch restaurant in Osaka called 'Oude Kaas' (which means "old cheese") which I highly recommend.