For this mid-summer blogpost I've decided to take you all on a trip with me to the U.S.A. You might think that the U.S.A. has nothing to do with The Netherlands, but that is not true. As you know, the U.S.A. is a country of immigrants (apart from the native inhabitants that is), and the Dutch were one of the first to go to the new land. Maybe some of you know that New York used to be called New Amsterdam and was part of The Netherlands until 1667. And what about America nowadays? Statistics show that in 2014 there were almost 4.400.000 Americans with Dutch roots . That is a lot if you consider the population of the Netherlands is about 17.000.000. So where are we going? To the city of Holland in Michigan. First impressions are: a charming, clean city with different types of architecture and lots of green. Nothing very different from other cities in the area. But on a closer look there are already some elements which refer to the local ethnicities which meet the eye: Some stores have Dutch flags outside their window and a lot of last names spelled on buildings and banners are definitely Dutch in origin. I am excited. I wonder what Dutch culture means to Americans born in Holland and whether they speak Dutch. Let the search for information begin.Our first stop is a Dutch bakery/ lunchroom called "de Boer" (which is also a common Dutch last name). As we drive up, eye catching is the big red, blue and white sign with a windmill in the middle, and an orange flag with the names of our former queen and our current king swaying in the wind. There is no mistaking this is the place. "The fourth generation of a Dutch baker's family established this location in 1998" it says next to the door. Entering there is a bakery and store on the right and a lunchroom area on the left. My eyes glide over the showcase. I see donuts and some other pastries which are not particularly Dutch. Behind the counter however there are shelves with hearty looking bread. It is quite crowded but I succeed in getting the attention of the man behind the counter. I ask him what kinds of Dutch brown breads they have while trying to squeeze as many other questions in before we finish at the register. The man tells me that he himself isn't Dutch and that he doesn't understand Dutch, but that the owner of the store is and does. "They go back regularly" he says. Other than that there doesn't seem to be anyone in the store who can speak Dutch. On the menu of the lunchroom area I see that almost all dishes aren't Dutch, except for Dutch peasoup and Dutch krokketten (クロッケ). I really want to try and see if it tastes any different from back home. However, walking over to the lunchroom area, I quickly get reminded that they are closed for the day (although the website said "until 3PM"!) so I take my bread and leave the store a bit disappointed. On to the next stop!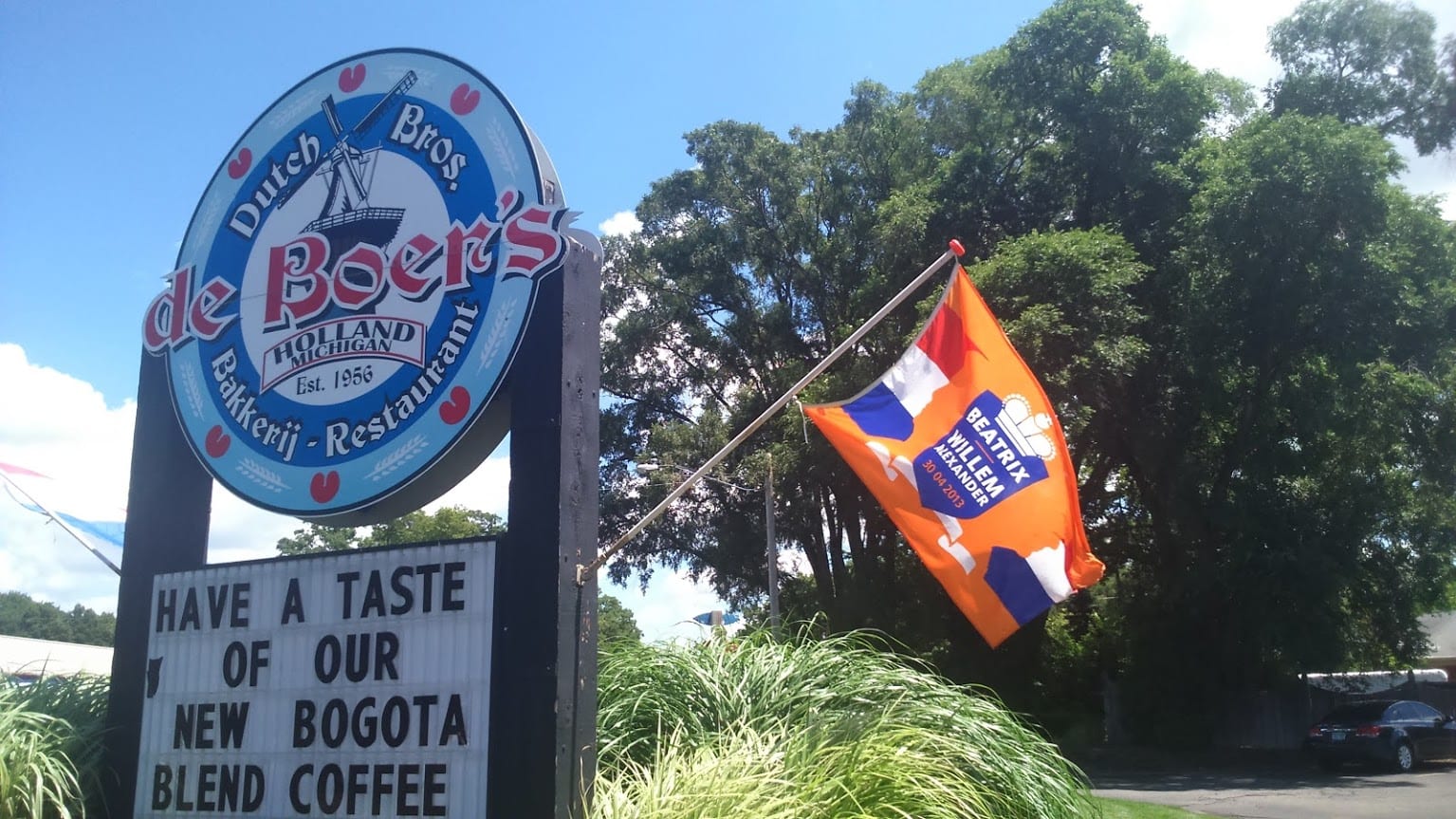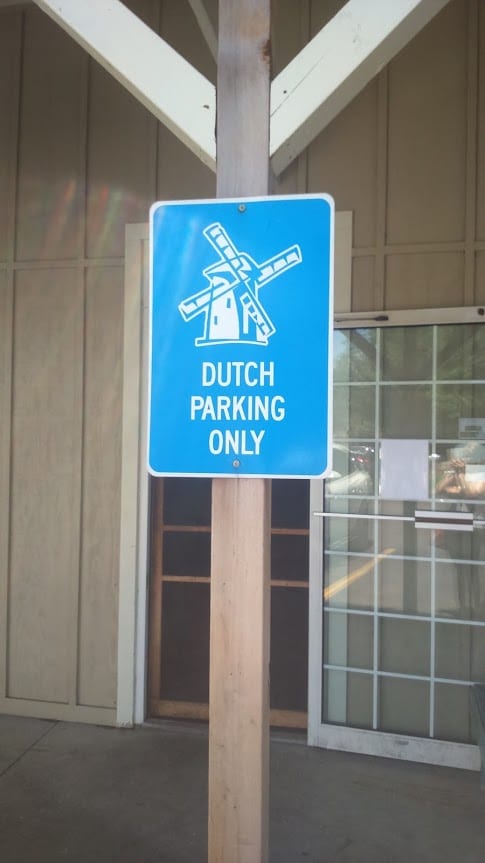 Next up is the Holland Museum which houses the history of Dutch immigrants. Before crossing the street to get to the museum I spot another Dutch flag from the corner of my eye. It is a vintage candy shop called "Poppin Huis" with two children in Dutch traditional wear on the logo. This time I have more luck. The man behind the counter, named Randy, is a third generation Dutch man. He happily tells me about his family's history when I ask. His grandparents boarded a ship called the "Phoenix" in 1847, but it was destroyed by a fire and the ship was sunken. Although many people died in the fire or in the cold water, his grandparents survived and came to Holland. Although Randy doesn't speak Dutch himself, he did choose to put the Dutch word huis in the name of the store because of his Dutch heritage. When I ask him if there are a lot of Holland-born Americans who speak Dutch, he tells me there are some, but the need for the language fades with every generation. He remembers his father being able to speak some, but he himself only knows a few words. However, traditional Dutch culture does have a special meaning to the city of Holland. There are several museums and Dutch cultural sights to visit, as well as festivals held throughout the year. He adds that because the Mexican and Laotian population has grown, those cultures are also being celebrated, combined with Dutch events! It really shows that the people of Holland integrate and celebrate various cultures really well. I buy a bag of freshly made Dutch cookie-flavored kettle corn; a Dutch-American fusion snack. I set out to find a Dutch speaking American today.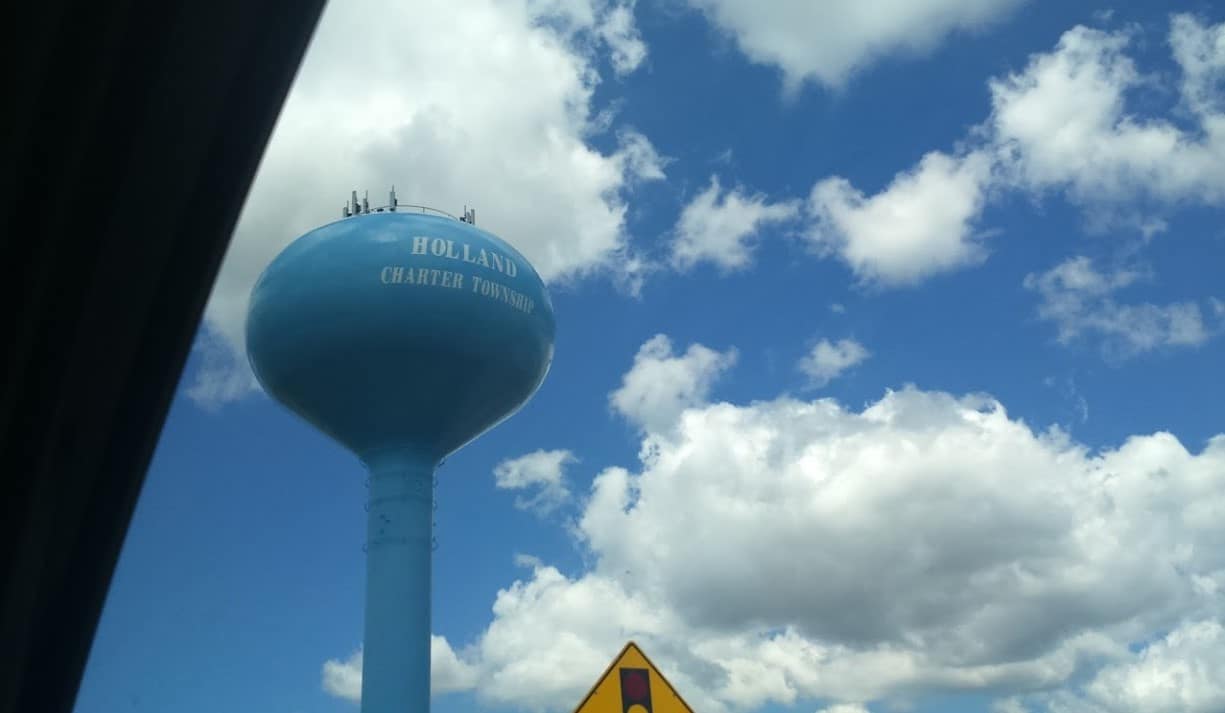 The museum across the street is completely empty apart from the girl behind the counter. When I ask her if she's born in Holland she tells me that she's actually not from around Holland and doesn't know any Dutch. The exposition inside is quite limited but there are some interesting black and white photographs of Dutch companies like Heinz pickles. It is strange to imagine Dutch people, just a few generations back (also) in 1847, coming to the area and founding the city.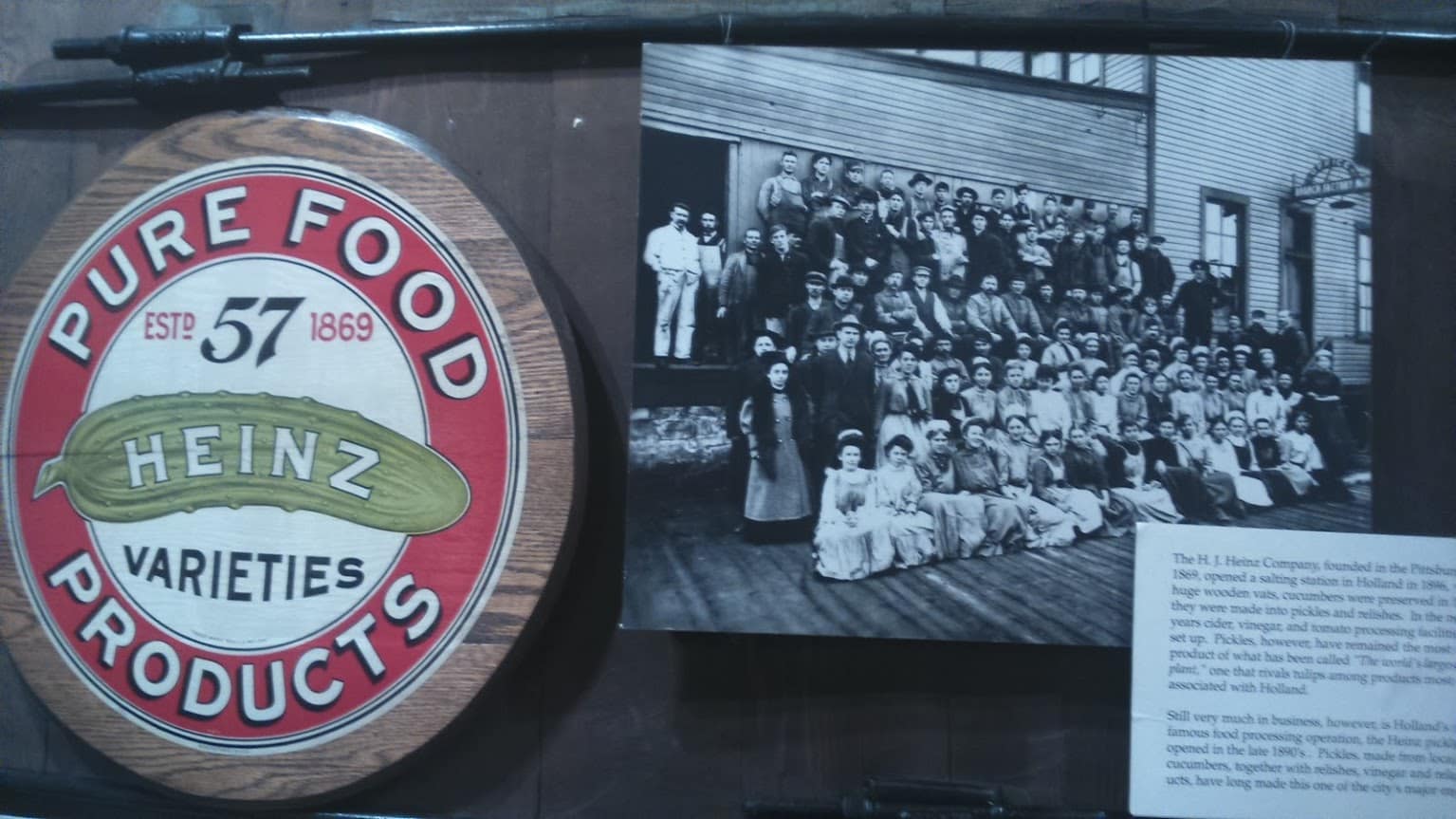 Next is Windmill Island Gardens; a Dutch park with a windmill and some Dutch tiny houses with gift shops inside. All staff are in traditional Dutch costume. This surprises me, because even in The Netherlands that is quite a rare sight! There is a wedding going on and I quickly walk towards the main attraction of the park which is the windmill "de Zwaan" ('The Swan'). There is a tour going on and the tour guide explains that the mill was brought from The Netherlands to the city of Holland in 1964 especially for the park. It is an active mill and people can buy the flower they produce. The landscape around the mill, which is filled with tulips during the tulip time, is now green with some flowers dying from the heat. I ask an old lady in Dutch costume if there is anyone who can speak Dutch at the park. "No" she says, "not today I think". At this location traditional Dutch scenery seems to be copied quite correctly, but I think that's all to enjoy. I wonder if the bride and groom chose this location because they have Dutch ancestors or because they like the garden. The last destination on this one day trip is Nelis' Dutch Village; a Dutch amusement park. On entrance it looks cute. It is a village build in traditional Dutch style and all areas of the park have their own function; there is a playing area, a farm, a cheese store, a wooden clog workshop, a candle workshop, a Delfts blauw store (delfts blauw are Dutch ceramics) a giftshop, Dutch waffle making for kids and again all staff wear traditional wear. It is quite big and pleasant to walk around. With a small canal running through the center of the village, it really looks exactly like The Netherlands. Nelis' Dutch Village has been established in 1952 and served as a outlet location for the family Nelis to sell tulip bulbs and souvenirs. It became very popular as a tourist attraction and grew from there. The Nelis family immigrated to Michigan in 1910 and what they do is still a family business. This location really has some interesting history to it. At 5 PM the final klompen dance performance started and I was even more amazed. I don't think I have ever seen traditional klompen dancing with my own eyes, but it totally resonated with what I knew about it (Even when you google "klompendans", not a lot comes up). Please check out the video to have a look. The dance is performed by local high school students who work at the park.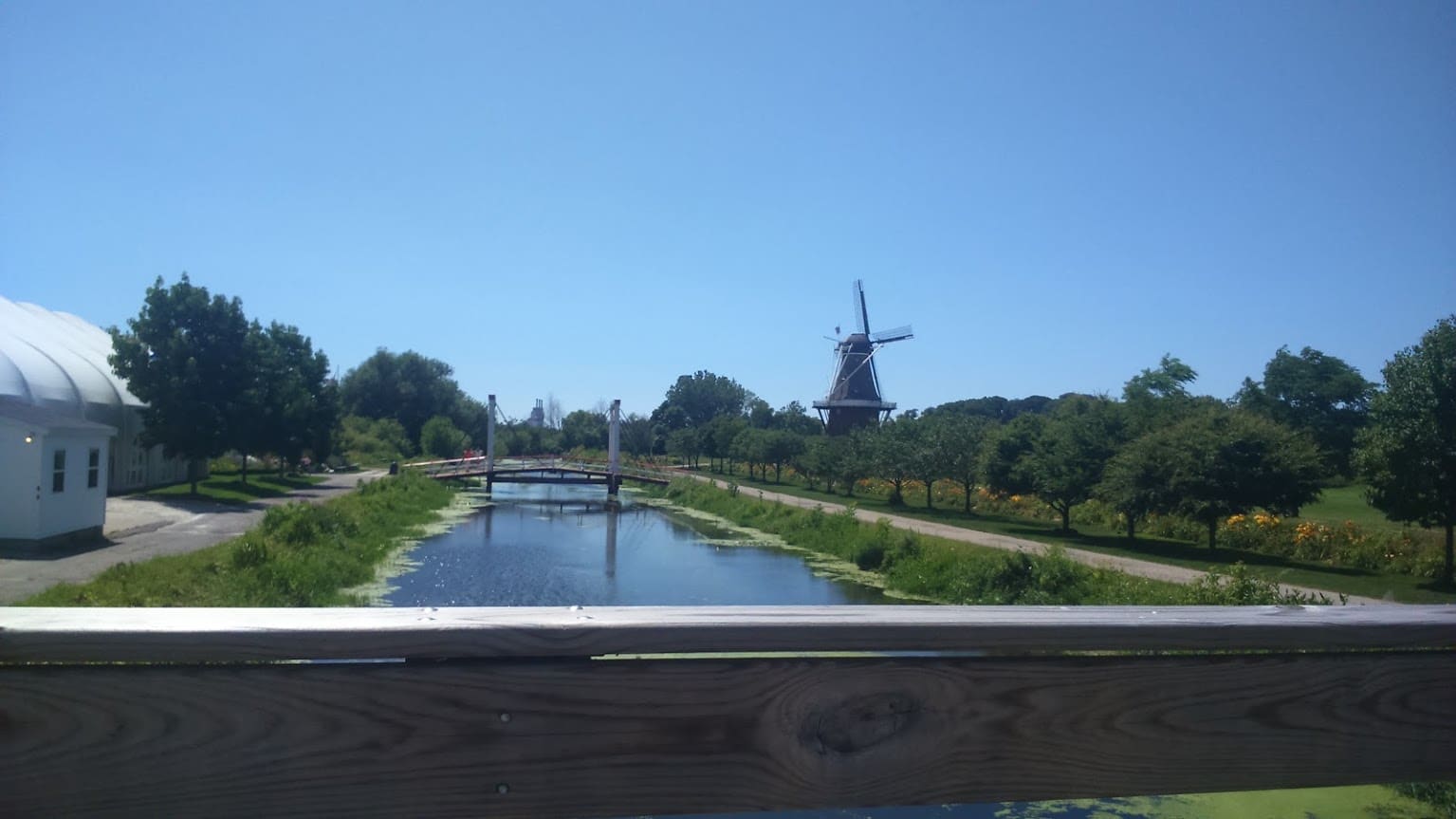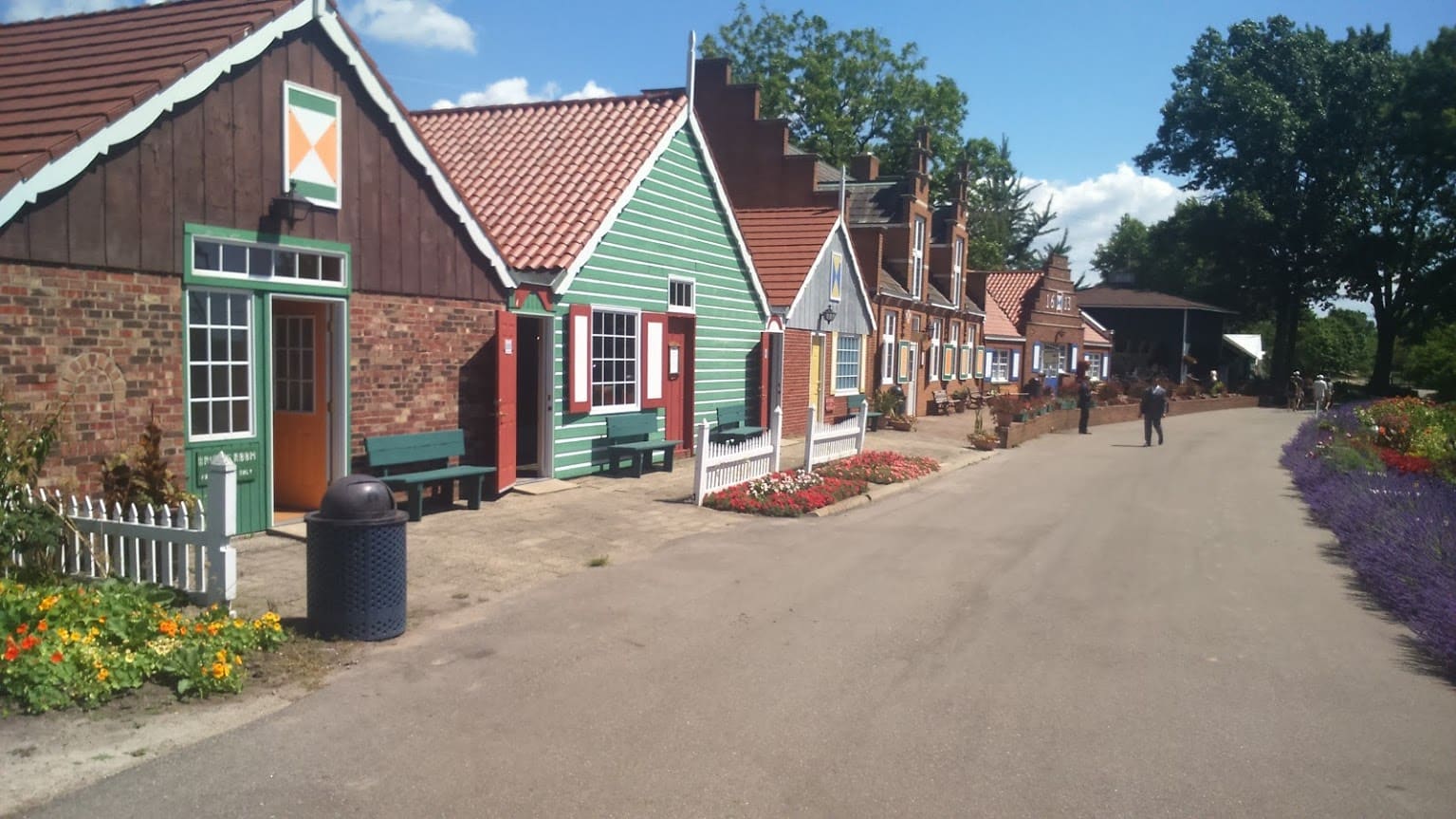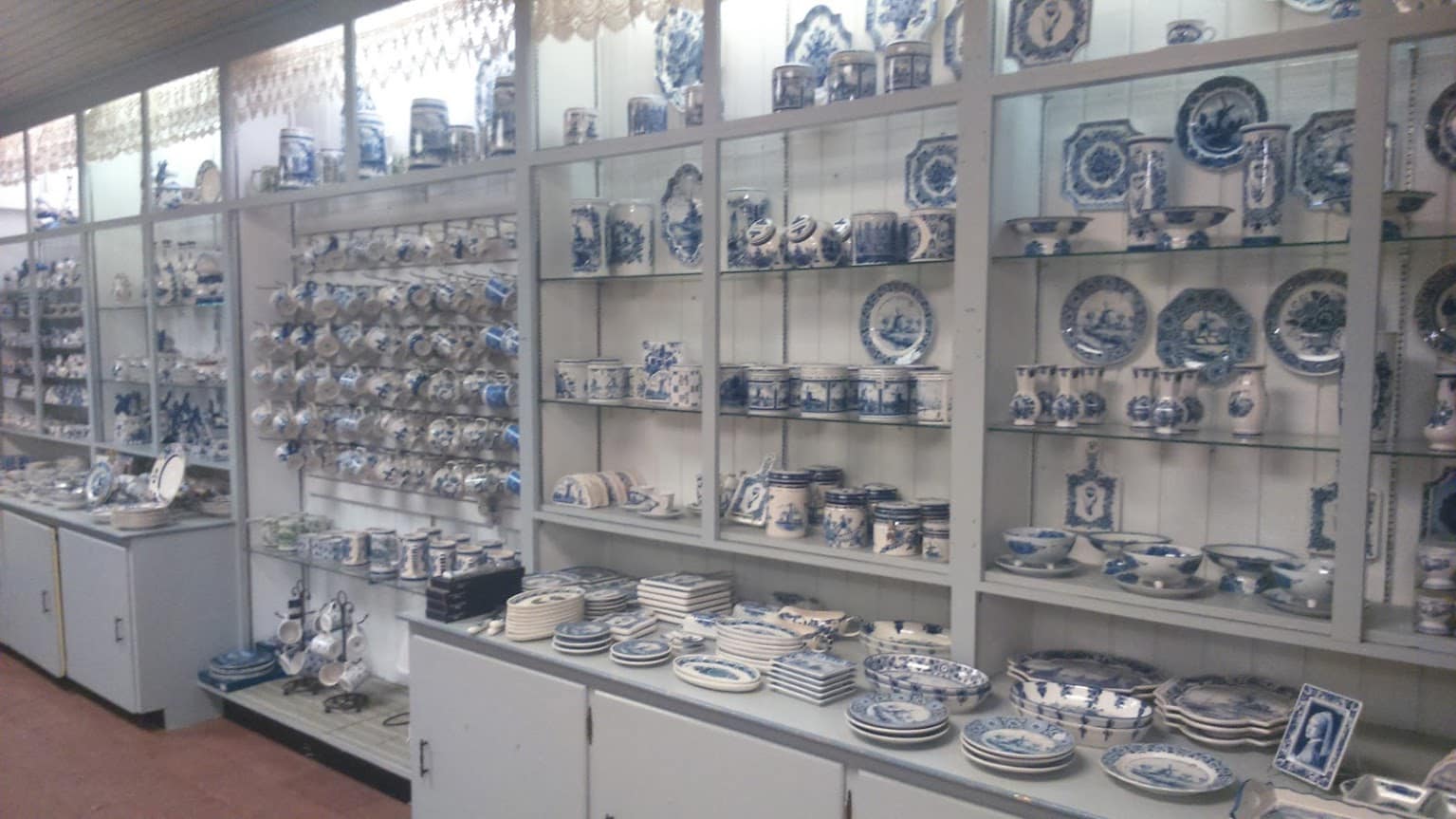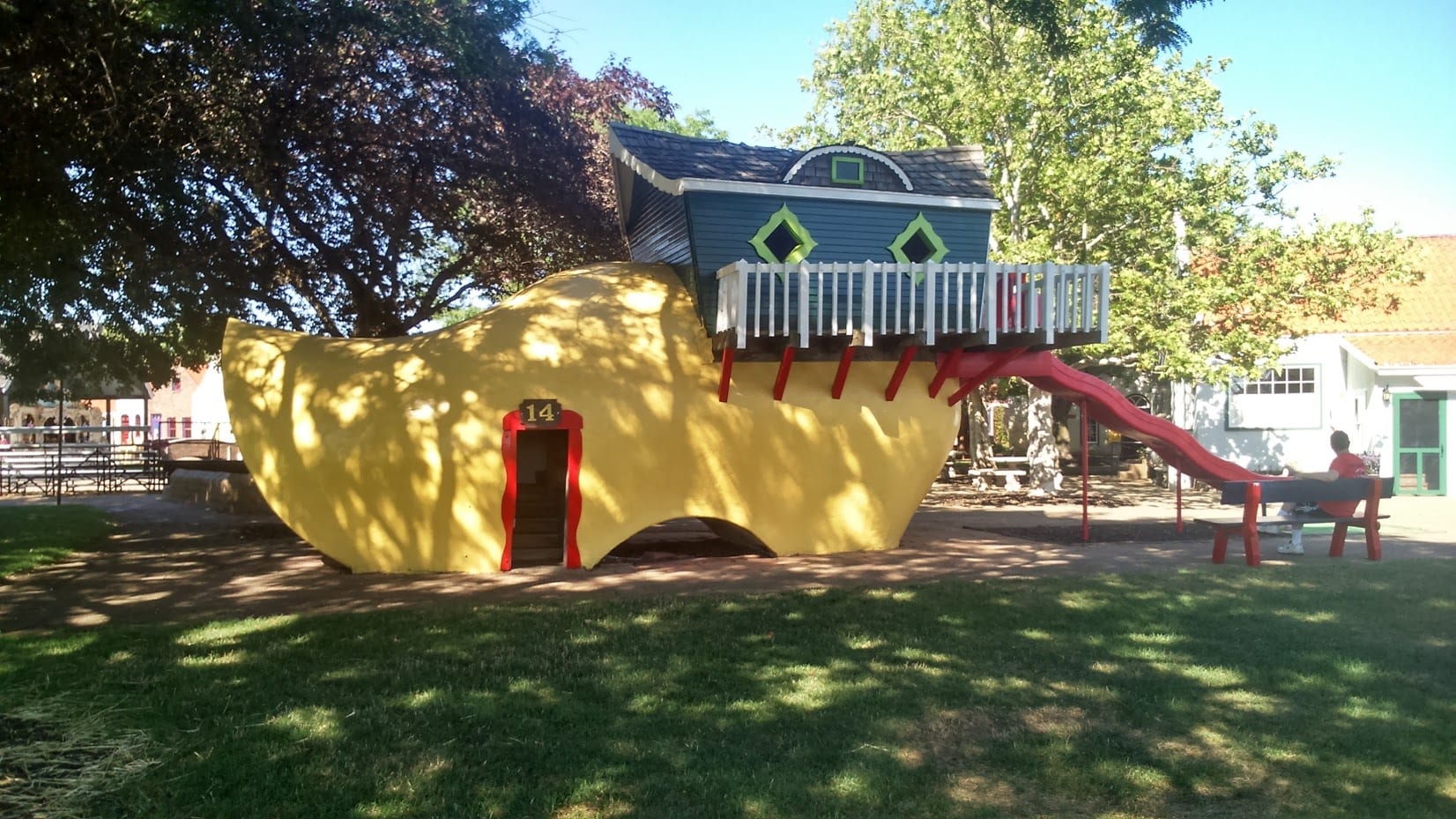 Before leaving the park, I found an American who spoke Dutch. Turning 65 next month, Ike, a big old man, sitting in the wooden clog workshop in costume, at first, didn't seem very eager to talk to me. But being a bit more persistent, he opened up. He told me that he moved to America when he was four and has never lived anywhere else, in fluent Dutch. Even more surprisingly, Dutch with a strong country-side accent (!). Very intriguing. He said that his family was from the north of The Netherlands and that he had been to Amsterdam once. Asking about his heritage, Ike responded a little degrading about Dutch culture and strongly pointed out that he had no interest in going back to The Netherlands: "What am I to do there?! Have bread with cheese in the morning? Coffee at 10AM with one biscuit? Have a warm lunch at 12PM?" he laughed. But, funny enough, that is exactly how Dutch most people in The Netherlands also respond to Dutch culture. When I asked him if he felt more Dutch or American he responded: "No.. I am an American!". But maybe Ike is more Dutch than he realizes. Concluding, Dutch culture is very much alive in Holland, Michigan. In some areas maybe even more than in The Netherlands. What surprised me the most is that everything is so well executed and true to the original tradition (as I know it). I can image it being it quite difficult to feel a connection to one's Dutch ancestry if you've never been to The Netherlands and don't speak the language, but traditional Dutch culture seems to be celebrated (alongside other cultural heritages!). But maybe it's possible because it is America. Americans are known to be proud, patriotic people, so it might be in their nature to embrace and flaunt their cultures, even if it is a minor one. The Dutch on the other hand are known to be a not proud, modest people and I know more people who shrug at or downplay Dutch culture, like Ike, than people who want to promote it. Another thing which is quite unexpected is, although Dutch culture seems to still be a big part of the identity of the city and its people, the Dutch language isn't. Again, maybe that is because it is America. In The Netherlands, learning other languages is a given as we all at least learn English, German and French in school and language is thought of an important part of culture. But as English is the official language in America, which is huge on its own, people might have a different attitude towards the importance of other languages. Obviously, it won't really serve you to study the Dutch language in America. When people immigrate they take their culture with them and it depends on the environment and the people if the culture will live on, gets altered, or dies. As for Holland, Michigan: It is very possible to have an authentic Dutch experience (minus the language). But who knows how it will be in a hundred years? I am glad I got to dive into it's unique history for this blogpost. It makes you think, doesn't it? How about Japanese culture around the world?
*1 http://factfinder.census.gov/faces/tableservices/jsf/pages/productview.xhtml?pid=ACS_13_5YR_B04006&prodType=table
REPOTER
Martha Hickey

Age

Snake( HEBI )

Gender

Female

Job

Teacher, Illustrator
She was born and raised in Amsterdam and has lived in Japan for 2,5 years as part of her studies. She is very interested in the connection between culture and communication between Dutch and Japanese. Other than that, She enjoys riding her bike, working as a teacher, illustrator and trying-out new cafe's with friends. Graduated from Leiden University in 2014 (MA Asian studies/Japan), She is now developing Dutch learning materials for native Japanese learners which also explain cultural differences.