Due to a single snowstorm a few weeks ago, Michigan has turned white overnight. Snow has piled up 30-50 centimeters and has created a beautiful winter landscape, right in time for Christmas.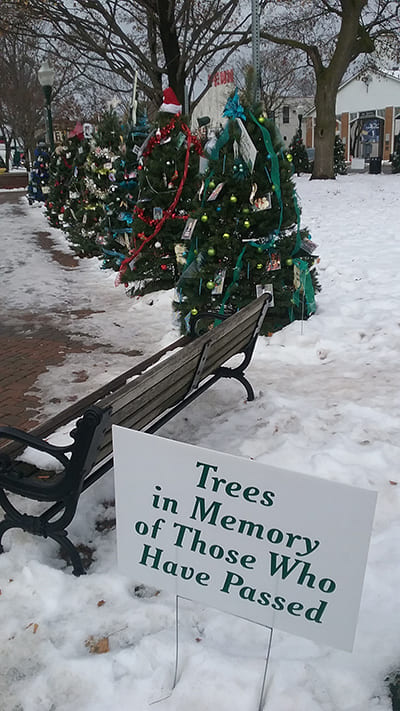 Christmas is a big deal in America, and people's enthusiasm is tangible from the moment Thanksgiving is over. The radio starts playing Christmas songs, stores put up Christmas decorations and people talk about their Christmas shopping. A little different from Christmas in Japan, it is a holiday celebrated with family instead of being a holiday for kids or just a romantic day for couples. Of course, Christmas is in origin a Christian holiday; it celebrates the birth of Jesus Christ. Because of this religious association, greeting people with "Merry Christmas" has come under discussion as it refers to the Christian celebration and would be insensitive to the Jewish celebration of Hanukkah or the African celebration of Kwanzaa which are celebrated around the same time. Instead of "Merry Christmas", it is therefore advised to greet people with "Happy Holidays". Some staff at stores do so, but I still hear a lot of people using "Merry Christmas". On a lighter note, one thing I'm sure anyone will enjoy are the festive decorations put up everywhere around town. In this blogpost I have a few examples of this to share. First of all, there are Santa Clauses in every big mall and some big supermarkets. Especially at the mall it is a big event. Santa Claus sits on his big chair and kids line up to come and sit on his lap. He asks if they've been good and what they wish to get this Christmas. Most of the time his wife Mrs. Claus is also around, as well as some elves. At a big mall in Novi, called Twelve Oaks Mall, a whole trail was made with all sorts of games and activities on the route to Santa Claus. Parents wait in line with their children a good amount of time before they can enter.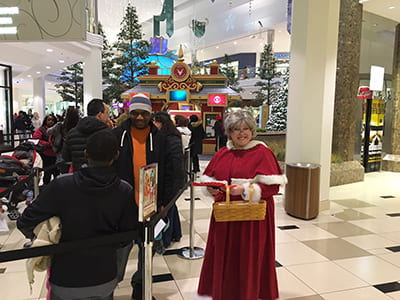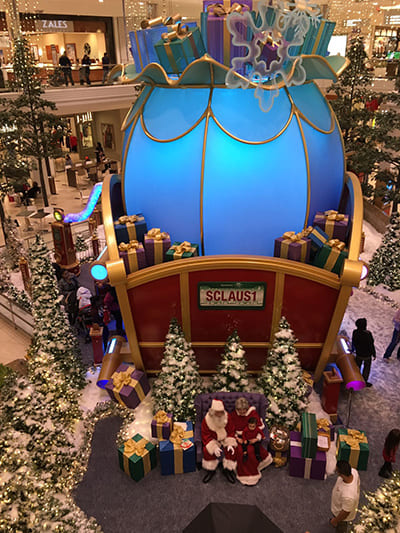 Secondly, the Christmas decorations people put up outside are incredible. There are neighborhoods where almost every house participates and it is a real treat to drive around. People get really creative with putting colored lights all around their house and other decorations in the front garden. Some houses even recreate a lit up scene of Jesus' birth with Mary, Joseph and the three saints. It is nice to see that people put in so much effort for something everyone can enjoy.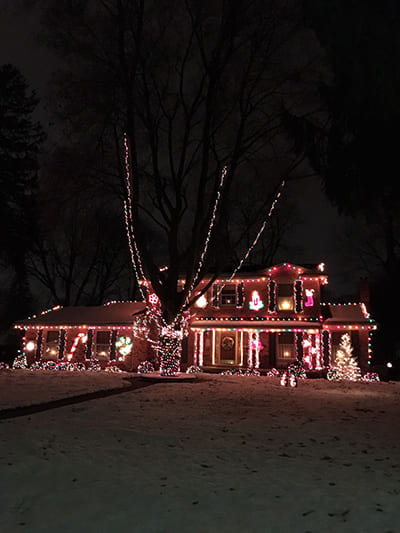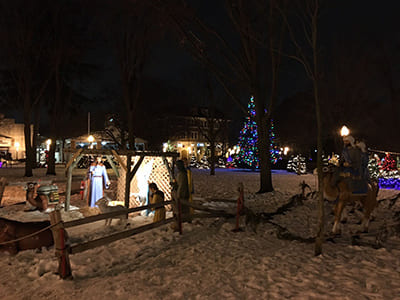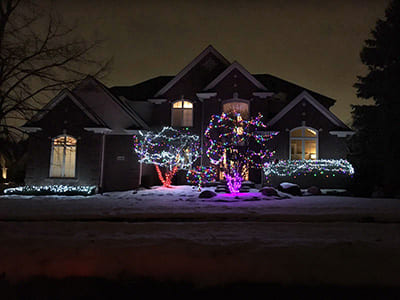 Lastly, one Christmas tradition I found quite special are the decorated Christmas trees found at the park in a town called Plymouth. Local stores buy a tree, decorate it and put it in the park. Anyone can then purchase the fully decorated tree and that money goes to charity. In the same park there is also an area dedicated to people who passed away that year. The trees are decorated by loved ones who are left behind. These are decorated with pictures of the deceased, loving messages and a sign with his or her name is placed beside it. There were quite some trees dedicated to children and young adults which surprised me. It's a very nice way of honoring their memory, isn't it?