"Mazu" is a Taoist goddess worshipped as the guardian of seafaring and fishing mainly around the coastal regions of China. Long ago, many people had emigrated from southern mainland China to the island of Taiwan. They prayed to Mazu for the safety of their voyage on sea, and erected a temple on the island in gratitude for their safe arrival there. Later on, Mazu came to be widely accepted and has become one of the most popular gods of Taiwan today. Each year, March 23rd on the Chinese calendar has been established as the birthday of Mazu, with festivals held in grand style throughout Taiwan in Mazu temples. This is the festival called the Crazy for Mazu in March.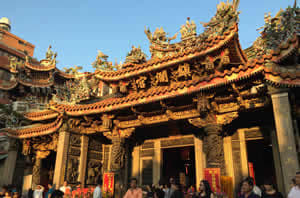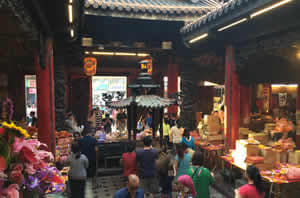 The Mazu culture of Taiwan can be divided into two. One is derived from the Chaotian Temple at Beigang in Yulin County built in 1694 A.D., and the other from the Chenlan Temple in Dajia, Taichung City, built in 1730 A.D. At the pilgrimage of the Chaotian Temple at Beigang, a portable shrine is carried throughout town, and firecrackers are set off underneath the shrine. This is one of the three largest firecracker festivals in Taiwan, and is well known also in Japan. The South Street is paraded on March 19th of the Chinese calendar, and the North Street is paraded on the 20th, with the parade route changing every year. The Chaotian Temple is said to have the most divided spirits in Taiwan, attracting countless worshippers around this time of the year.The pilgrimage of Dajia Mazu, on the other hand, involves the passage to a total of 111 temples over a span of 9 days. With the distance covering 330 km, the total number of pilgrims can reach more than one million people.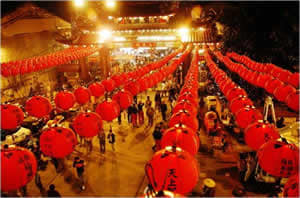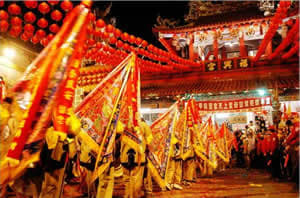 The fireworks on the first day cost hundreds of millions in Taiwan dollars, making this the largest scale festival. At each location that is visited, the townspeople provide free meals to the pilgrims and night markets are opened for that day only, making this seem as like a moving festival.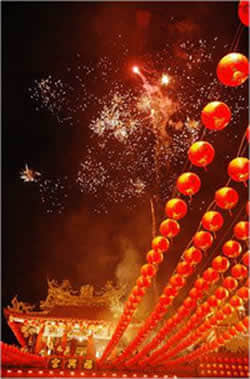 It is understandable that Discovery Communications called Taiwan's Mazu Pilgrimage one of the world's three largest religious events, along with Christmas Eve Midnight Mass at the Vatican and the Hajj to Mecca. Today, Mazu is said to be not only the Goddess of the Sea but also the guardian of Taiwan. If you happen to visit Taiwan around March on the Chinese calendar, which is around mid-April, please come see the Mazu pilgrimage. Of course, you can also search for "媽祖繞境" (Mazu pilgrimage) on Google to find many related videos and images.