It is not easy to imagine that there, just above the Piazza Principe station, Genoa's main train station, overlooking the entire city from above, there is a chic, elegant and proud castle that encloses not only a regal atmosphere but a collection of memorabilia from around the world. Just a few steps from the traditional Old Town you can enter an arabesque boudoir with warm colors and a scent of spices, you can also enter inside the cabin of a boat and into a room with a ceiling dotted with golden stars. Everything in a unique, incredible palace called De Albertis castle.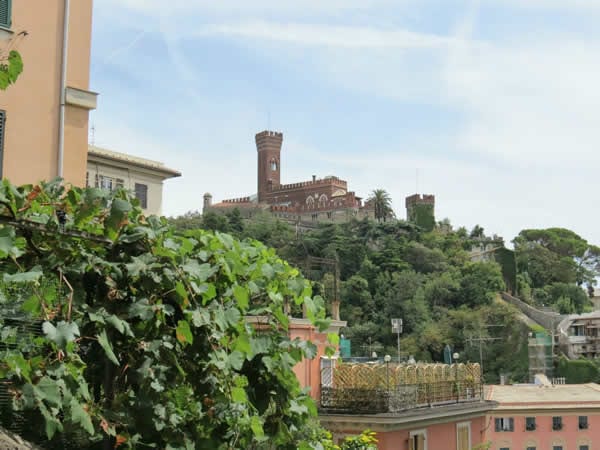 The castle museum stands on a hill
Located in a privileged position, the castle overlooks Genoa and its port and is surrounded by a romantic park embedded with artificial caves and water games, walls and exotic plants from all corners of the world, an ideal place where to have a picnic near the city center.This place was closed for many years and Genoans were sad about it but luckily it reopened in 2004 after a long restoration.De Albertis is the name of its founder and former owner who was a seafarer, a captain, a tireless traveler and a lover of everything exotic. He was a man who loved to get lost and discover new places back when traveling was indeed a real adventure.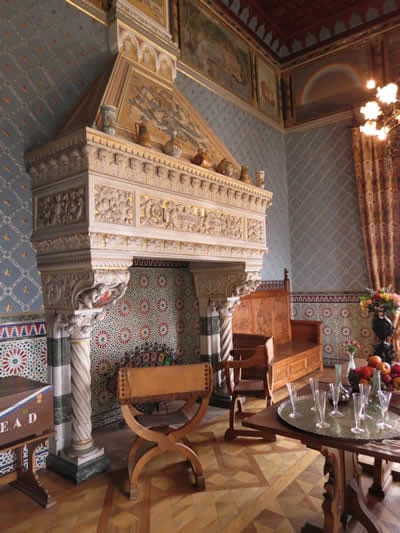 The rooms are themed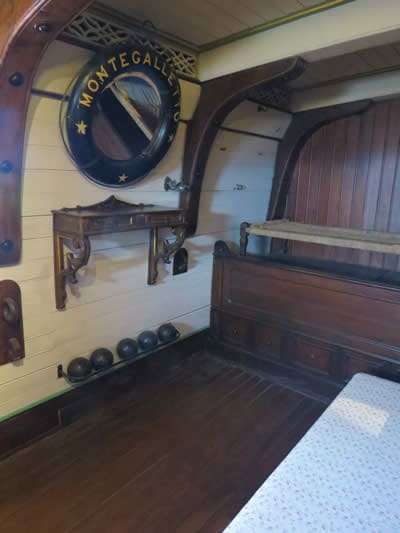 Boat cabin themed room
Between the 1800 and 1900 Captain Enrico De Albertis traveled on land and by sea, bringing back with him keepsakes of each journey and started to embellish his castle. The castle stands on a sixteenth-century bastion and besides being the captain's former residence, it is home to the Museum of World Cultures.De Albertis was driven by the desire to go beyond his limits, exploring the unknown, without fearing anything but rather embracing the charm of the discovery.Cultures, languages, stories and folklore from around the world are scattered in every detail, in every room of what is now a museum. Starting from the very first step, you have the feeling of entering into a mystical world and this place is truly unique.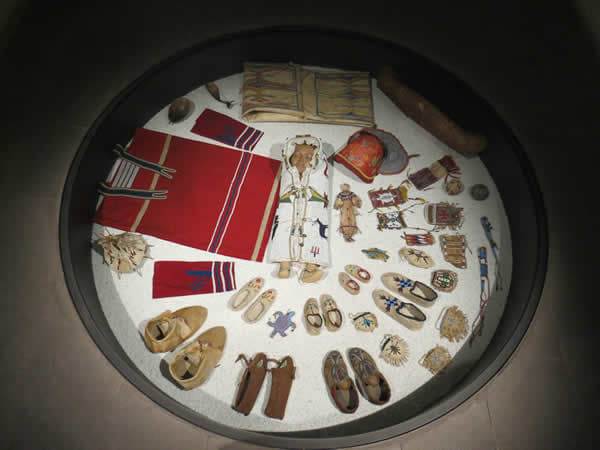 Memorabilia from all over the world is found here
Let's not forget that Genoa is where Christopher Columbus was born and this museum encompasses what the seafarers' tradition is about. Genoa is still a port city although now the only people setting sail towards remote lands are only the tourists on cruise ships which leave the Genoa port on a daily basis. This castle is a collection of exotic mementos and it is presented as a series of rooms that open on different and apparently distant worlds but which are all united by one aspect: the love for culture and tradition.The inebriating Turkish Room, consisting of arabesque fabrics, soft sofas, brass lamps and golden embroidery, catapult us immediately into a mythical and mystical East, among the perfumes of the hookah, and it's perhaps my favorite.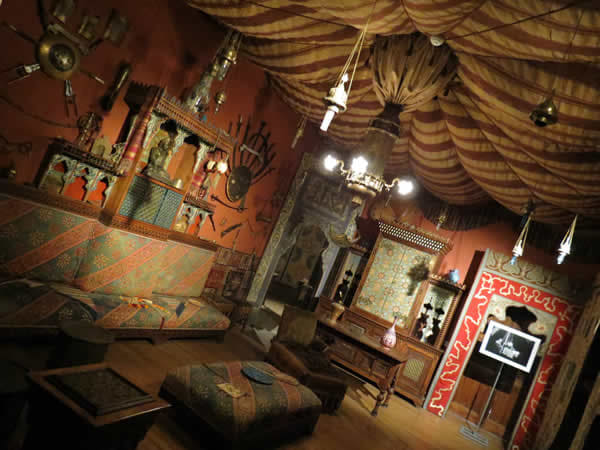 The Turkish room in De Albertis Castle
All the archaeological, ethnographic, cultural and linguistic finds that Captain De Albertis has recovered on his journeys, give us a panoramic idea on far away cultures but also let us confront ourselves with the primitive meanings of things.The elegance and charm of the place make the visit even richer and the vast sea view you can enjoy from its gardens also serves as a perfect accompaniment to this path of discovery and introspection because we cannot forget that it is the sea that gave our city its fame and power.I'm a traveler myself and this private collection of memories is to me an emblem of a life full of travel and passion, both on the sea and on the ground: the Captain was also an all-round intellectual, a scholar, a botanic enthusiast, a collector and a curious.Many Genoans are proud of him because he was brave to leave and explore but also wise enough to return home to his land of origin. They praise him because he shared his wealth and knowledge and he donated his collection once he passed away.The exhibition trail runs on three floors and it covers different continents. From Africa and the crossing of the Atlantic by Christopher Columbus, the captain has collected objects of every kind and nature and took thousands of photographs, giving visitors the opportunity to observe exactly what he observed.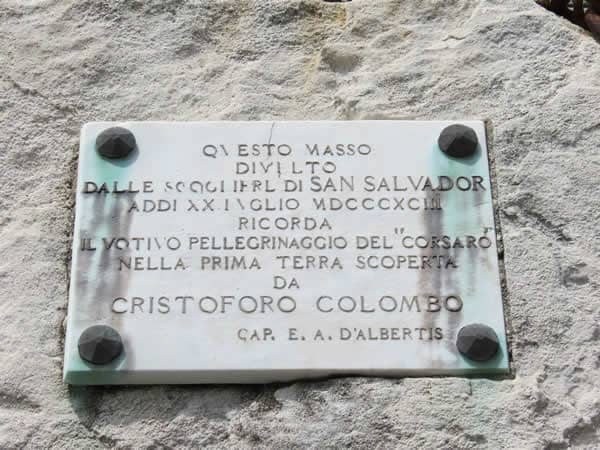 A plate remembering Christopher Columbus