The stretch of coastline which extends from Genoa to Ventimiglia is referred to as Riviera dei fiori or Flowers' Riviera. When you think of flower-growing and flower distribution in Italy, in fact, our region, Liguria, immediately comes to mind and in particular we think of this area, which goes from Genoa to the border with France. The proverbial mild climate of this area, constituted for over 60% by mountains that protect it from the cold northern winds and for over 30% by rolling hills that descend, more or less steeply, to the sea, together with the hard work of its inhabitants, have allowed the development of fine flower cultivations.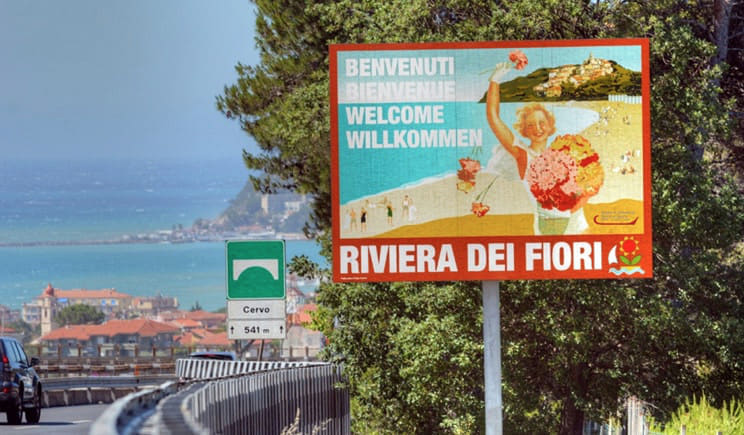 The Riviera dei Fiori is famous for its flower cultivations
Given the impervious and stony nature of the terrain and the presence of steep slopes, it was necessary to intervene to make the land more arable. Our typical regional technique used for this purpose was the building of terraces, supported by dry stone walls, to limit the damage of landslides and erosion.
These terraces can be seen all around Liguria and they host olive groves, orchards, vineyards, citrus trees and, obviously, flower fields. The latter are grown outdoors or sometimes in greenhouses that make cultivation more stable, regardless of weather conditions.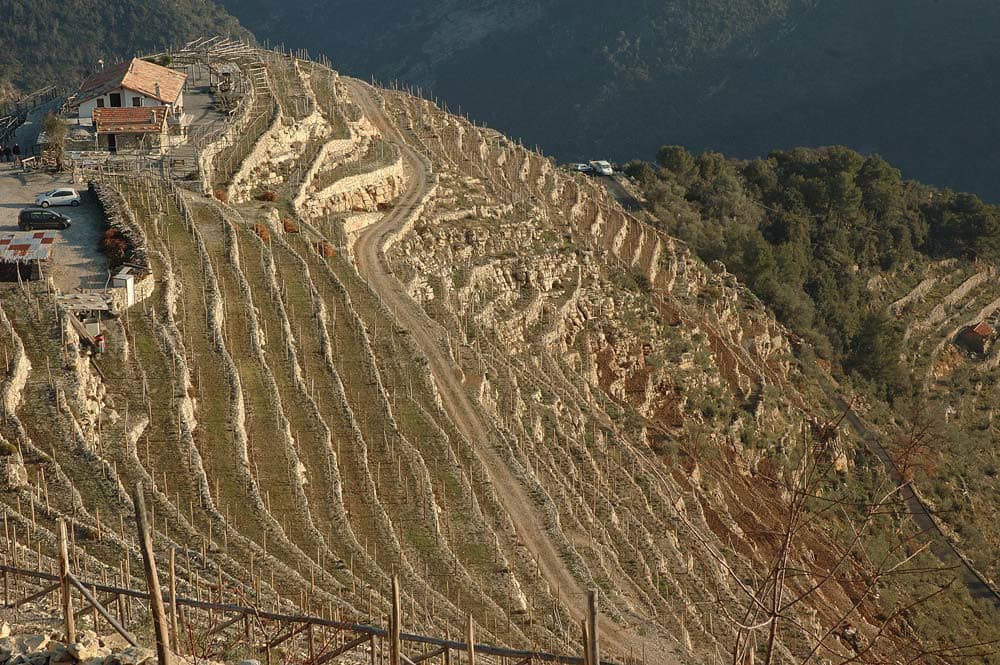 Ligurian terraces are used for different cultivations
Flowers are a treasure for Liguria, especially on its western coast where, in the province of Imperia, the slopes of the natural hills descending towards the sea are covered with plantations of carnations and roses of all kinds and all of excellent quality.
Ligurian floriculturists have managed to transform the shriveled Mediterranean carnation into a new and beautiful species. The cultivation of flowers requires time, effort and patience and it's often not easy to have a perfect product for an international market where competition is fierce.
I interviewed a friend of mine who works in the business, and he told me that the business needs to renew itself constantly to face the challenges of the ever-changing climate and to overcome the issues posed by natural occurrences such as hailstorms or frost.
In spite of all these challenges, my friend told me that Liguria is a main lavender exporter and he disclosed to me that even France imports lavender from us, even if they are worldwide famous for their lavender fields!
The cultivations of flowers extend over an area of ​​2 thousand hectares and more, with an annual production that has a value on the market of millions of euros. But the sector sometimes goes through periods of crisis, due to both the difficulty of growing impervious soils, and the fact that the implacable advance of urbanization removes living space for the floriculture. Some major companies are proposing to modernize all existing greenhouses and to build new ones which would allow to maintain the current quantitative production levels of 'made in Liguria' flowers. In order to facilitate exports all over the world, floriculturists also focus on transport innovation: the extension of the Albenga airport to transport the flowers abroad and the expansion of the Sanremo railway station to speed up flower shipments around Italy.
There are even specific courses of studies at the Faculty of Architecture of the University of Genoa, such as a specialization course for graduates who want to work as 'landscape architects.' These architects get a degree with which they can work in the planning and the reorganization of parks and gardens, aiming at transforming them into flower fields.
There is also a Faculty of Agronomy and Floriculture at the University of Genoa for those who wish to work in this field. Many are also the workshops and internship opportunities offered in the floricultural field because it is considered a patrimony of our territory and as such it must be maintained alive as part of our regional tradition.