With temperatures slightly increasing, it is normal that people wish to escape from the heat, even just for a day during the weekend.
A short driving distance from Genoa, it is possible to enjoy the shade of a mountain forest and at the same time live an exciting adventure choosing the acrobatic routes of an amazing adventure park.
There was emotion and happiness in the air on the mountains just outside of Genoa, both for adults and children alike, the day the Adventure Park reopened at the end of April this year.
Adventure Parks are the latest trend in Italy and they are a popular weekend activity involving entire families, groups of friends, couples, everyone really. An Adventure Park is a space full of excitement and fun for everyone, and Liguria's Park has a lot of exciting new attractions for this season.
This particular park offers nine routes, over sixty platforms suspended in the trees and many activities in a completely redeveloped park, with benches, gazebos, tables and new barbecues and picnic areas to spend a day in full nature. Among the new features there is a very high Tibetan bridge suspended among the trees and the hill slopes with a breathtaking view all around.
The adventure parks generally close to the general public in the fall and reopen in the spring because their attractions require good weather to be used but this particular park opens year round on special occasions and to allow winter activities as well.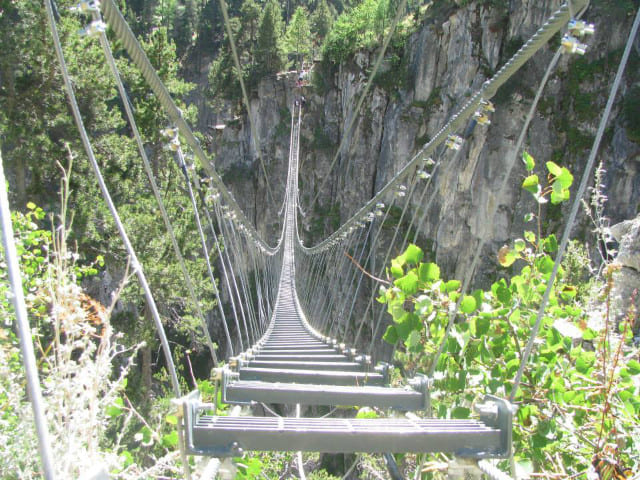 Tibetan Bridge at the Adventure Park
It goes without saying that these parks have become a new and fun way to enjoy paths and natural spaces.
In order to promote the naturalistic areas around the adventure park, our regional committee has also established a fund to maintain and develop the paths all around the area and promote hiking and trekking activities.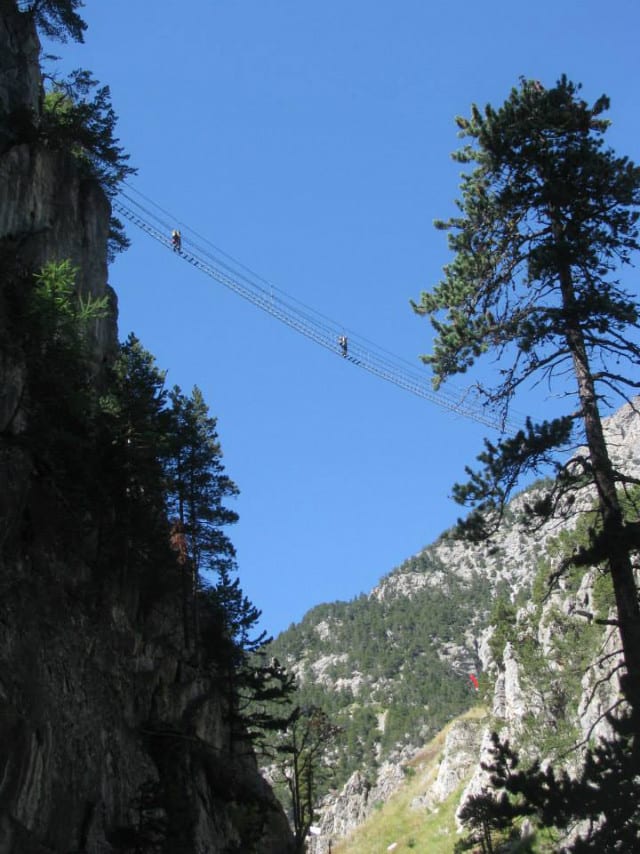 Adventure and adrenaline
The Adventure Park has brought great news in the world of sports with its acrobatic routes. This sport incorporates techniques of other sports such as climbing and hiking. One would say that it is a sport for the summer but, in reality, it is not like that.
The Adventure Park and the acrobatic routes can also be considered a winter sport. Similarly, its aerobic component allows it to be carried out even in Winter, with the exception of sunny days. In fact, by carrying out activities, one heats oneself autonomously and therefore sufficient clothing is sufficient to carry out the acrobatic courses even with snow. A not insignificant aspect is, however, the great fascination that the experience takes on in a particular, almost unusual setting: the snow-covered forest.
The Adventure Park in Liguria also offers special packages to immerse yourself in nature such as the survivor's package.
For two days you can isolate yourselves from civilization, abandoning the stress of everyday life. Part of the adventure is to enter into symbiosis with nature, without fighting it, but understanding that it is the only source of salvation in an emergency situation. Learning that nature is a real source of resources thanks to which we can heat and protect ourselves, nature can nurture us when needed.
The survival experience is a very special experience: a group of people walking in a forest, looking for water and food to share in the evening around the fire in a makeshift shelter.
One can learn survival techniques such as construction of tools, shelters, weapons, vessels and primitive structures, techniques of use and processing of wood and stone, treatment of raw materials and cooking with primitive methods.