As the scare for Covid 19 is not over yet and the search for remote and quiet locations here in Liguria continues, I found an uncrowded and little known place to have another short trip in Liguria, Lake Osiglia, a few kilometers from Savona and about an hour from Genoa city.
This artificial lake, located in Val Bormida and more precisely in the municipality of Osiglia from which the lake gets its name, was created in the mid '30s and today represents a place of great naturalistic interest with beech and chestnut trees all around its banks.
More or less every 10 years, the lake is emptied out for maintenance work and, if you are lucky enough to visit it during this period, you can admire the ancient town re-emerge from its waters. The ancient ruins of some houses and the church offer a unique panorama and a very fascinating atmosphere.
Lake Osiglia is also an important meeting place for many sports lovers. It indeed hosts sports events such as rowing competitions and trout sport fishing and, furthermore, there is also an Imbarcadero, a small bar and restaurant with a private sand beach where they rent out beach umbrellas and sunbeds. There one can sunbathe and rent a pedal boat or a kayak to venture into the lake. With a coastal length of about 10 km, small bays, picnic areas, trails and small jetties to jump from, you cannot be bored here and it is a great day out with children too.
As I previously said, Lake Osiglia is an artificial basin which was built following the construction of the Osiglietta dam in the early 30s. During the construction of the dam, a part of the town consisting of several houses and a church was purposely submerged. Its construction was needed in order to offer the possibility of regulating the water flow to the steel and ironworks factories in the Bormida Valley, as well as to provide a constant flow of water during the summer drought to local villages.
Lake Osiglia is the largest freshwater reservoir in the Province of Savona, and one of the largest in Liguria, as well as being a tourist fishing reserve.
According to the local animal protection associations though, it would be necessary to aim for a different enhancement of the lake, and favor the observation and not the capture of the precious fish fauna, and leaving the lake available only for peaceful and ecological activities such as free swimming and snorkeling, rowing and kayaking since, on the surrounding hills, there are many typical trattorias with delicious (and often vegetarian) local gastronomic specialties and trout would be introduced to the local fauna and not native fish of this area.
The lake has a very large surface and it is completely inserted in the naturalistic and environmental context that surrounds it and it is also crossed transversely in the middle of its length by a bridge called "Ponte di Manfrin" from the name of its designer.
This bridge can be crossed by bike, on foot or even by car although it is very narrow and it only allows access to a small inhabited village.
A nearby picnic area offers incredible views on the lake and it is also the starting point of a trail which goes through a beech, conifer, chestnut and oak grove, and which leads to the top of a hill from which you can have an amazing view of the Bormida Valley and the lake.
There are many birds and mammals living by the lake: cormorants, herons, wild boars and roe deer.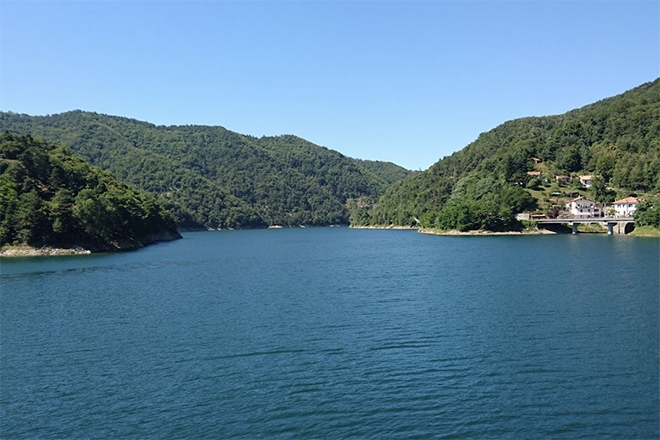 Lake Osiglia is perfect for short getaways