In Western Liguria there are five small villages that can be visited in one day because they are so close to one another and that is what I did.
Three of them are also included in the National Heritage List of Borghi piu' belli d'Italia which is Italian for 'the most beautiful villages in Italy.'
There are certain many villages in Italy which are beautiful and picturesque but, in order to be included in such list, the municipalities and the village inhabitants must also comply with some rules and keep the village always tidy, proper and in good shape.
The peaceful village of Perinaldo in particular offers you a travel in time because its characteristic old houses will surely bring you back to the Middle Ages.
In this village, which dates back to 1625, Giovanni Cassini, the famous Italian mathematician and astronomer, was born and the walls of the whole village are a remembrance of his history, making your visit a journey in the life of this great man.
A few kilometers from Perinaldo you will find the village of Apricale, watched over from above by an ancient castle, the Castello della Lucertola or the Castle of the Lizard in English.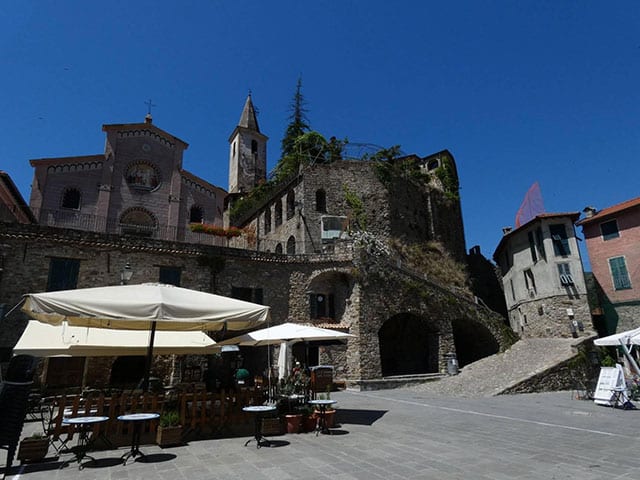 Apricale village – main square
The silence of its characteristic and silent alleys, which are too steep and narrow for any type of vehicle including bicycles or scooters, makes the visitor feel at ease and relax. There is a main piazza, or square, on which there are typical small restaurants serving typical local food such as turtun (zucchini in puff pastry), cundiun (salad of raw vegetables) or cubaite (honey and hazelnut wafers); or some classic Ligurian favorites such as pesto pasta or also some modern fusions such as the pesto cheesecake!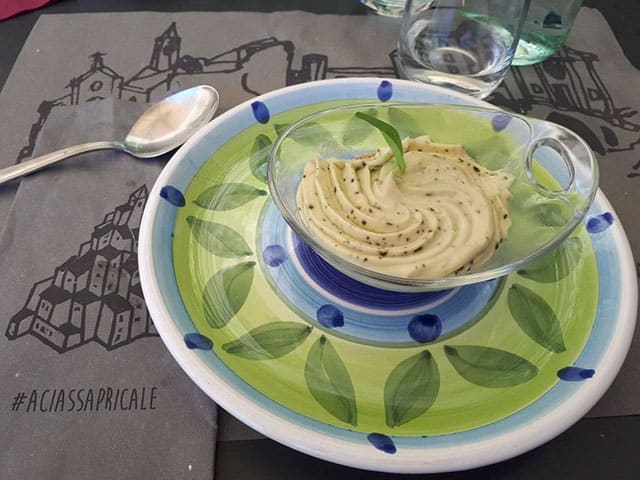 "Pesto" cheesecake!
Isolabona is another village whose name is very meaningful, it comes from Latin and the terms insula meaning island and bona meaning good remind us that the inhabited area stands on a kind of islet created by the Nervia river and its tributary Merdazo stream and its inhabitants have always been known for their hospitality and friendliness.
Nearby Dolceacqua which in Italian means sweet water (being dolce sweet and acqua water) is the village that will take you a little more time to visit, not because it is so much bigger than the others, but because I think it is truly fascinating.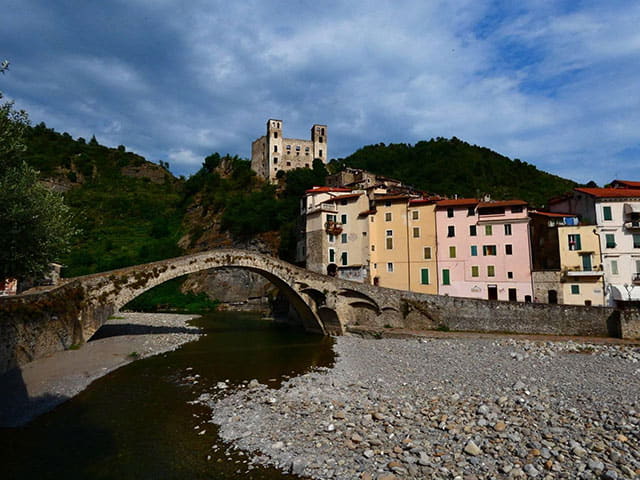 Dolceacqua village and the bridge painted by Monet
This village is also very artsy and there a quite a bit of art boutiques, art galleries and nice unique shops in its old town.
Dolceacqua is divided into two parts: the old town, with quiet cobblestone alleys and the new town with a somewhat large square on which there are many restaurants with patios where to have a dinner outdoors sipping the typical red wine: Rossese di Dolceacqua.
When you visit the old town you are immediately greeted by a fountain display (obviously not drinkable) of (fake) rossese, the typical wine of the area.
The fountain (made by a local artist) is shaped like a half barrel with a fountain tap.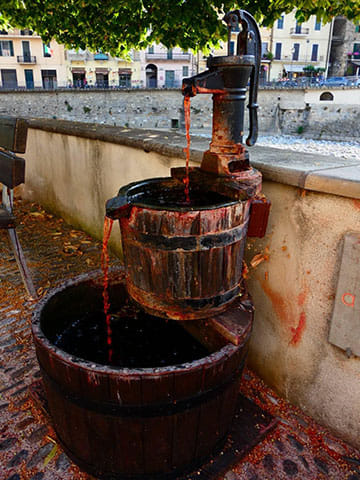 "Rossese" fountain
Dolceacqua's main bridge, which dates to Roman times, is the backdrop to many photographs of this Ligurian village.
This village hosts temporary exhibitions, including one dedicated to Monet because the famous French impressionist painted the bridge and the village in one of his famous paintings.
The village also houses numerous apartments for short stays or bed & breakfast venues: Dolceacqua is in fact a rather well-known destination, especially among French tourists, and is the ideal place to choose both as a starting point for excursions inland and as a cool place where to stay compared to the summer heat of the coast.
Its Doria Castle, which overlooks the village from above, dates back to 1151 and it was built by the counts of Ventimiglia; it later became the property of the Doria family, which is inextricably linked to the history of Genoa. Initially the Castle had its center in a circular tower, of which traces remain today, but which was soon included in the fortified manor that can still be seen today: a sort of cube with turrets overlooking the valley.
Last but not least of the five villages is Pigna.
Famous for its recipes with white beans and for its chestnut cake, Pigna is a small village on a hill with picturesque houses made of stones and a gorgeous view of the green valley underneath.
It used to be famous for its thermal baths but, unfortunately, this business in Italy lost popularity so the thermal baths closed down and the thermal baths hotel was dismantled.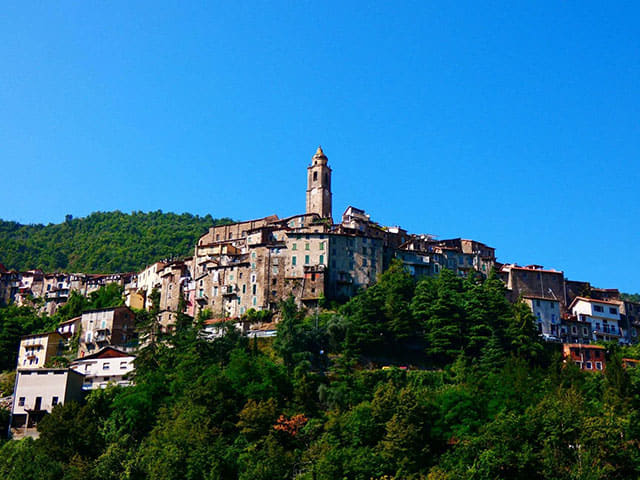 Pigna village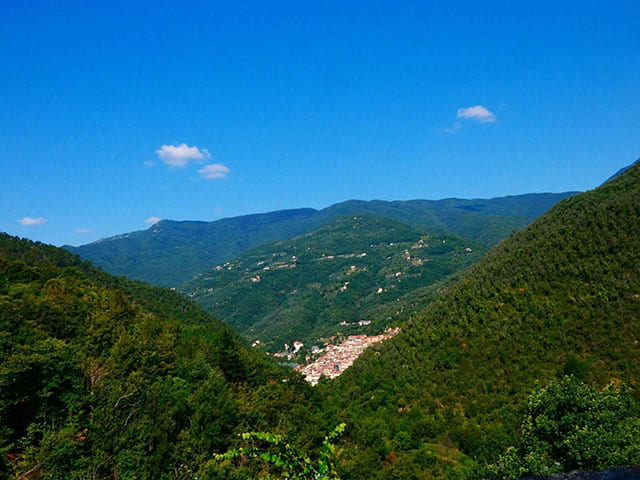 View of the valley from Pigna village