Portland is perhaps not as well-known abroad as other American cities, but it's a small city with a big personality. Located in the state of Oregon, the city is part of the American Pacific North-West and it counts about 600,000 inhabitants.  Portland has several nicknames: Rose city, Stumptown, Bridgetown, Portlandia and PDX (its airport's code). Portland is a green city, in the true sense of the word.  It rains a lot here, about 10 months out of the year, and rain makes the city's numerous parks very lush, making people feel they live in contact with nature even when they live close to the city center.  Although the city used to be an industrial hub, Portland has recently been elected the greenest city in America.  Portlanders have been striving to make it sustainable and environmentally-friendly for decades and have succeeded at that by converting many former industrial spaces into green oases and by introducing an ever-growing number of bicycles.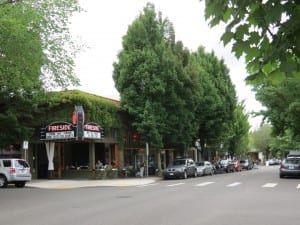 Portland is a very green city, perfect for bikes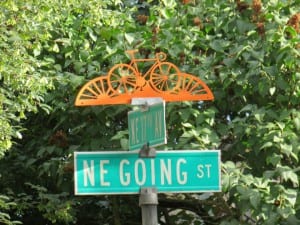 Roads with bike lanes are clearly marked
The original objectives behind transforming Portland into a bicycle-friendly city were mainly sustainability and public health (quality of the air), but biking in Portland has now become a very lucrative business and many bike shops, rental places and bike tour companies have opened throughout town over the past decade.   Nowadays there are more than 100 bike-related businesses in Portland, including companies that make bike racks and high-end accessories for custom-made bikes.  There are shops which make handmade and personalized bikes and there are even some businesses which make ornaments and art objects out of recycled old two-wheelers.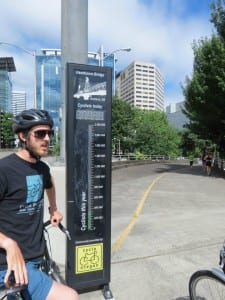 Guided bike tours are offered year-round
Themed biking events and competitive races are held year-round and travel agencies promote cycling tours to explore Portland and its surrounding areas. The Pedalpalooza bike festival which takes place every June features over 200 unique themed rides and events.  These events include funky costume rides, unicycle jousting competitions and night rides. Some rides are difficult and competitive, some are fun and unique (the Bridal Ride in wedding gowns for instance) and some are just weird (the World Naked Bike Ride, during which Portland police escort about 10,000 naked and semi-naked cyclists throughout the city).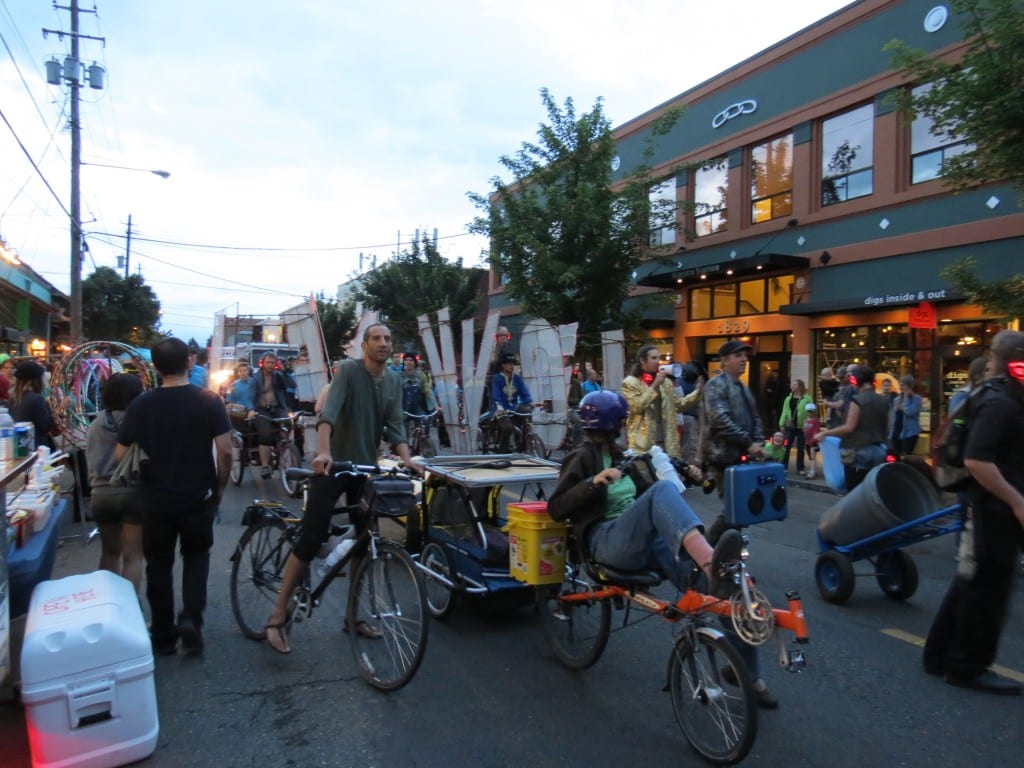 Many unique bike events are held in the city during Pedalpalooza
In Downtown Portland, a monument representing a small bike is dedicated to the Zoobomb, a tradition which draws young adults to ride on all sorts of outrageous small bicycles at night down a steep hill near the Portland zoo once a year.  The rest of the year the small bicycles remain tied to the monument waiting for the next event.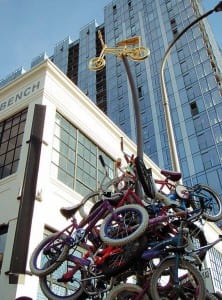 Zoobomb's small bikes in downtown
The city has the nation's highest percentage of workers who commute by bicycle to work, and Portlanders worship their two-wheelers. The latest U.S. Census reported that about 10% of the workforce commutes primarily by bike each day.   Portland drivers are usually very respectful of bike riders and many businesses have special parking spaces reserved for bikes.  Workplaces often feature "bike rooms" where commuters can stash their rides during their workday. The city has also worked to help drivers and riders share the road by multiplying the number of bike lanes and by creating a 'reserved' waiting area for bikes at the intersections with traffic lights. What makes Portland so perfect for riders is also its relatively flat terrain, combined with plenty of green parks which offer numerous bike paths.  The city extends over two river sides and the Willamette River divides the city in two parts which are well connected by many bridges, most of which can also be crossed by bike.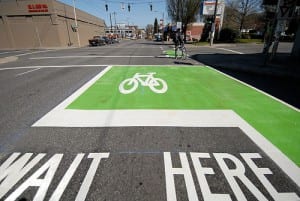 Cyclists waiting area at a Portland intersection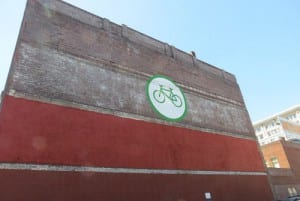 Parking lot dedicated to bicycles