Keep Portland Weird is the city's famous and infamous motto.   This beloved expression appears on street signs, public walls, bumper stickers and buildings all over the city. It was originally inspired by the "Keep Austin Weird" slogan which appeared in Texas's capital a few years back.  Austin and Portland are called twin cities since they both pride themselves to be unique and artsy, but Portland over the years took the lead when it comes to eccentricity. Keep Portland Weird has become a true motto for all its inhabitants and it has become a way to promote individuality, local art, open-mindedness and nonconformist lifestyles. The motto frequently inspires articles and debates that attempt to quantify the exact extend to which Portland is considered unusual and many businesses in the city take pride in supporting queerness in their products and window displays.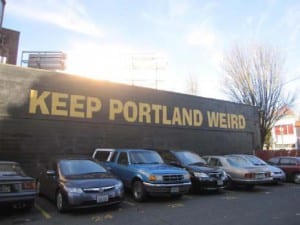 The city's motto appears at different locations
The city motto is on many bumper stickers
Portland is often described as hipster and hippy and it's indeed both.  Portlanders are an incredible mix of people coming from diverse backgrounds and different countries and its hippy crowd blends incredibly well with its hipster crowd: a young, edgy group of trends forerunners who moved to the city in recent years - mostly from California - attracted by its endless opportunities. Both groups of Portlanders enjoy and thrive in weirdness because eccentricity creates opportunities for change, innovation and personal development. If you have a unique, crazy, never-heard-of before idea for a business, Portland is the place to be! Voodoo Donut is a local favorite and it always praises a queue at the door, even late at night.  It's a donut shop with one-of-a-kind treats such as the unusual maple bacon donut and the voodoo donut, a voodoo doll-shaped cake with chocolate frosting and jam filling.  The shop is open 24 hours a day and, among its eccentricities, it offers a wedding service right inside its pastry shop at its downtown location.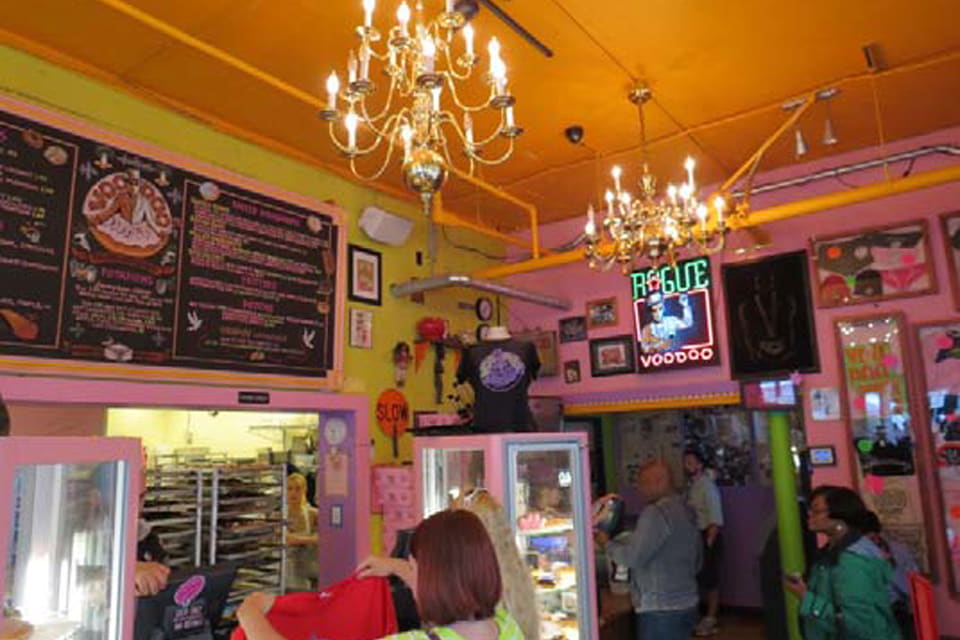 Voodoo Donut is a local favorite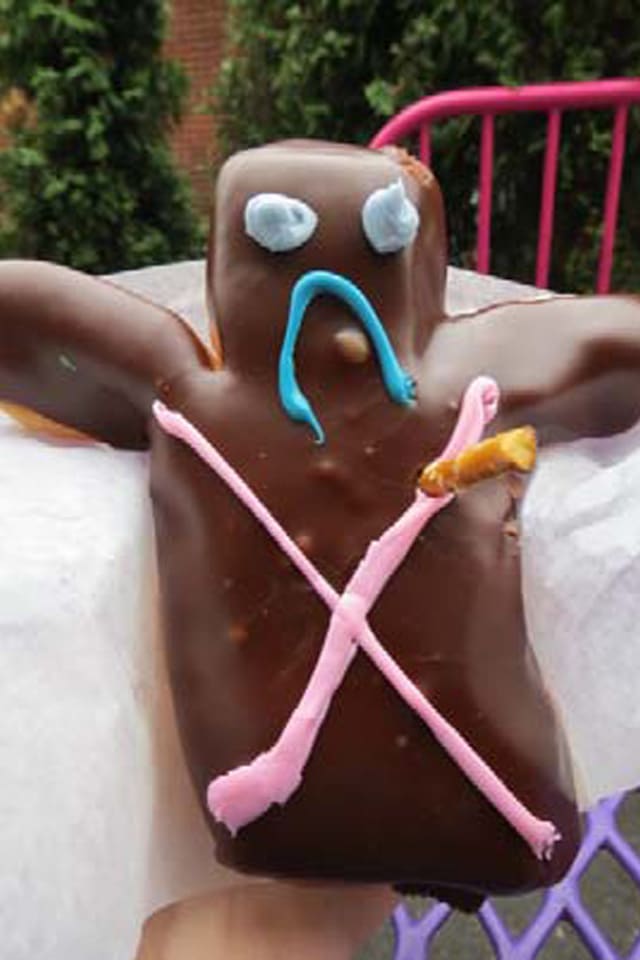 Voodoo doll-shaped donut
Portland is also home to some of the most extravagant museums in the country.  Among them one can find the Velveteria Museum of Velvet Paintings, which showcases a wide collection of peculiar paintings on velvet, done by local and international artists.  The Freaky-but-true Peculiarium and Museum in Portland is an emporium of the weird, a collection of funky but fun interactive art displays.  Movie Madness is a small exhibit of movie props and film memorabilia, while the Stark's Vacuum Museum is indeed dedicated entirely to vacuum cleaners.   Portland is also an open-air museum by itself and many unusual artworks and installations are found throughout the city.  The Horse Project for instance has scattered miniature model horses tied around horse rings along Portland's sidewalks.  The horse rings remain from the time when horse-drawn carriages were the primary mode of transportation and have been saved as a souvenir of these old days.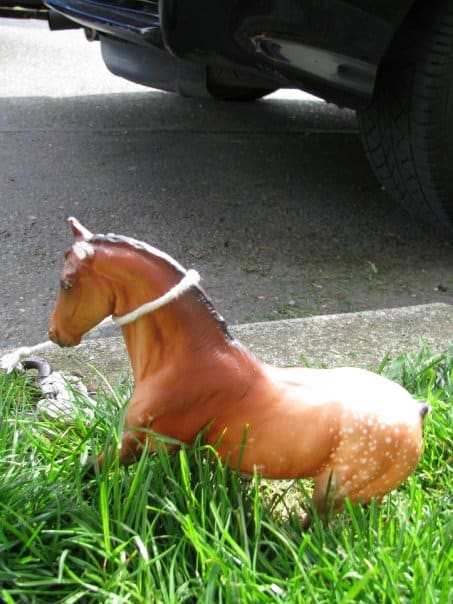 Model horses are tied along sidewalks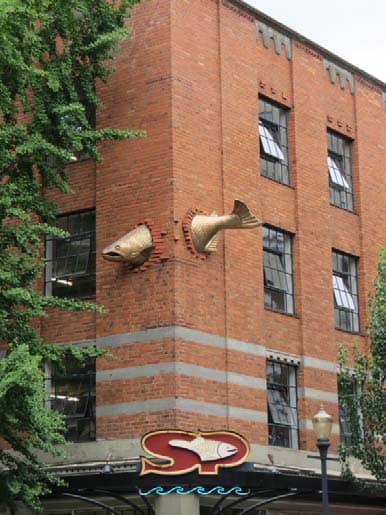 Eccentric artworks can be found all over
Several events held in Portland throughout the year are obviously curious and nonconformist.  Besides the Pedalpalooza and the Zoobomb, which I previously mentioned in my blog about the city's bike culture, the PDX Adult Soapbox Derby is a crazy competition, held each August, in which grown-ups race against each other down Mt. Tabor, an extinct volcano that is now a forested urban park in Southeast Portland, and for which each participant designs and assembles a homemade racer in pursuit of achieving maximum speed and fun.  Prizes are handed out for fastest speed, engineering skills and creativity and the onlookers can also choose their favorite daredevil among the funky racers. Unfortunately, not all Oregonians view this self-expression of oddity as a positive thing and some have suggested that Portland's eccentricity is an excuse for the younger generation to be artsy underachievers.  Portland is without any doubts a very liberal and progressive city in a somewhat conservative State and sometimes not all its initiatives are welcomed with enthusiasm by everybody, but Portland aims to be a place of tolerance and it's proud to be a welcoming home for all and it certainly succeeds at that.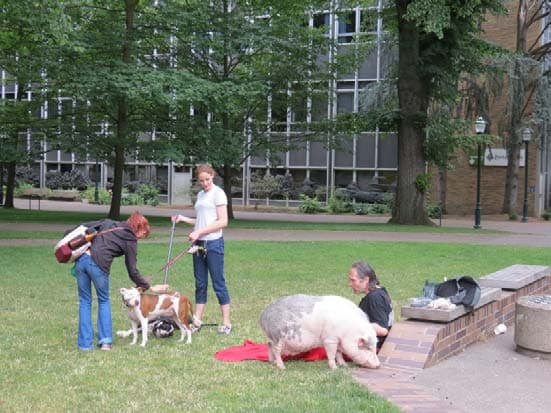 Uncommon pets are a common sight in Portland