Although it rains a lot in Portland, the city offers a wide selection of open-air markets: weekly flower markets, farmers markets and several flea markets. The weekly Wholesale Flower Market is very popular among local flower resellers but it's open to all Portlanders.  Many people choose to visit this market, especially for its vibe and location, since the stalls are placed right in the middle of one of Portland's favorite urban parks.  Flower and edible arrangements are sold and crafted upon request for business events, marriages and celebrations and orders can be placed weekly for the following market day.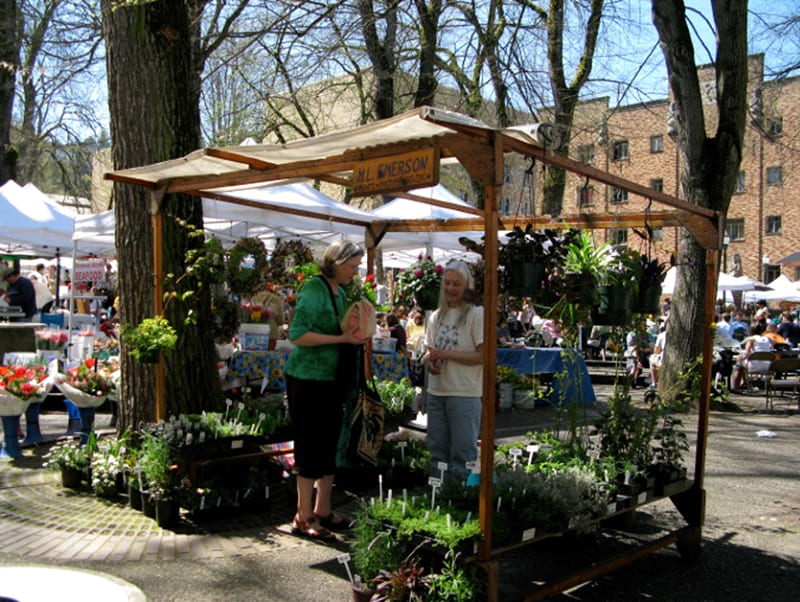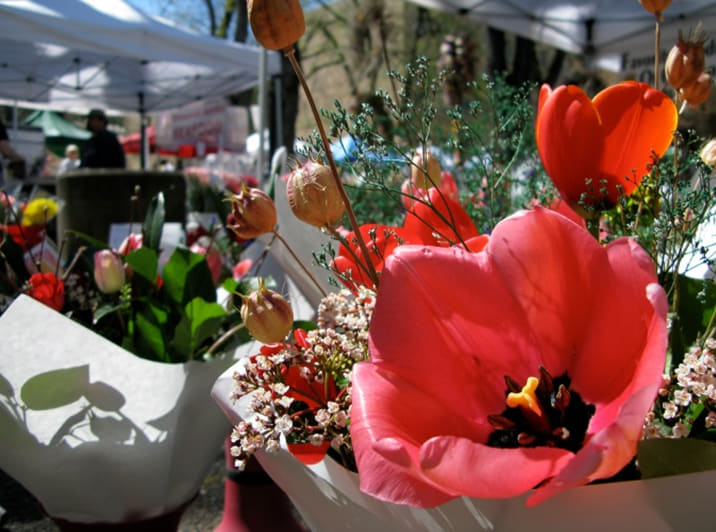 Portland's flower market happens weekly
One of the most famous outdoor markets is the Portland Saturday Market which has been a beloved Rose City tradition since the 70s.  The Portland Saturday Market is an outdoor arts and crafts market open every Saturday and Sunday from spring to Christmas and it's the largest arts-and-crafts fair in the United States.  Combining the vibes of an arts show, a live street concert and an open-air bazaar, this riverside market is a local favorite because all stalls strictly offer handmade products.  The market is also a very popular tourist attraction and it draws up to 750,000 visitors during its annual season. The market is sheltered by the Burnside Bridge and a roofed structure custom made for open-air shopping on rainy days. All creations are original and unavailable anywhere else and buskers throughout the area round out the entertainment.  Every Saturday, or Sunday, shoppers can listen to jazz musicians and sample ethnic foods like Polish pierogis or German sausages while browsing more than 250 stalls of locally crafted apparel, ceramics, home ornaments and jewelry.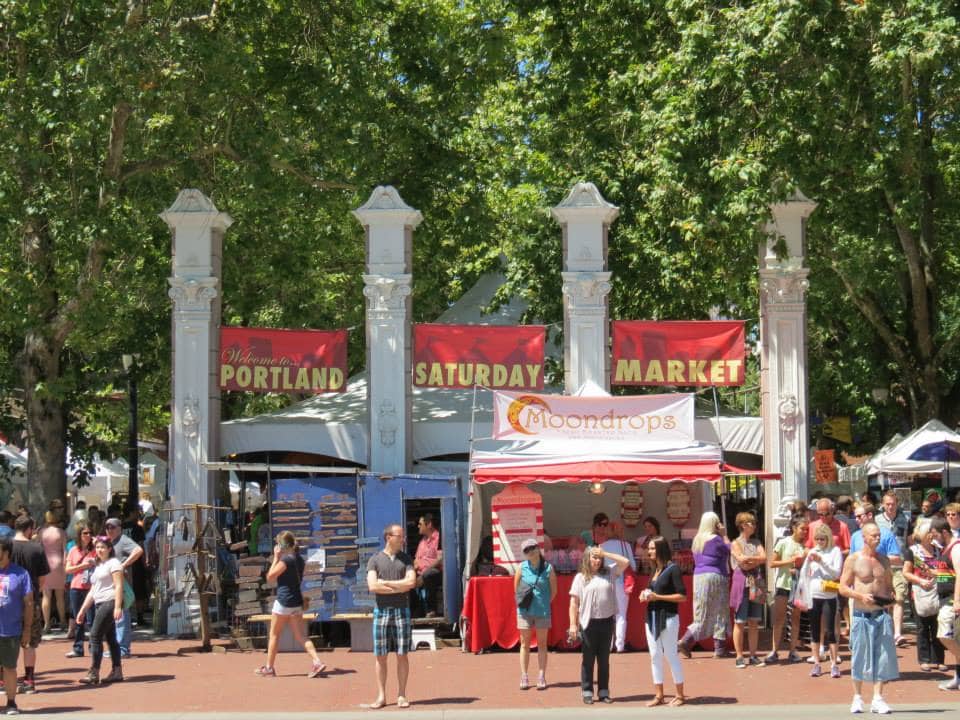 The entrance to the Portland Saturday Market
The Portland Farmers Market is an outdoor produce market in Portland which features vendors who sell locally grown and produced vegetables, fruits, fish, meat, dairy products, baked goods, and other agricultural products. Every Saturday, downtown's South Park Blocks (a popular downtown public park) transform into the city's largest and most celebrated outdoor grocery shop. The Portland Farmers Market boasts over than 150 farmers and vendor stands, making it a great place to pick up anything food related from tomatoes to honey, cheese, herbs and eggs, among many other products. Especially during the spring, the city's farmers' market comes to life, becoming a food lover's paradise, loaded with seasonal produce and international food stalls which, paradoxically, only use local products for their ethnic recipes.  Food samples are virtually available at every stall so the market becomes a true gourmet destination.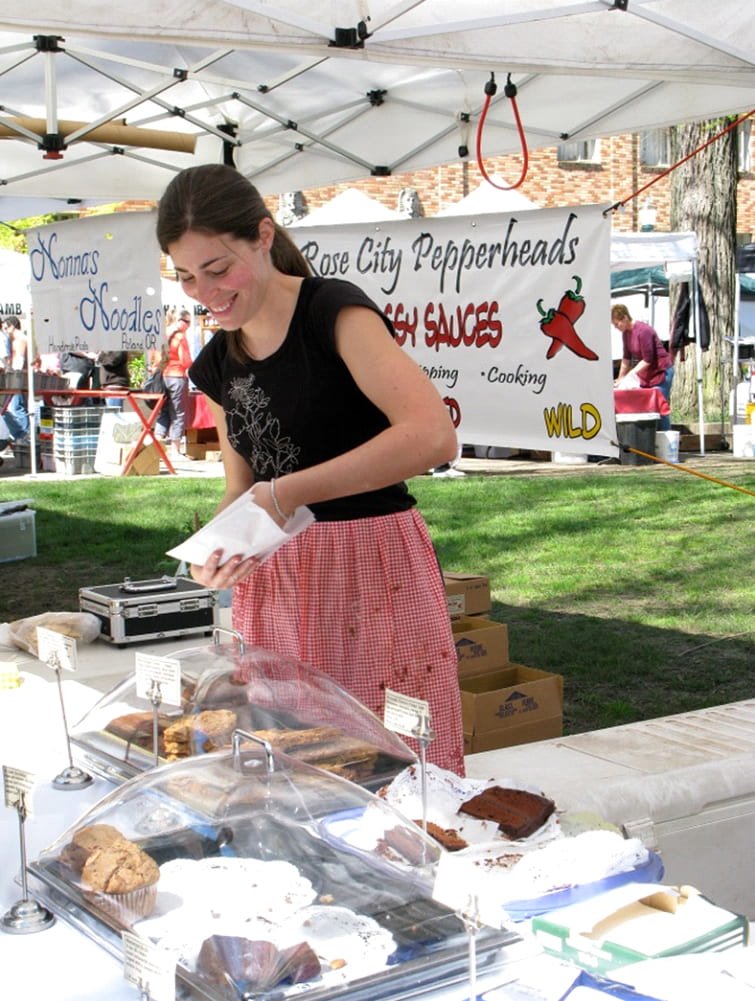 Sample tasting at the Farmers' Market
  Portland hosts two Sunday flea markets per month in the heart of the Eastside Industrial District.  Portlanders are crazy about vintage clothing and secondhand goods because they believe that used things have more history and they also truly think that reusing things is environmentally friendly.  Both markets are dedicated to re-using and recycling and offer more than 20 local vendors of antique and repurposed furniture, vintage clothing, toys and collectibles which have been hand selected by the best pickers in town.  The most popular flea market, the Rejuvenation Sunday Emporium, is held every Sunday in a warehouse and presents a selection of vintage vendors, designers and local artisans who blend old with new, helping restore the rightful place of handmade objects in contemporary homes.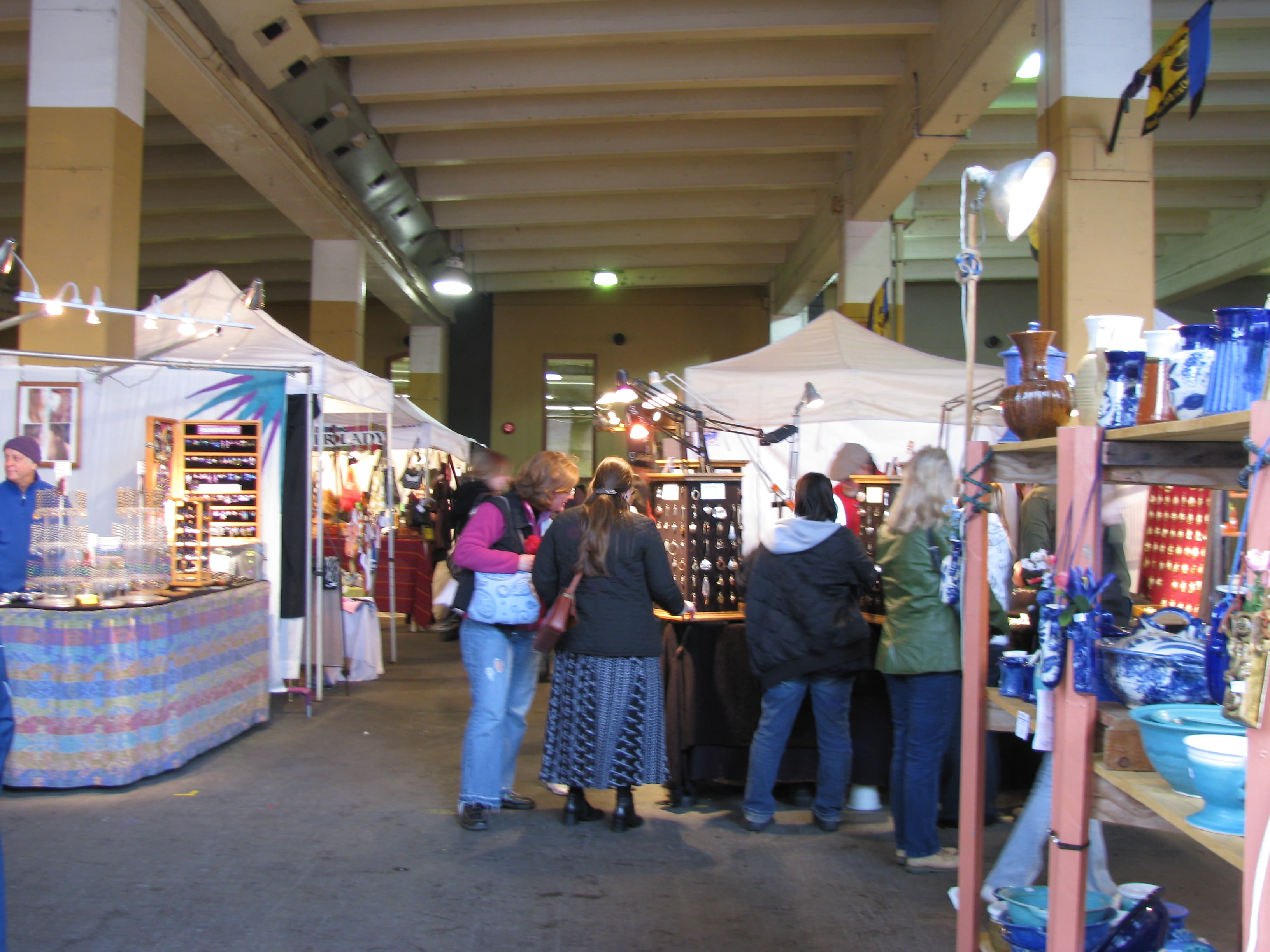 Flea markets are popular in Portland