The custom of Cherry blossom viewing is common throughout the world. The Chinese also have a culture of engaging with not just flowers but also nature when spring arrives.The Chinese word "踏青" (taqing) refers to a walk in nature or spring. In the past, I used to go for a walk in the park. These days, viewing spots for cherry blossoms have increased, making it possible to view beautiful cherry blossoms without having to go all the way to Japan.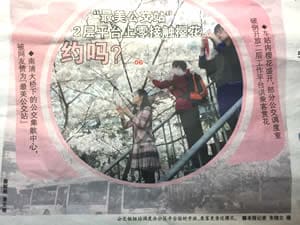 Last month, I saw a newspaper article entitled, "Would you like to come see the most beautiful bus station in Shanghai?" This viewing spot introduced in the article was around the Nanpu Bridge bus station. Although this is generally a restricted area, it became open to the public for a limited time during the cherry blossom season. The article went on to describe that this spot became famous as a great site for cherry blossoms by word of mouth, and have now become the most popular spot in all of Shanghai. Touched by the beautiful photos of the cherry blossoms, I too made a visit there. Although not as many trees were planted as in Japan, there were five to six cherry trees that lined both sides of the road, and the cherry blossoms in full bloom were at their peak.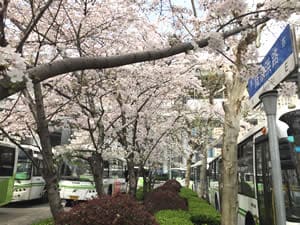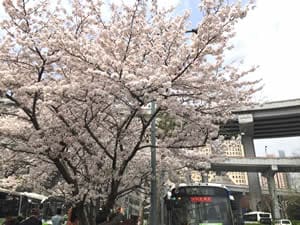 Even though it was a weekday, many visitors had come and were taking photos as they liked. Quite a few office workers could be seen too, since this area is a business district.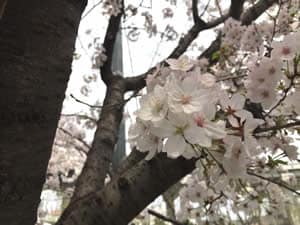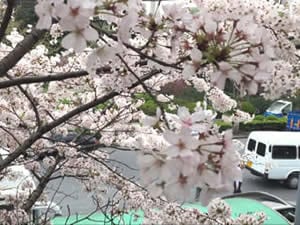 Viewing the cherry blossoms up close from above the bridge, as was described in the article, was something I rarely experienced in Japan. Spring is synonymous with cherry blossoms after all. Cherry blossoms in full bloom are truly a sight to see, and the petals of cherry blossoms whirling in the wind are a beauty. Being able to view cherry blossoms this year despite living in Shanghai has become a pleasant memory for me.