Just recently, I came across this interesting piece of news. "In celebrating its 20th anniversary, a Chinese firm treated 6,400 employees to a holiday for two days each in Paris and Nice, a tourist and resort city in Cote d'Azur on the Mediterranean coast. Employees stayed in hotels four-star or above, with total spending in the two cities including accommodation estimated to have exceeded 32 million US dollars." Currently, buying binge has been a hot topic in the Chinese market. This time, it was a company retreat binge that surprised the entire world. This celebration was one that even set a new Guinness World Record. The other day, I attended the Shanghai World Travel Fair (WTF) 2015 held each year during May in Shanghai. The venue was very crowded and overflowing with enthusiasm. Many citizens regardless of age or gender attended this fair, which is one of the largest events in China. When seeing such a sight, I was reminded once again that overseas travel really is becoming a boom. WTF is a travel industry event that has been continuing since 2004. Exhibitors include more than 50 participating countries, and more than 500 governments, municipalities and associated enterprises. On the third and fourth days of the fair, the public, in addition to those in the travel sector, are free to visit as well. This year's fair had a total of 45,000 visitors throughout the four days.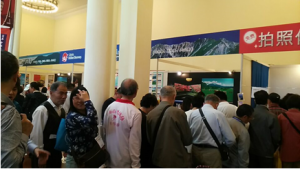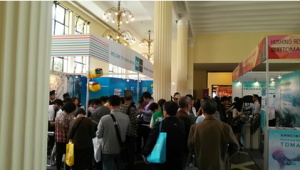 Comments written on Japanese travel information websites often include those such as "Japan's townscape and natural scenery are very beautiful," "With the weak yen, now is definitely the time for shopping!!" and "Japan's home appliances are high in quality!"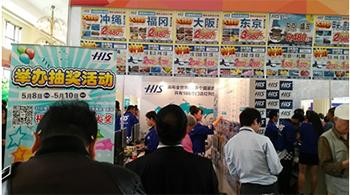 The sales booths had an array of packages for group tours and individual travelers that could be bought at a discounted price. The products were all so appealing that visitors would have a hard time deciding which destination in Japan to choose. Stage performances and lottery drawings were also taking place. For purchasing food and souvenirs from around the world, a World Carnival section was set up as well. Based on the great crowd of people at the event, I have a feeling that the buying binge and company retreat binge of this overseas travel boom is not going to be slowing down.