The virtual Japanese pop star Hatsune Miku now crossed over the border into Shanghai. A lot of people may not know who she is, even for people in Japan. As she traveled across the sea to make her first solo performance in Shanghai, I was once again made aware of the passion that Chinese youths have towards Japanese culture.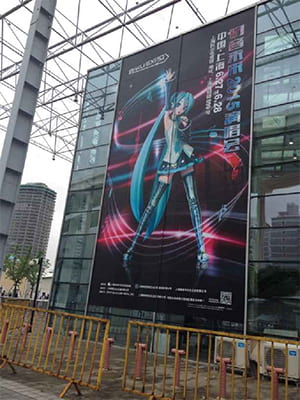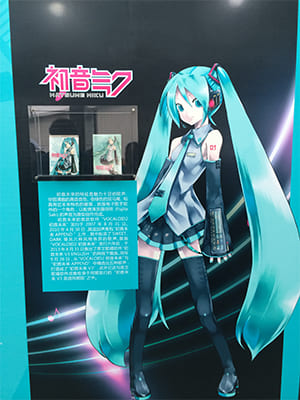 I showed up at the concert venue knowing absolutely nothing about her, but I was very interested in watching the performance of a character using the latest CG technology. Of course, I did want to find out just how popular this cute looking character was in China too.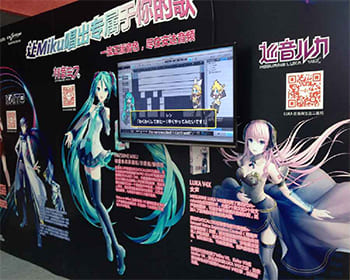 My first surprise was the ticket pricing. Even the cheapest seats were priced at over 10,000 yen, and SS seats were around 30,000 yen. Despite such prices, tickets for two days were all sold out in 30 minutes on the day that the tickets went on sale. From Japan, a tour for three days and two nights leaving from the two locations of Osaka and Ibaraki called "MIKU EXPO in Shanghai Support Tour" was organized.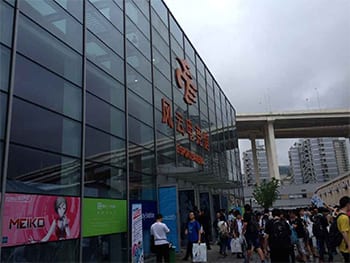 On the day, the venue was packed with student fans just as predicted. Among them were many fans who had come from areas outside of Shanghai. What makes her so popular? When interviewing a few of the fans, they commented "There are many good songs!" and "You can even write your own lyrics and create your own music to have Hatsune Miku sing it." After all, the power of music is common to the whole world. During the live performance, blue penlights covering the venue were flashed left and right and when I thought of how all these fans had been awaiting this Shanghai performance, the scene was touching. Although the idol on the stage was a 2D animation, the cheering from the fans on their feet never stopped from beginning to end, allowing me to really feel their enthusiasm. Actually, a Chinese version Vocaloid* has made an appearance in China too. Her name is Luo Tianyi. Many music compositions using China-like sound sources are being sold. She is gradually getting to be known among people in Japan and gaining popularity. Maybe one day the Chinese Volcaloid Luo Tianyi will hold a live performance in Japan, and if she could perform together with Hatsune Miku, that would be quite fascinating. *Vocaloid, developed by the Yamaha Corporation, is a software product that uses voice synthesis technology. Hatsune Miku is a Vocaloid.