The "Students' Road" located near Fudan University in Shanghai's Yangpu District is a major street that has seen explosive growth in recent years. It is also a popular spot for young people. I took a visit to see why this 1-kilometer long street in a non-central town and without any major shopping malls had become so popular.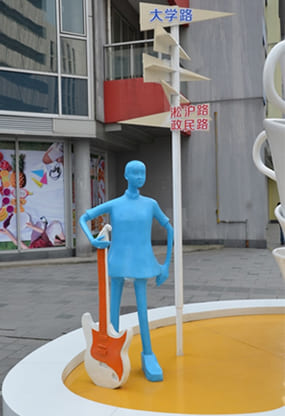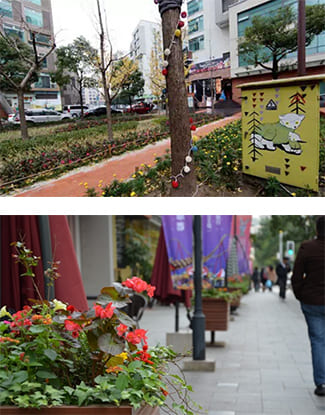 This street where college students gather is peaceful. Storefronts and both sides of the road are decorated with monuments for an artistic ambience. The area is overflowing with artwork, and pictures even decorate electrical transformers. Time passes more slowly and quietly than in downtown areas, making it an ideal place to escape the everyday world and refresh one's spirits.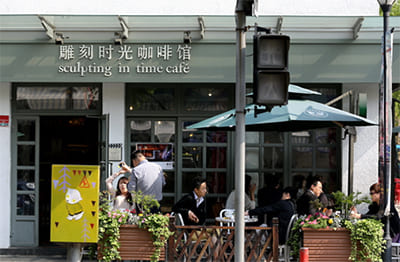 The roadsides are lined with many open-terraced cafés and bars, and it seems that in addition to the students reading nearby the area is also enjoyed by office workers dressed in suits during their lunch breaks. You can spend time relaxing as you please here, immersed in reading or writing. Besides the cafés and bars, the town is also home to all kinds of stores and products that are popular among young people. The area is packed with numerous small boutiques offering one-of-a kind pieces, each filled with an array of unique, original items.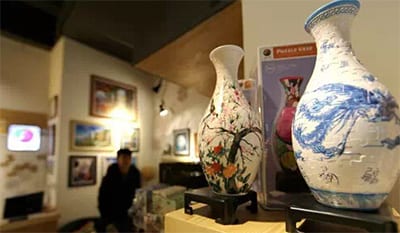 The picture above shows a store currently popular with young people. Do you see it? The vase in the picture is actually made from a 3D puzzle. The store also carries world masterwork prints, decorative globes, and other vintage products. You can also request your own original items. The town is incredibly charming, with each store having its own characteristics and a peaceful, fun atmosphere throughout. As I departed for home, I felt a renewed sense of how this artistic town had revitalized me.