As you may know, Chinese kanji and Japanese kanji are very similar. However, there are many kanji that are written the same but have completely differing meanings. For example, the kanji "湯" means warm water in Japanese but refers to "soup" in Chinese. Today, I'd like to introduce the "湯" that has recently become popular in Shanghai.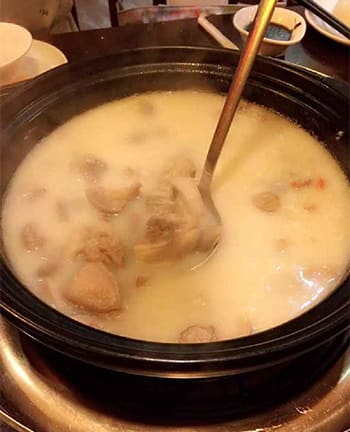 This is a thick white soup with lots of chicken.  Just looking at, doesn't it arouse your appetite ?  This is a soup called 猪肚包鸡, which literally means Chicken Wrapped in Pork Stomach, similar to Samgyetang in Korea. One whole chicken wrapped inside pork stomach is once cooked thoroughly. the chicken is taken out to be cut into bite-sized pieces, and then simmered together with jujubes. It's common to sprinkle some pepper when eating it. After long hours of simmering, the soup tastes superb.  The tastes of each ingredient have all dissolved into the soup, pork stomach is chew, and chicken is so tender that it melts in your mouth. This dish is sometimes eaten as a hot pot by adding meatballs and vegetables into the soup. Although this soup originated in Guangdong province, it has recently become popular in Shanghai as well, where it has been getting picked up by the local media. Guangdong province is said to see no rival in China when it comes to the people's love for "湯" and the abundance of its varieties. Another feature of the Chicken Wrapped in Pork Stomach is that it is healthy. Medicinal cooking, which is very famous in China's food culture, is said to have been born from the idea of doctors in ancient China's Imperial Court who thought, "if the medicine is difficult to take, then let's just mix it with food so that its tastier." The Chicken Wrapped in Pork Stomach is one of such medicinal foods. How wonderful that you can form a healthy body by eating delicious food.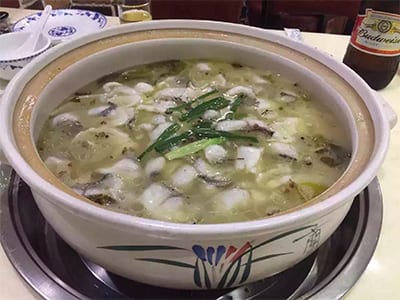 Finally, I'd like to introduce another "湯" that I love. This one uses fish unlike the soup described above. Called 酸菜魚, which literally means Pickled Cabbage with Fish, the soup is distinguished by sour pickles inside it. On a hot day or when you have little appetite, this sour soup will instantly arouse your appetite, making it a dish perfect for this season. Please give them a try when you come to China. I'm sure you will find a "湯" that is to your liking!