Under the hot summer sun, a short walk outside will get you sweaty all over. Shanghai has recently been seeing days of blistering heat over 35°C and is entering the height of summer.  Thanks in part to technological development, most places like department stores, subways and buses all now have air-conditioning. Before air-conditioners became popular, in order to beat the heat, it was common at dinnertime for people to bring their food and table out onto the street to eat while feeling the night breeze. On one particular day after continuous days of blistering heat, I went to a beerhouse with a friend after work. It's located in the downtown area called "Hengshan Road," which is known for its nightlife with lots of bars and clubs, and used to be a karaoke facility but was reopened last year as a beerhouse.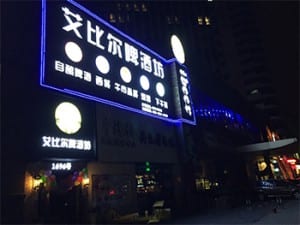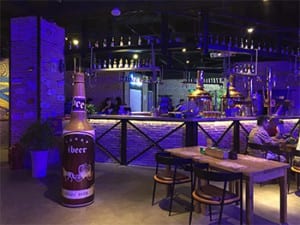 I was glad to finally be able to visit this place after being curious for quite a while. It has a good word of mouth reputation for their delicious original grilled skewers and grilled seafood, unlike other bars that only offer beer and snacks.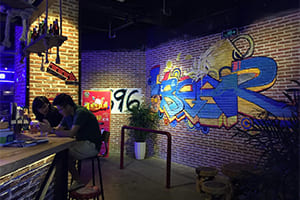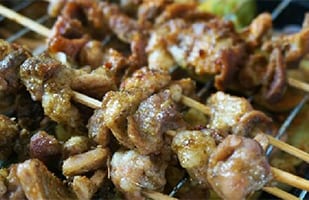 Inside the store, blue lighting creates an easygoing atmosphere, contributing to a nice mood that's great for a relaxing conversation. As you'd expect of a beerhouse, you'll find an abundance of beer varieties including those from countries like Germany, Australia and the U.S.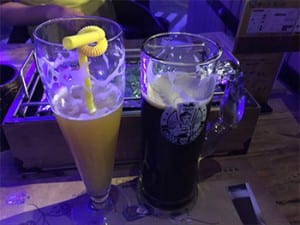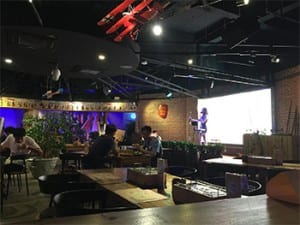 I was carried away by the mood and ended up ordering two kinds of beer at once. One was a German weizenbier (wheat beer) and the other was a stout with a punching taste, an original of the store. Though they're all beer, their tastes differ completely depending on their place of production and raw material. They were both very good. And when drinking beer, the classic chicken wing skewer or the Chinese favorite lamb skewer and oysters are a must. They pair perfectly with beer. I spent such a wonderful time with my friend that we lost track of time as we enjoyed the good beer and food and even a live performance. It was an extremely refreshing experience especially after a long day.