Recently in China, a rather peculiar looking accessory item has been trending. It's not that fancy or jingly in appearance but actually so simple-looking that  you will probably be very surprised.  I was really surprised too when I first saw it, that I exclaimed, "So it's this thing?"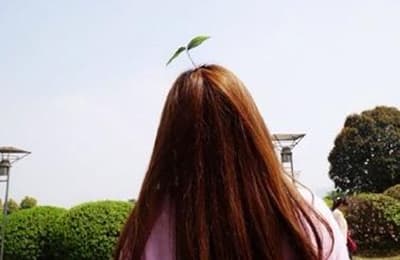 Can you see it in the picture? Yes, it looks like there's a plant sprouting on the head of this woman in the picture. This is the hair accessory called "bean sprout" (written "豆芽花" in Chinese, pronounced "Dou ya hua") that's been a hot topic in China lately. Actually, I find it interesting that from this angle it almost looks like the "Take-copter" in Doraemon. It's made of plastic and all you need to do is attach it to your hair with a hairpin, making it a very easy-to-use accessory that has become popular among all age groups regardless of gender.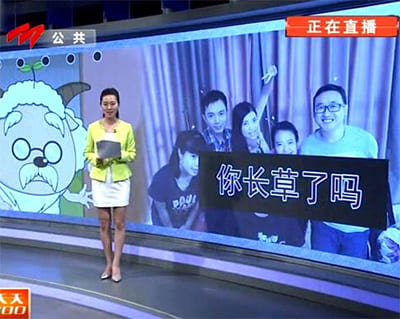 In addition to local television in China and the Internet, even overseas media from various places have been talking about the "bean sprout." It's said that the trend began due to a popular TV character. A celebrity who saw this animated TV show copied the character, and thus spread widely to the public.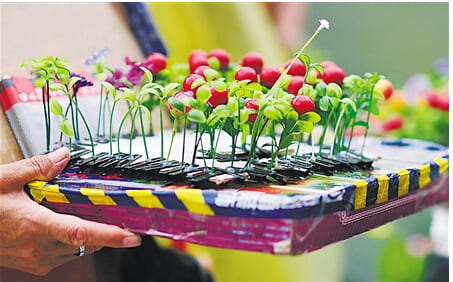 After being used to promote "moe" culture, in only a matter of two weeks, the "bean sprout" quickly spread to Sichuan, Hunan, Beijing, Shanghai and other areas. Now there are even flowers and fruits in addition to the bean sprout, and the number of variations are said to be about one hundred. They are inexpensive, with their prices coming to about 50 yen each when converted to Japanese yen. If you have a chance to visit China, let's wear this item on our heads and "meng meng da"* together! *meng meng da" (萌萌噠) = A word popular among young Chinese. Means "cute" or "moe."