The other day, I used my day off to visit the oldest rural town in Shanghai called Fengjing Ancient Town. Situated in the southern part of Shanghai, it is a perfect place for spending a relaxing time, as it is just far enough from downtown that it is not a high traffic tourist destination. This region is an ancient water town, with water canals spreading throughout. Fengjing is a town considered relatively large within the Shanghai District, and has been completely preserved.There are a total of 52 bridges, and they are so many that there has been this saying since the past: two bridges within three steps and ten creeks visible in a single glance. The oldest surviving bridge is called Zhihe Bridge. It is from the Yuan Dynasty and has a history dating back about 700 years.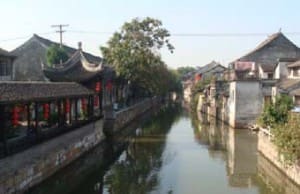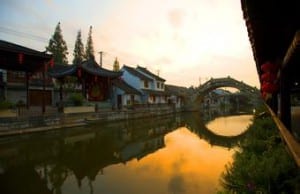 The weather was pleasant on the day I visited, turning out to be an ideal day for a stroll. As I walked, the unchanging townscape of the good old days just seemed to continue. Because of its history that goes back more than 1,500 years and the fact that it has not been developed into a tourist destination, the town offers a glimpse into the life of the locals. You can tour the area of Heping street, Shengchan street, Beida street and Youhao street on a boat similar to the one in the photo. Within this area are 29 main roads and 84 alleyways. The scenery of the sunset and bridges as well as the illumination of the bridges at night offer various sights and are sure to delight our eyes whenever we visit.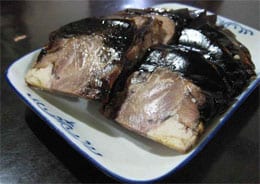 The above is a photo of "Fengjing dingti" (pork leg simmered in soy sauce), a local cuisine. "Zhuangyuan gao" (scholar's cake), "dofugan" (sun dried bean curd) and Shaoxing rice wine are also very famous and are known as the Four Treasures of Fengjing.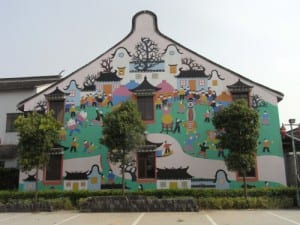 Jinshan District boasts a long history of folk crafts including indigo dye, furniture carving, flower lanterns, embroidery and hand knitting. The Jinshan Peasant Painting by peasant painters is very well known. The paintings feature lots of colors and are in pop art style, portraying mainly the scenery of daily life of peasants. There is a studio inside the village and that is where the painters go to work on their paintings and live there as well. Next to the studio is a space for selling their art, and the paintings created by the peasants can be purchased there. If you are interested in experiencing an atmosphere a bit different from the big cities, then I strongly recommend visiting the town of Fengjing that is just a short distance from Shanghai!