Last time I wrote about eating out in Ireland. In Part II, I want to tell you about the supermarkets.
To start, there are basically five major supermarket chains in Dublin. The ones that aren't in Japan are Lidl, Aldi, and Dunnes Store. They also have the familiar Supervalue and Tesco chains. You might be thinking, Tesco? but that's because in Japan the company was sold off to Aeon in 2013. Somehow that makes it seem quite close to home, right?
In Ireland, self-checkouts are everywhere. I guess they've recently become more common in Japanese supermarkets, too. Other countries have always been quick to introduce self-service features as a way to reduce labor costs. The same thing happened with gas stations. Obviously the first time I tried to do it I completely froze up (laughing at myself here), and a staff member had to come help me out. Now I look back on it as a good memory. It makes total sense once you get used to it. Checking yourself out is much faster. By the way—all of the supermarkets are cheap, but they each also have something they excel in (one might have better quality meat, for example). So it's a good idea to check them all out and find the one you like best.
Something that really shocked me personally was the seafood departments. The meat departments have a great selection—you can get chicken, pork, beef, or lamb. If I had to describe the chicken selection, I'd say it's pretty much breast meat, breast meat, drumettes, wings, and breast meat lol. I mean, it's not like they don't sell chicken thighs, but for one thing, it's a total pain to get the bones out. I guess there's not much demand for them, but it really made me appreciate the amazing attention to detail in Japan and how convenient things are back home.
From here to the end of the aisle is the meat and fish department (sorry, Miss!)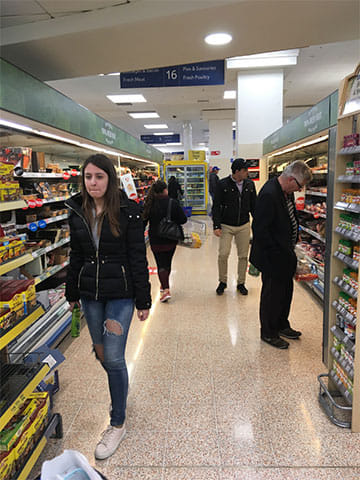 The fish section is probably like an eighth of this space. Check it out.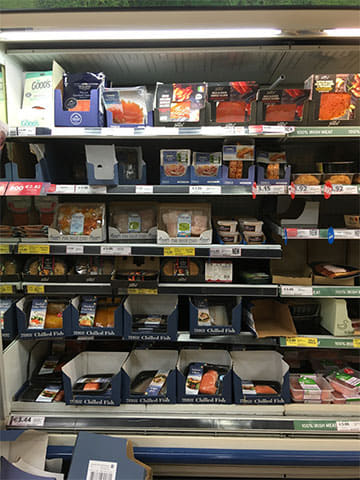 Plus… it's pretty much all smoked salmon. There's also some shrimp, imitation crab, cod, and sea bass.
I had a terrible experience one day when I wanted to simmer some fish. They bill it as something super convenient—just stick it in the oven and it's done—but for some reason pretty much everything they sell is pre-seasoned. I need to ask the Irish what's up with this. So, every time you eat this fish it tastes exactly the same way? And you're OK with that?? LOL! No matter what supermarket I went to, all I could find was pre-seasoned fillets. I'll never forget how bummed out I was that day. I could hardly stand the disappointment. I just ended up going home without buying anything.
When I have time, I like to browse around the organic supermarket.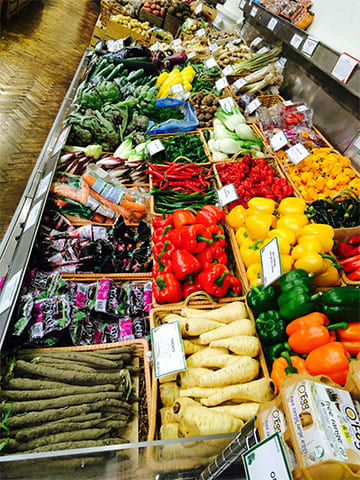 It's so expensive that I rarely buy anything, but it's fascinating! There are so many vegetables that we don't have in Japan. This supermarket has a meat department, fish department, and even a cheese department. When my mom came out to visit she said she wanted to see the cheese they use to make raclette—and since the cheese is cheaper here than in Japan, I brought her here. Apparently, it was a great deal compared to prices in Japan, so she happily bought some.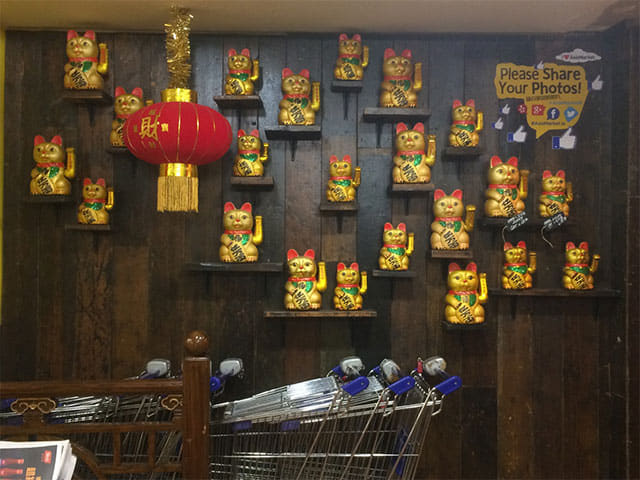 People are always concerned about whether I can get Japanese food in Ireland, but thanks to all the Chinese people here, there are several large Asian grocery stores (see photo). Naturally they're a little expensive, but you can get the basics like soy sauce and curry roux there. Despite the higher price tag, I can't manage to completely abandon old familiar things. I'm trying to keep up a healthy balance when I cook for myself.