Did you know that Brazil is home to the largest settlement of Japanese immigrants in the world? Japanese immigrants, or Japanese Brazilians, are Japanese nationals who immigrated to Brazil as well as their descendants, including persons of mixed parentage. Carrying on board 781 Japanese after leaving from Kobe, the Kasato Maru arrived at the Port of Santos of São Paulo State in 1908. In roughly 100 years following that landing, around 200,000 Japanese immigrated to Brazil. Currently, about 1.5 million Japanese Brazilians are said to be living in the country, with almost 70% residing in São Paulo State. Prior to the Second World War, Japanese Brazilians started to gather in the Liberdade District, which is adjacent to central São Paulo City, and opened businesses there. Following the war, they saw establishment of the Brazilian Society of Japanese Culture and Social Assistance, the installations of Osaka Bridge and Torii Gate on Galvão Bueno Street, which is the main street of Liberdade, and even a small Japanese-style garden. This district named "Japantown" then became lined with a hotel managed by Japanese Brazilians, a Japanese bookstore, restaurant, grocery store, gift shop, travel agency, newspaper publishing company and so on.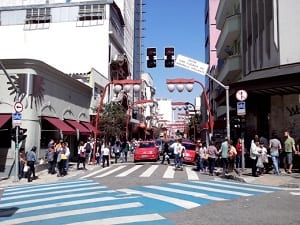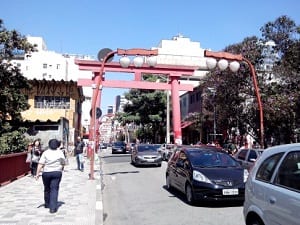 In this district where there are many Japanese restaurants even today, ramen shops in particular are thriving with long lines of customers all the time. Confectionary shops have recently started selling cream puffs, something rarely seen before, and are even offering matcha flavor as part of their lineups. Import products such as Japanese seasonings, food products, snacks, green tea and kitchen items can be found at grocery stores selling Japanese food. Lots of food made by Japanese Brazilians, such as vegetables, rice, tofu, noodles, pickles and miso, and the large variety of available products make shopping very convenient.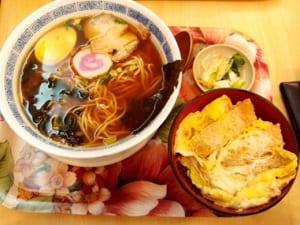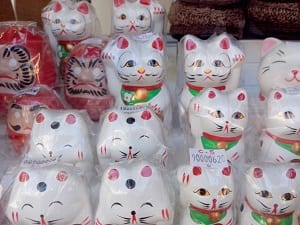 At the entrance to the subway station in Liberdade District is a little public square where various events including Mochi-pounding of New Year, Flower festival, Tanabata and Oriental festival are held every year. Something different from Japan about the Tanabata festival here is that although they are both held in the month of July, July in Brazil is wintertime. Despite the chilly winds, people come to write their wishes on the strips of paper. The strips of paper come in the six colors of white, green, yellow, pink, blue and red, each with their own separate meanings such as the white representing peace, green representing hope and yellow representing money.  On the weekend is the Sunday market. You can find food such as imagawayaki (pancakes filled with red bean paste), tempura and yakisoba (fried noodles) as well as clothing, stationary made with Japanese paper, bonsai and ornaments, and the market becomes bustling with many Brazilians. A "radio gymnastic exercise" monument was placed at the center of the public square, and to commemorate the 70th anniversary of Japanese immigration, the "radio gymnastic exercise" has been played every morning at 6:30 since 1978.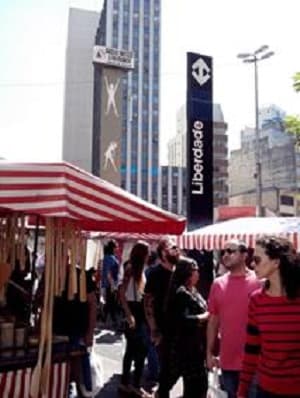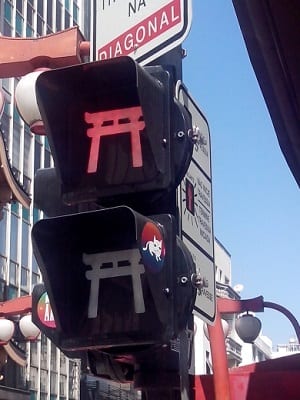 With the rapid increase of Koreans and Chinese from the 80's, many of the stores run by Japanese Brazilians became run by Chinese, and Japantown was officially renamed Oriental Town. Many Chinese and Korean food as well as products are now seen, but the district still retains the atmosphere of the days when it was still called Japantown. This year marks the 120th anniversary of the establishment of diplomatic ties between Brazil and Japan. Various events have been held in different areas, with participation not only from Japanese Brazilians but also from many Brazilians, contributing to the excitement of these events. The Brazilians have deep trust for the Japanese community, and the ease of life enjoyed here today is due to the toil and efforts of all the Japanese immigrants, of whom we are truly grateful.