The banca de jornal is a common sight on São Paulo street corners. The word banca means stand or kiosk, and jornal translates to "newspaper." Some of these newspaper stands have been around since the beginning of the twentieth century. At first they sold only newspapers, but later added magazines, comics, stickers, and sticker albums. Today, they've become something like mini convenience stores, selling cigarettes, juice, ice cream, snack packs up to 200 grams, candy, paperbacks, CDs, DVDs, maps, umbrellas, batteries, telephone cards, and more. The downtown bancas are big and clean and feature a wide selection of items, and many of them are open on Sundays as well. Some are open 24 hours a day. Once you get out of the center of the city, however, you get fewer, smaller bancas with less to choose from. The large bancas along São Paulo's main roads might even have copy machines and television screens so that people can catch a glimpse of the news or the soccer game when they stop in for a magazine.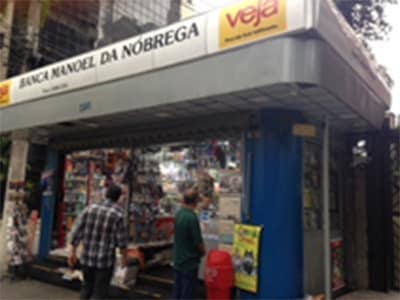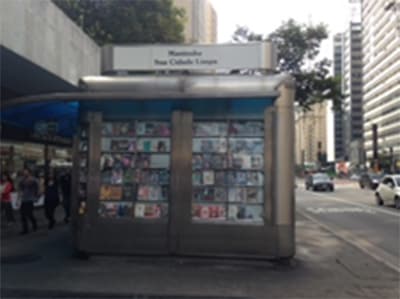 Brazil also has home delivery of newspapers and magazines, but everyone from kids to adults is used to dropping by the banca, so there are always customers. The magazines cover all kinds of topics, from weeklies and sports magazines to fashion, decoration, gardening, pets, travel, guidebooks, cooking, crafts, and more—so you're sure to immediately find something that you want to flip through. Some even sell imported magazines as well.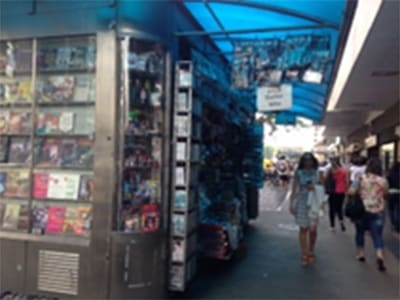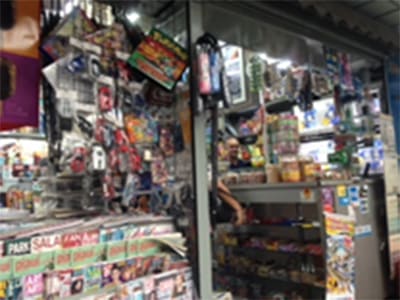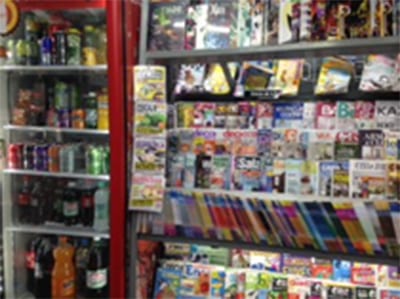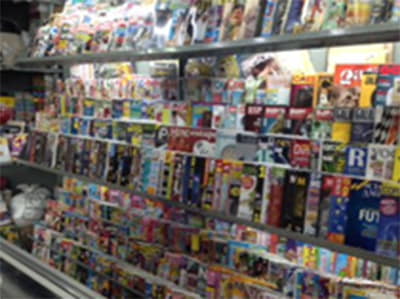 The banca owners and employees are very friendly, and will help you find magazines, chat with you, or show you how to get somewhere if you're lost. They're also a lifesaver when you need a place to take shelter from the rain. Because they're built along sidewalks, some customers stop their cars in front and open the window to buy a magazine, newspaper, or cigarettes without setting foot outside their cars. Some have started to take credit cards, which is quite convenient. Back in the 1980s, banca were like little shipping containers along the sidewalk, and the entire shop would occasionally be stolen. The mayor of São Paulo even ordered that all banca be painted silver on the outside. In the late 1990s, places like supermarkets, cafés, and bars started selling newspapers and magazines as well, and many banca struggled to keep up with so much competition. In response, the mayor gave banca permission to sell snacks up to 30 grams as well as candy and CDs. In 2013, the snack size was increased to 200 grams, while soft drinks and other goods were added as well.Some banca owners face an endless string of difficulties. In addition to theft, banca can get destroyed when there are demonstrations or uprisings in the main roads. They can also get covered in graffiti.There are 3500 registered banca in São Paulo, but once you become a regular patron, you might be able to buy a single cigarette rather than a whole pack, or leave your stuff there for safekeeping for a while. You can even agree to pay the owner later for something if you're short on cash.
REPOTER
Nami Minaki Sandra

Age

Dragon( TATU )

Gender

Female

Job

Language teacher,shadow box crafter
Born and raised in Brazil. After graduating from university, She has been teaching shadow box crafts that she learned while in Singapore where she resided for three years due to her husband's work and she is also a language teacher. She is in love with the life here in São Paulo where cultures and traditions of various countries melt together.