Recently I traveled to the neighboring countries, Peru and Bolivia in a four-wheel drive car. It was an 8,400-km round trip journey. Although I was still in South America, I found a lot of differences in the history, culture, language and so on. In Peru I visited the famous sightseeing destinations Machu Picchu, Cusco city, and Lake Titicaca, the main topic of this article. I only knew that Lake Titicaca was the largest lake in South America and that it was somewhere in Peru, but when I actually went there I discovered it straddles the border between Peru and Bolivia, with 60% of its area in Peru and 40% in Bolivia. At 3,812 m, it's actually at a higher altitude than the top of Mt. Fuji, so I took medication while I was there, to avoid getting altitude sickness.Your breath gets a bit short if you just run for a bit, or if you keep talking for a while. Apparently the local people don't take any medication because they are used to it, but they drink coca tea and chew coca leaves. Coca tea is considered a herbal tea, and they say it doesn't harm your health. It seems they drink it because it works for altitude sickness by very slightly numbing the senses.Coca tea was always available in the hotel lobby, so I could drink it at any time. It has a slightly bitter taste. But, it is the raw material for drugs and cocaine, so you aren't allowed to take it away.

The area around Lake Titicaca has been inhabited by indigenous peoples since before the Inca age, and is now inhabited by the Quechua and the Aymara peoples. They are easy to spot because they wear the clothing of their peoples. There are 41 islands in this expansive lake of 8,372 ㎡, among them Uros, which attracts the most sightseers.


Isla de los Uros (Uros Island) is a floating island made of dried waterweed called totora bundled together into blocks and stacked up. The part below the water line gradually rots, so new totora must be continually added to the top (the ground). The feeling I got when I first stepped onto the island from the boat was quite strange, as though I was floating, and for a second I though I might lose my balance.Totora is not only used as the base of the island, it is also used for the houses on the island and for boats. You can eat the white part of the totora, in the base of the stem, so they give it to kids as a snack. It contains a lot of water and fiber, but has no flavor. The inside part of the stem above the base feels nice and cool, so they put it on the forehead to dampen fever. They mainly eat fish taken from the lake, but they also grow potatoes and other vegetables on the island.

The inhabitants of Uros are the Uru people. What caught my attention soon after arriving on the island was the brightly colored clothing of the women. They put pompoms on the ends of their long plaits, which looked very smart. They are clever with their hands, so they make hand-made tapestries and cushion covers and sell them to sightseers.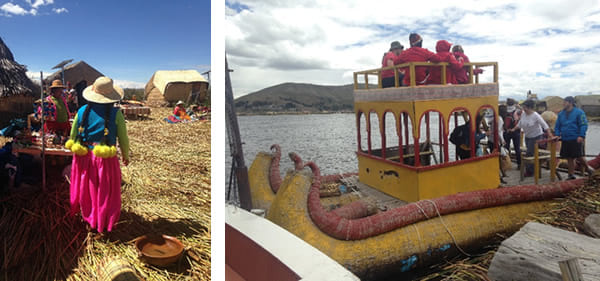 They have installed solar panels on the island and every house has a battery, so they have electricity, and they have TVs.You can ride on a boat made of totora when sightseeing around the island, which raises the excitement level. You can only use oars on these boats, so they go slowly, but it really is the best way to enjoy the wonderful scenery around blue and calm Lake Titicaca.The Uru people are used to sightseers, but they are very shy. I get the general feeling that most Peruvians are shy. That might be because Brazilians speak in a bright and carefree way. And Brazil uses Portuguese while Peru uses Spanish. Although they are similar, many of the words are completely different, so I had trouble making myself understood with my halting Spanish. That said, I am very grateful to the people of Peru for their kindness in carefully listening to my words.