There are 12,500 places to eat and drink here in Sao Paulo with 50 varieties of cuisine, including Portuguese, Italian, German, Arabian, Japanese, and Chinese. There are 500 restaurants alone serving churrascaria, Brazil's favorite, barbecued meats. With so many restaurants, it's not easy deciding where to go to eat. And for the restaurants, intense competition must mean it's not easy attracting customers. So in this blog I'd like to talk about Restaurant Week, which is held twice a year and is still going strong after 10 years. Originally held in New York, 15 cities across Brazil are now participating in the event. In Sao Paulo, 200 restaurants regularly participate. A theme is set for each Restaurant Week and participating restaurants create special menus. Themes have included "classic cuisine with a Brazilian flavor" and "enticing cuisine." Prices are R$43.00 (US$13.00) for lunch set menus and R$55.00 (US$16.60) for dinner set menus, which both include starter, main, and dessert.
Restaurant Week is not just about introducing people to new cuisine and experiencing the atmosphere of the restaurants, but also about charity. A surcharge of one real (R$1.00 is about US$0.30) is added to the bill and that money is donated. Donations are given to the Cafu Foundation, which was established by former soccer player Cafu. The Foundation brings in underprivileged children and provides them with a healthy development pathway through sports. And the foundation has a center where they can get job training.
Last year, a new Premium Menu initiative was added. Twenty restaurants known of course in Brazil as well as overseas have been participating. The prices are reasonable: R$69.00 (US$23) for lunch and R$89.00 (US$29.60) for dinner, plus R$1.00. It's a great opportunity to try out a high-end restaurant.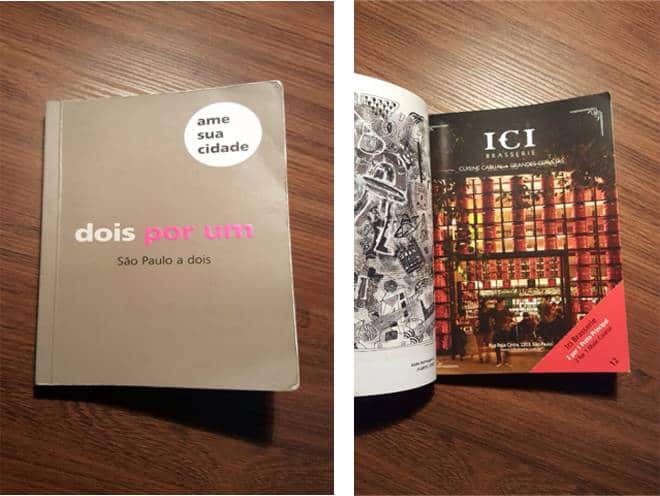 There is also a book on restaurants called Dois por Um (Two for One). Coming out once a year, each page features a participating restaurant with photos. And on each page there is a tear-off coupon showing what two dishes on the menu you get for the price of one. When you go to the restaurant you have chosen, they tear off the coupon, which seems to mean, "I've done that restaurant." The coupons are valid for 11 months, so you don't need to rush to use them up. They are highly recommended for couples, husbands and wives, or two friends eating out. Another good point about the coupons is that you can use them at all sorts of places, like cafés, bars, ice cream shops, and so on, not just restaurants.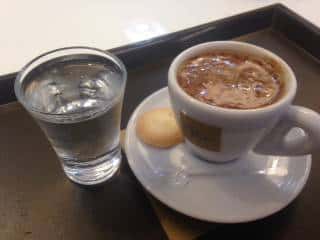 Then there is Coffee Week, created along the same lines as Restaurant Week. Starting in Brazil four years ago, Coffee Week offers the enjoyment of trying high-quality Brazilian coffee beans. In addition, it allows you to discover the flavors, dripper characteristics, water quality, and so on that each café pursues to serve customers for each cup of coffee. Apparently some cafés also offer sets combining ice cream, cake, cookies, and the like, with the coffee. It's a great opportunity to go looking for a café that suits your preferences.
Just while I'm on the topic of coffee, Brazilians always drink coffee when they take even a short break. According to a 2009 survey, the food product that Brazilians consume the most is coffee. Surprisingly, it even beats rice. And when you give even a small tip (just as a gesture) here, you hand it over with a "Tome um cafezinho!" ("Have a coffee, OK!")