"Eataly" is made up from the English words "Eat" and "Italy."
It's a place based on the concept of bringing together eating, buying, and learning in one place, with selection of good-quality Italian foods.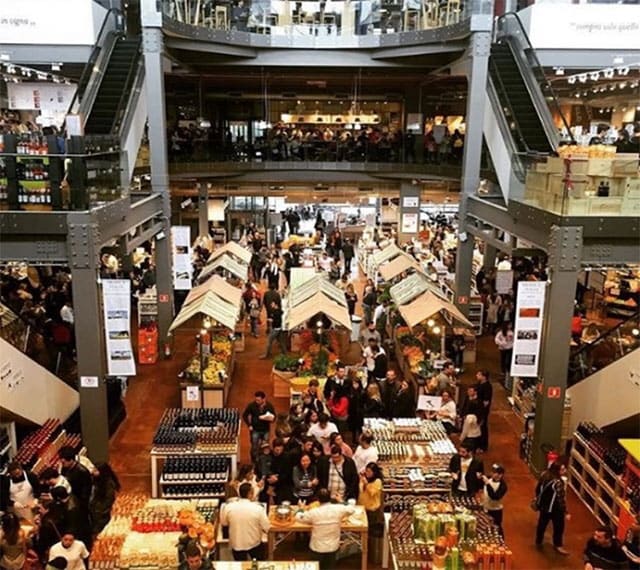 Since opening in 2007 in Turin, Italy, at least 30 stores have opened in Italy, Japan, Dubai, Turkey, and so on. The first store in South America opened in São Paulo in May 2015. The Italian migrant population is large in Brazil, so there are lots of Italian restaurants and so on serving pasta, pizza and other Italian foods and people are familiar with it at home. It's that background that has made the opening of Eataly so hugely popular. There has been a queue of cars entering the parking lot for days and days, month in month out. It's a large 4,500-m2 store in a 3-story building in a business district. You can find 7,000 products in the Market, and as well as restaurants, there is a space for events and workshops. The variety of foods including drinks, wines, meats, cheeses, pastas, olive oils, fruits, and sweets is mind boggling. Because it stocks good quality items there are a lot of imported foods, which are expensive, so it doesn't feel like your everyday supermarket, but it is probably the best place to go when you want to cook some real Italian food.


Level 1 is a supermarket and a space for enjoying sweets and coffee. You can also buy Eataly brand goods, like cookbooks and mugs.

Level 2 has a row of restaurants, like a food court, serving your choice of pizza, pasta, fish dishes, meat dishes, and so on. The single word "pasta," however, means here a variety of types of pasta, which makes choosing fun. And if you order some wine, you have the perfect combination!

On Level 3 they have a restaurant, Brace Bar & Griglia, featuring grilled vegetable, meat, seafood and other dishes. It's a restaurant with a high-class feel, and a large window facing Eataly's entrance, so at lunch time you can see the surrounding office buildings and get a little of the atmosphere of downtown São Paulo. The meat they serve is thumpingly good and juicy, as you can see in the photo.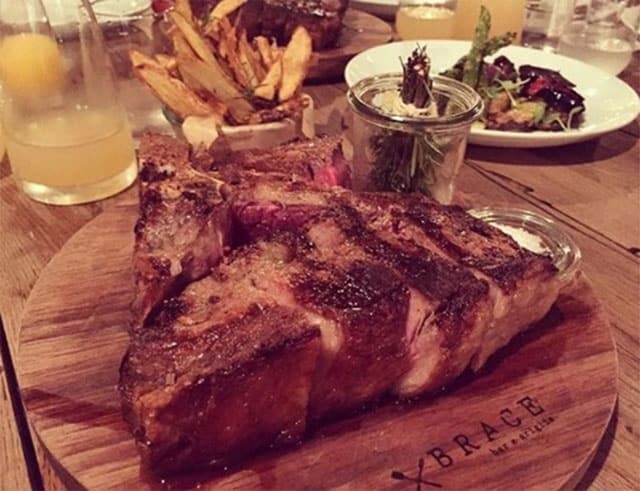 Also on Level 3 is a brewery called Cervejaria Paulistania, a great place for people who like beer. You can also buy this brand of beer at the shop.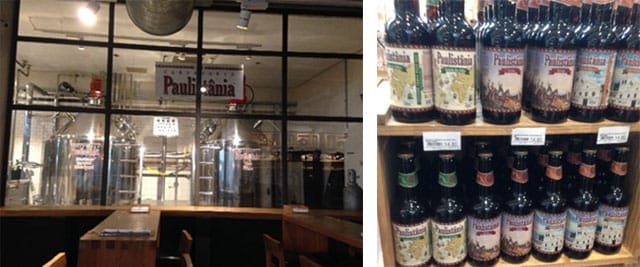 Something I discovered on the Eataly website is that they have 1-hour guided tours of the store on weekdays. The guide tells you about the products and talks about Italian food culture, and so on in groups of 5 or more. You just have to send an email and apply in advance. I think you would learn some really interesting things.
Something else I noticed was this sentence.
"...a vida é curta para não comer e beber bem."
Meaning "life is short, so eat well and drink well." If I make the effort, I too go out to a good quality, authentic restaurant, which might have been happening a bit more often lately. And that might be because I have lived at least half of my life so far.
When you want to try some great Italian food, you really should try Eataly!
Or if you want to try making some real Italian food, Eataly has all the good-quality ingredients you'll need.
Buon appetito!