Bananas. We start eating them in childhood and never give them up. They're easy to peel and easy to eat. And they're great when you're feeling a little hungry. Plus, they've got lots of vitamins A, B1, B2, and C as well as minerals like potassium. And, they're Brazil's favorite fruit. There are so many varieties of bananas here that the markets have stands that sell just bananas apart from the other fruit stands. Here is a bit of a rundown on the 5 main varieties of bananas sold in Brazil.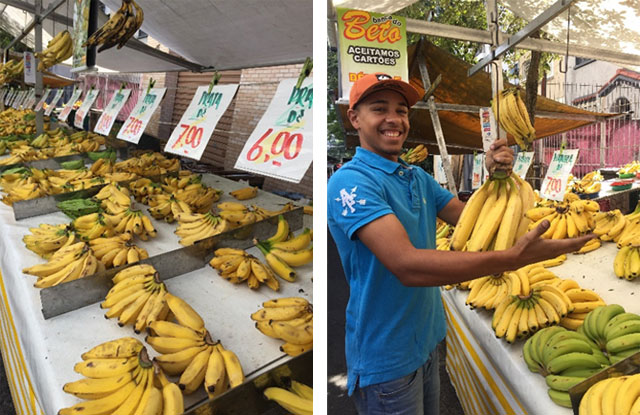 Banana Nanica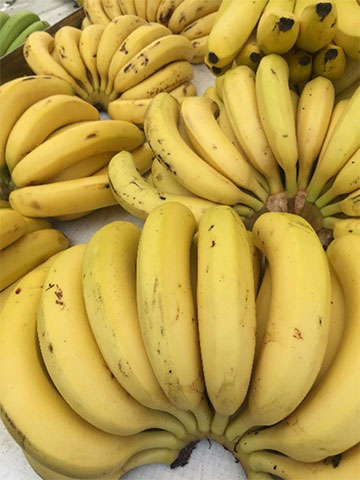 A lot of sportspeople prefer these bananas because they have 376 mg of potassium per 100 g, which is the highest content of any banana variety. Plus, they're sweet and the skin is robust. They're used in sweets like banana cakes.
Banana-Prata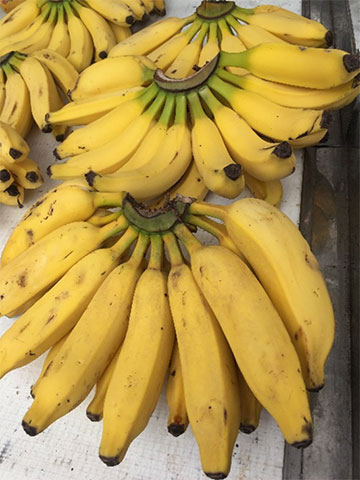 They're not quite so sweet, and they're a little smaller than the Nanica. They also have a thick skin, so they last longer. They say people with diabetes choose this variety.
Banana-Maçã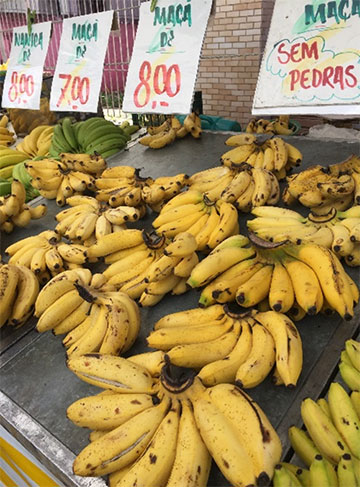 "Maçã" means "apple" and this variety got its name from their faint scent of apple. The skin is thin and the fruit itself is whitish. They say they're good when you have stomach trouble.
Banana-Ouro

The smallest banana variety in Brazil, they only grow to about 10 cm. They have a rich, strong flavor, they're very sweet, and they're yellow. "Ouro" means "gold." They smell really good.
Banana-da-Terra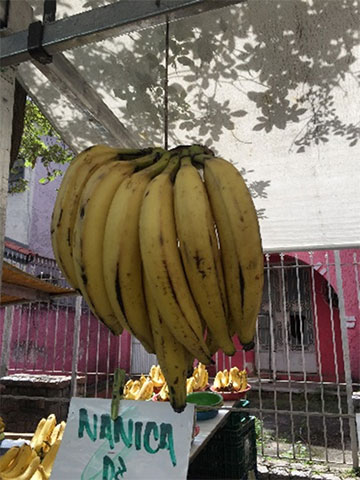 One of the larger varieties of banana, they can reach up to 26 cm. You can't eat them raw, so they're deep fried or simmered. They are really nice and sweet when you crumb and deep fry them.
At supermarkets they sell bananas by the kilogram, but at the markets they sell them by the dozen. At about R$7.00 (about US$2.10) per dozen, they're cheap. When you're choosing your bananas at the markets they let you peel and try one on the spot, and even if you buy only half a dozen they'll throw in 1 or 2 for free, which is nice!
Bananas aren't just sold fresh, they're also used in sweets.

There's banana jam, banana candy, dried banana, banana cake, banana chips, and so on. You can eat bananas coated in melted chocolate, or bananas heated in the microwave and drizzled with honey. They also sell banana-shaped popsicles for the kids to enjoy. And you can peel the skin! (It's all ice cream.) What fun!

Brazilian banana exports mostly go to Argentina and Uruguay. According to the 2016 data, 99% of the bananas grown in Brazil are consumed in Brazil, with only the remaining 1% being exported. Bananas are plentiful year-round, they're cheap and easy to obtain, and they're easy to eat. Which are all good points.
While I'm on the topic, you know how some people take the trouble to peel off the "white strings" along their bananas? The role of these white strings is to transport nutrients to the banana fruit, so they contain a lot of potassium and anti-oxidants. Next time you eat a banana, it's actually better to leave them on.
In Brazil there's the expression "Comprei a preço de banana." The literal translation is "I bought it for the price of bananas." You use it when something is being sold very cheaply, so you do not need to ask for a discount. You can also use it when you manage to buy something very cheaply by getting a price reduction. When Brazil was a Portuguese colony, there were banana trees everywhere in Brazil and they would grow wild, without having to plant them. This expression is said to have come into use because at the time the Portuguese thought it was impossible to make any commercial gain out of bananas because they could grow anywhere. So, it seems bananas have been a cheap fruit since the olden times.