Happy hour is a period of time when restaurants and bars offer beer, cocktails, and other drinks at a discount price. The times are different at every place, but it's typically on weekdays—Monday through Friday from 4 PM to 7 PM. The basic idea is to draw in more customers.
Happy hour apparently got its start with American navy men in the 1920s. It referred to their regular off-duty hours on the ships when they would kick back and have some drinks. It was definitely a happy time, which is how the practice got its name.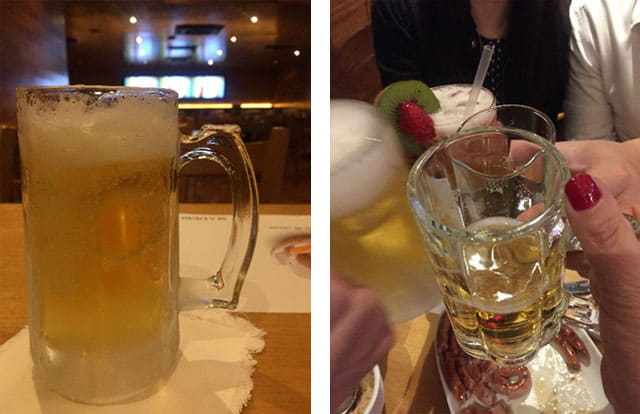 Americans love to use the word "happy". Happy New Year, Happy Birthday, Happy Valentine's Day… the list goes on. And "happy hour" is the perfect way to describe such a fun part of the day. Even though it's called happy "hour" (singular) though, it's two or three hours—not one. The Brazilians don't even bother to translate the phrase, and just use the English as-is. I'm not sure exactly when happy hour got its start here, but it was probably when the American restaurant chain Outback Steakhouse first opened in Rio de Janeiro in 1997—given that the Outback has a happy hour menu.
Businessmen just getting off work, friends chatting to catch up, husbands and wives taking a timeout from their busy lives… happy hour is the perfect time for anyone who enjoys a drink. It depends on the place, but it's not uncommon for draft beers to be half price. You do have to be there at the right time, however, and order before time is up in their computer system. Just one minute too late and everything goes back to regular price, so you've got to pay attention.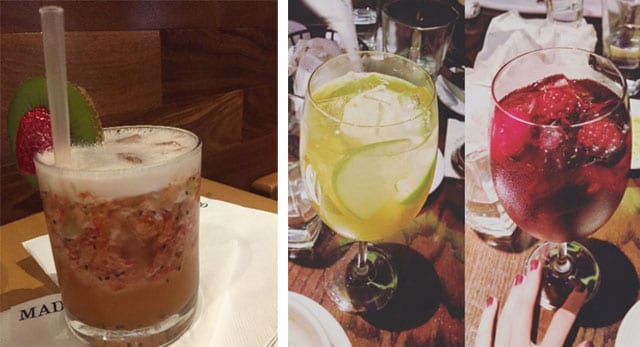 Beer is the most popular beverage, but here people also love a Brazilian drink called the caipirinha. Caipirinha is a cocktail made with cachaça (a distilled sugarcane spirit), sliced lemon, sugar, and crushed ice. There are plenty of variations on it these days—particularly with the fruit that's used. Strawberry, kiwi, and passionfruit can be substituted for the lemon, for example. Other versions that can be prepared according to preference are the caipiroska, which is made with vodka instead of cachaça, and the sakerinha, which replaces the cachaça with Japanese sake.
There's also a drink called the mentiroska. It's made with sparkling cider and fruit juice only, so there's no alcohol. It comes from the Portuguese word mentira, which means "a lie". So it looks just like a cocktail but doesn't have any alcohol in it. The Brazilians can be pretty hilarious sometimes.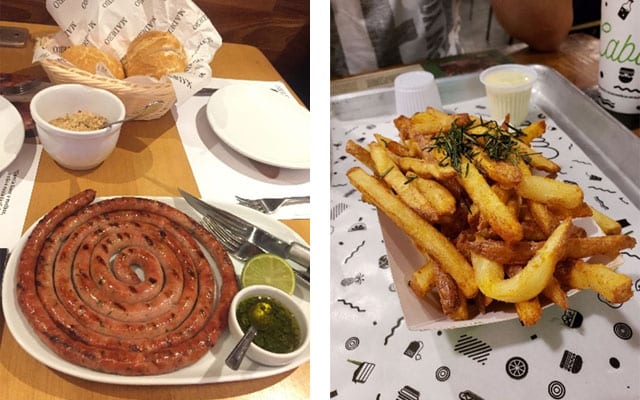 Lots of places have a special happy hour menu these days too—one that includes light fare as well as drinks. Croquettes are one of the most popular Brazilian appetizers, and the most popular of all is a Portuguese dish made by rehydrating and separating dried cod, pan-frying it, wrapping it in mashed potatoes, and frying it into a croquette.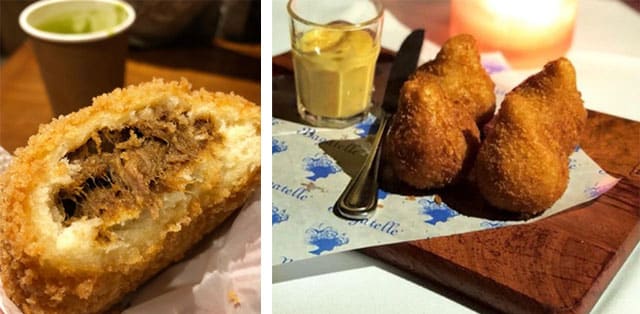 Bolinho de bacalhau: dried cod croquette
Bolinho de carne seca: Dried meat croquette
Coxinha: shredded chicken croquette
Other popular food items include potato fries and Portuguese sausages, which you can see in the photos above.
Fried food and beer. Fried food and caipirinha. Perfect combinations. So make sure to pop in and enjoy happy hour before you head home. Just drink responsibly!