In this blog I would like to tell you about the situation with healthcare in Brazil, as far as I am aware of it. Under Brazil's constitution, healthcare cover is a "national obligation and the right of the people," and healthcare in public hospitals is free even for foreigners. Hospitalization and treatment are also free.
The Unified Health System, or Sistema Único de Saúde (SUS), was established in 1988. In 2007, healthcare centers were improved under the name Basic Health Units, or Unidade Básica de Saúde (UBS), with general physicians, obstetricians and gynecologists, pediatricians, dentists, and nurses at each center. It's a system where the goal for the UBSs is to treat 80% of patients, and if surgery or hospitalization is required, they are transferred to a SUS hospital. In 2009, 24-hour emergency centers named Emergency Care Units, or Unidade de Pronto Atendimento (UPA), were set up. At UPAs they look after the course of your treatment for up to 24 hours, but if you have to be hospitalized, you are transferred to a SUS hospital. There is also the Mobile Emergency Care Service, or Serviço de Atendimento Móvel as Urgência (SAMU 192), and the ambulances have "SAMU" on them in big letters.
The government called on the public to contact a UBS or UPA near their homes first if they had any COVID-19 symptoms.
According to 2017 data, the number of public health centers throughout the country is 42,488.
But that it is not nearly enough to look after Brazil's population of 200 million people, waiting times are long even in emergencies, and people often can't get a test done straight away and are told it will be a one-month wait. As well as that, distribution of medicines is inadequate, hospital facilities and hygiene management are poor, and doctors and hospital employees are not paid on time, so there seems to be no end of problems.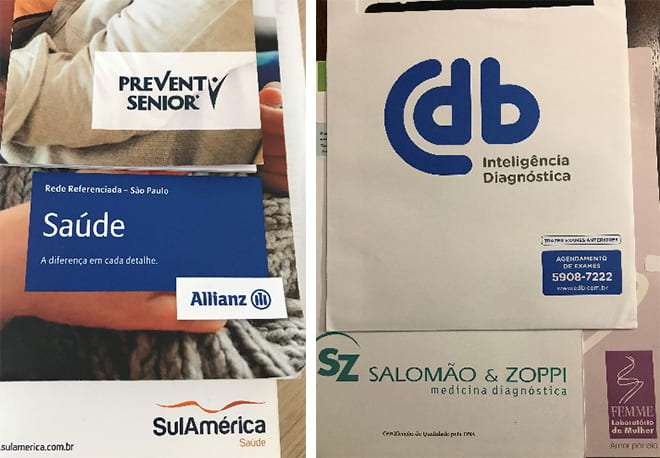 About 30% of people in Brazil subscribe to a private health insurance company. Most subscribers subscribe through the company they work for, but you can also subscribe on your own. There are all sorts of health insurance companies, and within a health insurance company there are various plans, so things like the medical examinations, tests, hospitals, and other benefits you can access depend on the plan you subscribe to. If you want to see a specialist not included in your plan, you can pay in advance out of your own pocket and get a partial refund from the health insurance company. The older you get, the higher your monthly contributions will be, and you'll probably be paying at least R$1,000.00 (about US$250) every month.
For example, let's say you want to see an obstetrician/gynecologist. You choose a doctor in the plan you are subscribed to and make an appointment at the doctor's clinic. After the examination is completed and you need to have a test done, you make an appointment yourself at a specialized testing center or a hospital in your plan that does testing. When you get the test results, you show them to the obstetrician/gynecologist you saw before. So far, you just show the card for the plan you are subscribed to and don't pay anything because the doctor and the testing center are approved under your plan. If the obstetrician/gynecologist prescribes some medication, you go to the pharmacy yourself and buy the medication out of your own pocket. You might get a small discount when you show your health insurance company card, depending on the pharmacy.
A lot of patients infected with coronavirus have been admitted even to private hospitals, and health insurance companies have put out information about online consultations with specialists.
Even if you are not with a health insurance company, you can see a private hospital or doctor, but if you do, you'll have to pay for all your consultations, tests, medications, and so on out of your own pocket. Consultation fees also vary from doctor to doctor, but they can be from R$100 to R$800 (about US$20 to US$200). And if you need to be hospitalized, it gets even more expensive.
You're lucky if you subscribe, or can subscribe, to a health insurance company.