The very first certificate that a baby gets after being born is a birth certificate. Birth certificates serve an important role in Brazil.
First, once the child is born, the father goes to the Cartorio (registry office) closest to the area where the baby was born with a document issued by the hospital. You get a birth certificate issued to you at the registry office. There is no charge. At the moment in maternity hospitals in the larger cities, an official from the registry office will go to the hospital, examine the document, and issue a birth certificate. The birth certificate lists the name, date of birth, parents' names, and the time and place of birth. You must complete registration by the 15th day after the birth. When the mother lodges notification, however, she has until 45 days after the child was born. And if the registry office is more than 30 km from the place of birth, you have up to three months to register.
This photo shows a birth certificate.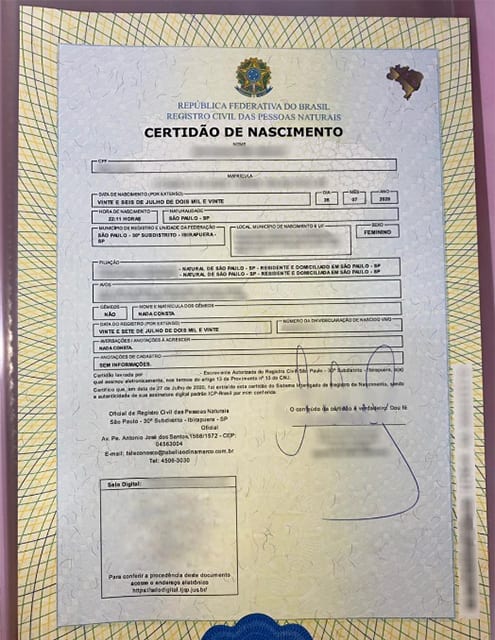 Although a birth certificate is only a single sheet of paper, it is an especially important document for a child as he or she grows up. One of the documents you submit when you start kindergarten, school, or university is your birth certificate. Young men also need it when they enlist, in the year they turn 18. You also need your birth certificate when you get your driver's license, when you enroll to vote, and of course, when you get a passport. You also need it to get an identification card, your taxpayer number, and your Work and Social Security Card (CTPS).
Not having a birth certificate means that officially you have no name or nationality. According to the Brazilian Institute of Geography and Statistics (IBGE), unfortunately as many as three million people did not have a birth certificate as of 2015.
They don't get any rights and they can't start at school. For that reason, a movement has started up to spread the message about the need to get a birth certificate and the rights that come with it, and that indigenous Brazilians also have the right to get it.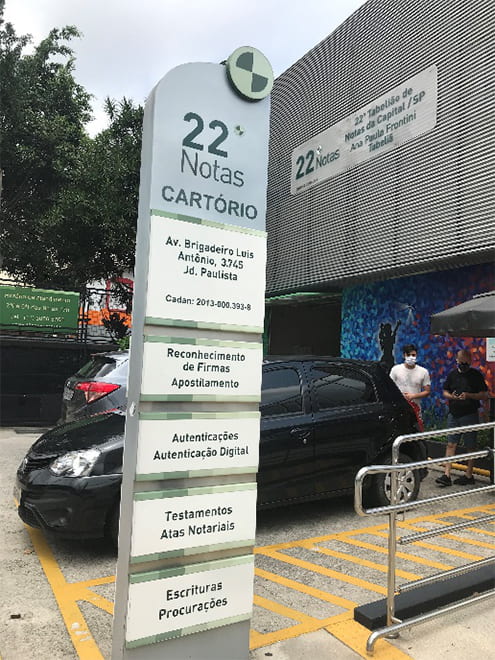 You also need your birth certificate when you marry. After you get married, you use your marriage certificate issued by the registry office instead of your birth certificate. In addition to issuing the various kinds of certificates, registry offices also notarize documents, provide certifications, register signatures, notarize wills and powers of attorney, certify copies, and so on. The first registry office in Brazil was established in Rio de Janeiro in 1565. Its history is almost as long as Brazil's. A "registry office" usually refers to a document registry office that issues various kinds of certificates, a real estate registry office, a corporate registry office, and so on. Bureaucratic procedures take a lot of time, and there are always a lot of people at registry offices, so there are complaints from a lot of people, but the documents that have been registered there over the centuries are documents that tell of history, and they will never just fade into oblivion.
Since becoming an adult I have also been to the registry office and they help out when I do things like registering my signature, selling a car, or buying or selling property. I guess in other countries you do these sorts of jobs at city hall. I almost never go to city hall.
Just on a tangent, have you heard of a travel authorization for minor children? In Brazil, when a minor (under 18 years of age) travels overseas, you need this form every time he or she travels with only one of the parents or with another person. The form is for the consent and signature of either both parents or the single parent not traveling with the minor. You must also have the signatures on these consent forms authenticated at a registry office.
Birth certificates certainly serve a major role don't they. I always keep mine in the same place and as the years go by, I occasionally like to take the time and look over the yellowing piece of paper.