On January 17, the Brazilian Health Regulatory Agency (Anvisa) approved emergency use of CoronaVac, a vaccine made in China. Brazil is the third country after Indonesia and Turkey to approve emergency use of this vaccine. A Phase 3 clinical trial of CoronaVac began in Brazil last July and the published efficacy rate was 50.38%. In Indonesia, its efficacy was 65.3% and in Turkey it was 91.25%.
On the same day, Anvisa also approved emergency use of a vaccine jointly developed by the University of Oxford in the UK and UK pharmaceutical manufacturer AstraZeneca.
Brazil has the second highest death toll in the world from COVID-19 (over 200,000) and the third highest number of infected people in the world. The numbers seemed to settle down around October of last year, but with the year-end and New Year holidays, the numbers went up in January and have continued going up ever since. It got so bad that in one 24-hour period 1,000 people died. The state of São Paulo once again declared a strict lockdown, and from the weekend of January 30 and 31, only supermarkets, pharmacies and gas stations could open. In the state of São Paulo, the Carnival festival on February 16 was also canceled. The Carnival parade and events have been postponed to July.
We started the New Year amid expectations that the number of people infected with COVID-19 after the year end and New Year's holiday would increase, so hopes for a COVID-19 vaccine only increased. On January 17, the day Anvisa announced approval of the vaccines, Monica Calazans, a nurse living in São Paulo city, received CoronaVac. She works in the ICU at Emilio Ribas Hospital, which is taking in critically ill COVID-19 patients. She also participated as a volunteer in the CoronaVac Phase 3 clinical trial. She received a second vaccine injection on February 12. And she said that even after receiving the second vaccination, she would still use a mask, the same as before, and always use alcohol gel to disinfect her hands.
The state of São Paulo said the vaccine injections would be given in stages, first to health care workers, then indigenous people, then elderly people 90-years and over, 85-years and over, and 80-years and over.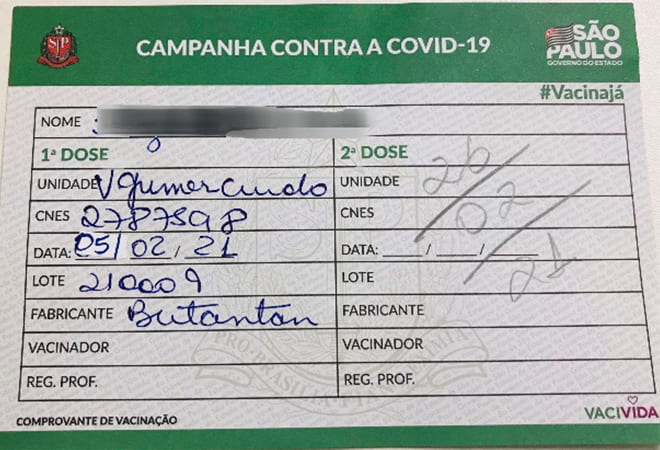 When you receive the injection in the state of São Paulo, you are given a card like this.
An ophthalmologist I know received the first vaccine injection on January 19, and the other day he told me about what it was like at the vaccination center. Things proceeded very smoothly at the center set up for vaccination and for the time being, there seemed to be a feeling of relief among the doctors and nurses. There had been a long wait for the vaccine and some of them were in tears of joy. The doctors and nurses who are treating critically ill COVID-19 patients in ICUs say, "It's just like a battlefield." From the depths of their physical and mental exhaustion, they said "Salvation has arrived."
From February 7, people 90-years and over received the first vaccine injection. For these elderly people, who had been staying at home, the vaccine was giving them a chance to visit and receive visits from their family members once more, so everyone was smiling as they received the vaccination. One elderly man I saw in an interview on TV made a particular impression on me. He said, "I want to live to 100. It's only another six years. I'll survive till then now that I've had the vaccination, right." His smile was amazing.
I wonder how many experts and volunteers were involved in bringing the vaccine to completion? I'm sure I'll be full of gratitude when I get the vaccination too.