COVID-19 vaccinations started in São Paulo City on January 19 this year. First to receive the vaccine were healthcare workers, then they gradually went down the age groups and vaccinated people aged 90 or over from February 8, and a week later, those aged 85 or over. There are data showing that there are 515,000 people aged 85 or over in São Paulo State and that of those who have contracted COVID-19, 37% have died, so these were age groups that needed to receive the vaccine as soon as possible. From April 14, the vaccine was given to people aged 60 or over, then people aged 18 or over with Down syndrome, people receiving dialysis, pregnant women, bus and subway drivers, and people aged 55 or over who had already been suffering from one of a list of diseases.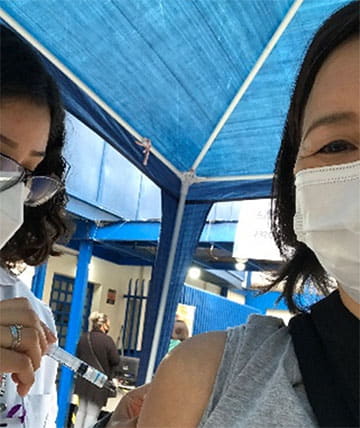 Then, in mid June and two weeks ahead of schedule, it was the turn of those aged 55 or over! It was my turn! On the day of my vaccination, I was filled with gratitude to all the people involved in producing the vaccine and to all the healthcare workers. I had been taking precautions to avoid catching COVID-19 and thought to myself, "That's great." My friends too said to me, "That must be a bit of a relief for you." I received the first dose of the AstraZeneca vaccine. My second dose is 12 weeks after that (early September). As for any reaction to the vaccine, the only thing I had was a slight chill about six hours afterward.
Before you get the vaccine, you have to register online. You don't need an appointment. You take your ID card and proof of residential address to a vaccination site near your home on the day. Your registered link shows the place where you get your vaccine. And a website run by São Paulo City government shows the vaccination sites by district and uses colors to show whether your vaccination site is busy or not, so you can check before heading there. Brazil currently has the Coronavac, AstraZeneca/Fiocruz, Pfizer, and Janssen vaccines, but you cannot choose between them. You just get the vaccine that they are giving on that day. The vaccine you receive for your second dose must be the same as for your first dose.
There is a system that allows for people outside the target age group to receive the vaccine if it is one that cannot be stored for long periods, so it isn't wasted. To participate in this system, you register beforehand at the Unidade Básica de Saúde (UBS, or Basic Health Unit) closest to your home, then when you get a call from the Unit, you head there straight away and get your vaccine. At the moment, you can register if you're 18 years or older.
According to statistics from July 13, 61.6% of adults in São Paulo State have received the first vaccine dose, which equates to 21,800,000 people, while 20.9% have received the second dose. You need the second dose to be fully protected against COVID-19, so we can't let our guard down yet. But the numbers of hospitalizations and severe cases have started falling, so it looks as though the vaccine is taking effect.
Brazil has the third highest number of COVID-19 cases in the world. It ranks second for deaths in the world. And amid such a grave situation, we still see unfortunate incidents. Nurses giving injections with no vaccine in the syringe, injections being given but no vaccine being administered. And there have even been cases of vaccine being stolen from healthcare centers. And recently it was discovered that out-of-date AstraZeneca vaccine was administered in São Paulo City and elsewhere up until June 19, so the vaccine batch numbers have been published, and the Ministry of Health is calling for people to get the vaccine again.
Will Brazil always have incidents like this? Perhaps. But I would have hoped that we could avoid them.