I left the small town of Barreirinhas, 250 km from São Luís, the capital of the State of Maranhão in the northeast of Brazil and headed for Lagoa Bonita ("Beautiful Lagoon"), which lies amid some big dunes. We traveled about an hour and a half on and on through the green landscape riding a 4-wheel drive truck that seemed as though it was seats fitted to the truck bed. It was a dirt road, so I was rocking from side to side, and it felt as though I would get shaken off if I didn't hang on tight.
When they said we had arrived, I could only see dunes on one side. The guide said to go up the dune, which seemed tall looking up at its 80-meter height. With each step my foot was sinking into the sand, so it was hard going. There was a rope from part way up, which I grabbed onto to move up the dune. When I finally got to the top, my eyes were greeted with the sight of white sand dunes stretching into the distance, and a blue lagoon. The breeze was sending sand softly sliding down the dune. It was such a breathtaking sight that if you had told me "This is heaven," I would have believed you. I never knew there were places like this on earth. Then I noticed that I was speechless for a while. Yes, this is Lençóis Maranhenses National Park. It has the most extensive dunes in South America.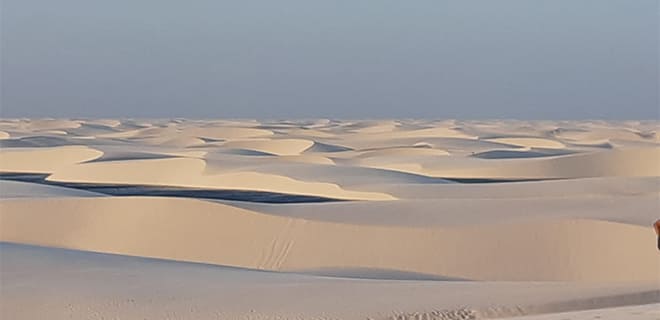 "Lençóis" is Portuguese for "bed sheets." This name comes from the dunes' resemblance to wrinkled white bed sheets. Unlike other sand dune systems, the Lençóis dunes get 2,000 mm of rain each year, and 90% of that falls between January and June. There is an underground water system flowing 3 m below the dunes, and when rain raises the water level, green lagoons form. They number over 36,000. These lagoons are up to 1 m deep. The best season for sightseeing is between June and September. After September, the water starts drying up and the lagoons disappear. This sand dune system extends across 1,550 square km. Incredibly, that's as big as São Paulo city! Two thirds of Lençóis Maranhenses National Park is sand dunes.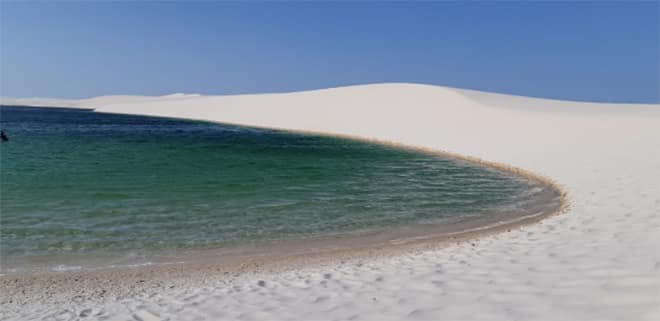 You can do other things in this park apart from looking at sand dunes. You can get into the water of the many lagoons as you walk bare footed from one to the next. And you can swim in them! The water is clear and feels really nice. The sand dunes aren't hot, maybe because of the water system below the dunes. The sunshine is strong, but the wind is usually blowing, so it's comfortable. Amazingly, there were small fish in some of the lagoons. But it isn't yet known how come there are fish in these lagoons.
Apart from Lagoa Bonita, you will also find "Lagoa Azul" ("Blue Lagoon") in the Lençóis Maranhenses National Park.
Another precious experience is to watch the sun go down after you've enjoyed the sand dunes. Although I knew that time is passing because the sun was sinking, in my heart, I just wished time would stand still.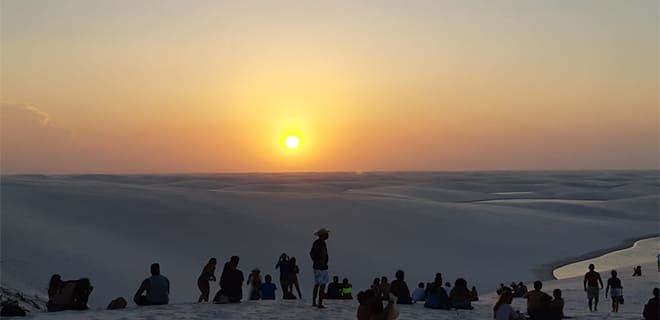 They also have sightseeing tours in a light aircraft, so it might be good to see the dunes from above.
The Lençóis Maranhenses National Park also has a beautiful river where you can go on one-day boat tours. They let you enjoy the natural surroundings at a slower pace, seeing lots of different plants, going to where the river meets the sea, going to a lighthouse, and so on.
I went to the park a few years before in my car, and on my way home I was passing nearby a wind farm when I saw a turbine blade being transported there. I was amazed to see how big the turbine blade was. And I also saw the sand from a small dune moving onto the roadway.
I hope I get to visit the Lençóis dunes again sometime.