In Japan, we tend to link horse racing with gambling, and imagine a bunch of older men glued to the racetracks, holding a racing paper in one hand. In Australia, however, big races like the Emperor's Cup of Japan are enjoyed as a kind of carnival by the entire nation. As difficult as it might be to imagine in Japan, Australia's biggest of the horse races, the Melbourne Cup (now officially called Emirates Melbourne Cup after 2004 when Emirates Airline became the sponsor), is observed as a holiday in Melbourne, the city where the race is held. This race is held every year in November on the first Tuesday at Flemington Racecourse. This year, the day of the race fell on November 3 (Tuesday). In cities outside of Melbourne, racecourses in various regions hold races to celebrate the Melbourne Cup. It's such a big festive occasion that some companies allow employees to take the day off early, and they will all go to a local restaurant, a bar or a special viewing site to enjoy the race. Of course, it's not just about predicting the winning horses but also a time for men and women to dress up and enjoy the party atmosphere, with champagne in hand from midday. A fashion show is held at the racecourse, and celebrities from within and outside the country can be spotted some times in the VIP section. Restaurants and rental venues throughout Australia prepare special lunch menus just for this day. In Gold Coast, where I currently reside, I saw lots of people dressing up from early morning as they headed to Gold Coast Racecourse or to work. Men dressed in suits and women wore dresses, adorned gorgeously in large decorative hats and with artificial flowers. The women working at supermarkets and at bank windows also wore hair ornaments with their uniforms. It's probably just limited to this day, but it appears that they can come to work specially dressed up.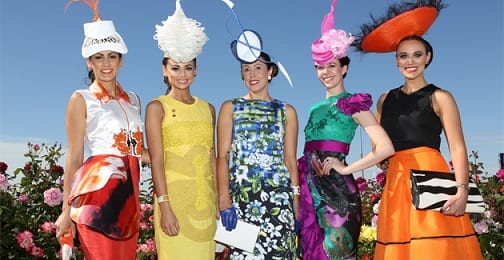 Photo from the Melbourne Cup fashion show hosted by large department store Myer
Betting tickets can be bought at the racecourses and from TAB, a sports betting company. TAB is commonly placed side by side with pubs so it's very easy and convenient to buy tickets. The winning prize is roughly 6 million Australian dollars in total. The betting ticket prices differ based on the betting methods, but they can be bought from 1 Australian dollar (roughly 85 JPY). Simply bet on the winning horse, or bet on one horse that will make the top three, or there is also a ticket called Mystery Bet where the ticket machine randomly selects a ticket for you. This is a full-scale race participated not only by domestic horses but also by champion horses of various countries. At the race held in 2006, Japan's Delta Blues became the winner, followed by Pop Rock in second place. I didn't purchase any betting tickets this year since I didn't prepare for it at all, but the winner was a female jockey by the name of Michelle Payne (photo below). This was the first time a female jockey ever won the race since the historic Melbourne Cup began in 1861, and sure enough, became a huge deal that drew media attention around the world.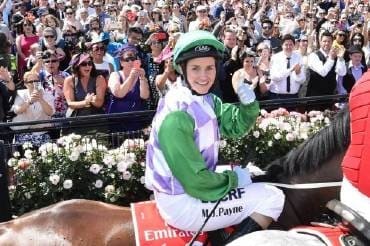 Following the Melbourne Cup is another big horse race called the Magic Millions, which is to be held in January. One big race in a year is probably not enough for the carnival-loving Australians.