Australia, a country whose seasons are opposite from Japan, welcomes Christmas in the middle of summer, but winter has a more Christmassy mood, as illustrated by the fact that when we think of Christmas we think of a "white Christmas." In Australia, somehow it just doesn't feel like Christmas. But, even so there is something that gets you into the Christmas spirit—the Christmas Light Competition run by the city of Gold Coast. In this contest held every year, homes and yards are decorated with Christmas decorations and winners are chosen by votes submitted by residents.  If you go to the Gold Coast city website, you can view a list of the addresses of homes participating in the contest. This year, there are 43 homes participating. The winner will receive a $1,000 gift certificate for a department store. There are also $500 gift certificates for different categories, and even voters are eligible to win a $500 gift certificate by drawing. Families, couples, and friends go together to tour the Christmas lights. It's one of the pleasures of this season. The photo below is of the 2014 winning entry in the Christmas Light Competition.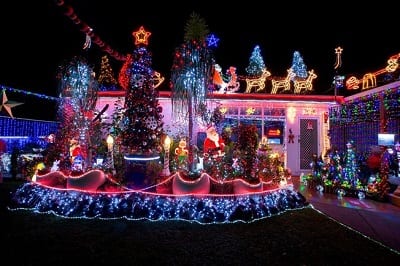 http://www.goldcoast.qld.gov.au/christmas-lights-competition-images-of-the-grand-champions-display-24987.html
I took a picture of a home in my neighborhood participating in the contest.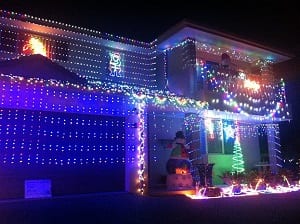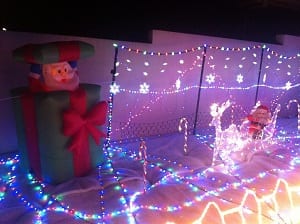 The photo on the right is of a small garden to the right of the home's entrance. A white cloth was laid down to look like snow, and the Santa Clause moves, popping up and down out of the present. When I asked the homeowner how long it took to put up all the decorations, he said about 6 days. Participating homes have to turn on the Christmas lights from 7:00 p.m. to 10:00 p.m. from December 1st to 24th, so I thought that their electric bill must go up, but when I asked he told me it was just a little more than usual. There is also a bus tour of the Christmas lights. At $19 for adults (approx. 1,600 yen) and $14 for children (approx. 1,190 yen), it's not cheap. Each participating home is assigned a number, and residents cast their votes by texting the number using SMS on their cell phones.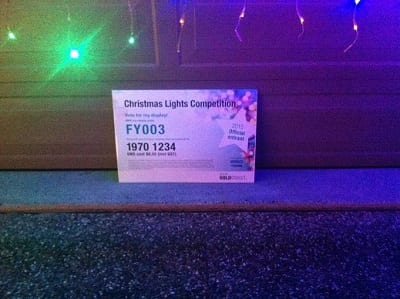 Homes that don't participate in the contest also put up lots of lights. Some districts really get into the spirit with neighborhoods full of Christmas lights. My childlike spirit gets especially excited when I look at lights that appear as if they are floating in pitch-black residential streets with few streetlights.I hope everyone has a wonderful Christmas. Merry Christmas!!