Australia's government-owned postal corporation, Australia Post, delivers virtually all mail within the country, including the post you send from Japan. When you shop online from Australia you either use the shipping company designated by the online shop or you can choose from different options, but in either case, almost all items are delivered by Australia Post. I cannot help but worry whether parcels are actually going to be properly delivered or not, something that's unthinkable in Japan, because people have told me that items they sent through the post office actually did not arrive, or that items they were expecting were not delivered. I myself have sent an item to a friend in Japan that still had not arrived after three weeks. It was finally returned two months later to my address, but when I opened it up, I was astonished to find that the item I had sent wasn't there and in its place was a small, plastic children's toy in the shape of a vacuum cleaner. Something else I have a problem with is that if you are not home to receive a delivery, you have to go to a designated post office to collect it. It is just not possible to specify a time to receive deliveries, so they arrive during work hours, which is about 7 am to 5 pm on weekdays (although I think this differs from place to place), which means you don't know when they might arrive and you have to stay home. For people who work, those delivery times make things very awkward. Although in my family there are better times to receive deliveries at home, such as before work, we almost always have to go and collect parcels at a later date. Thankfully my work finishes early, so I can go on my way home, but for people without a car, elderly people, and people who work late on weekdays, it is a very inconvenient system.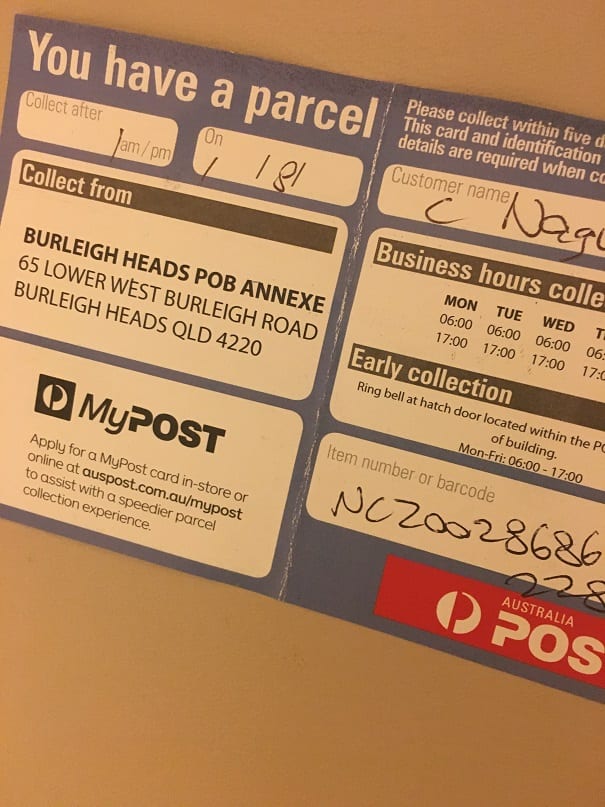 The card the postman leaves if you're not home to receive a parcel delivery. The card is left in your post box or at your front door. It shows the address and opening hours of the post office designated for collection, as well as the parcel item number. The photo doesn't show the notice at the top of the card: "Please bring this card with photo identification and collect your parcel within five days." I don't know how post is sorted, but for some reason parcels are often kept at the second closest post office in our neighboring town, not the one nearest our home.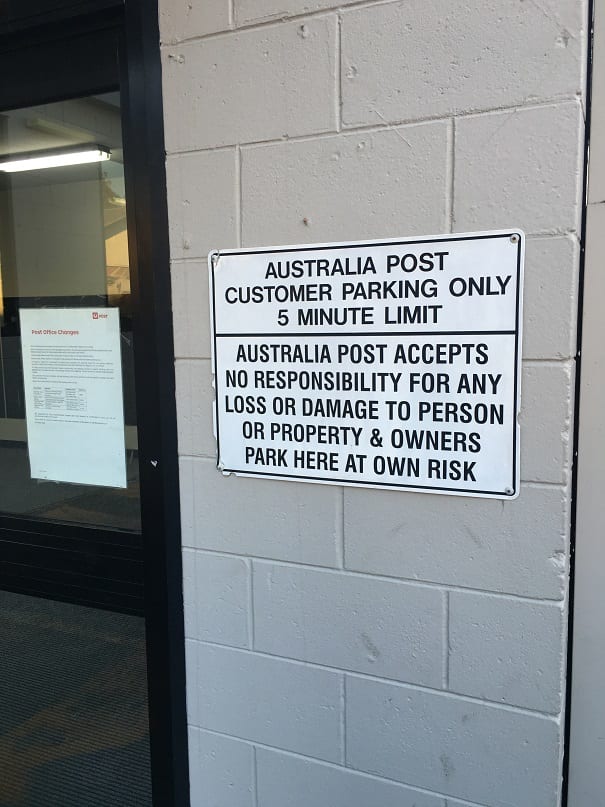 The sign says you can park for up to 5 minutes and that Australia Post accepts no responsibility for any loss or damage whatsoever when parking there.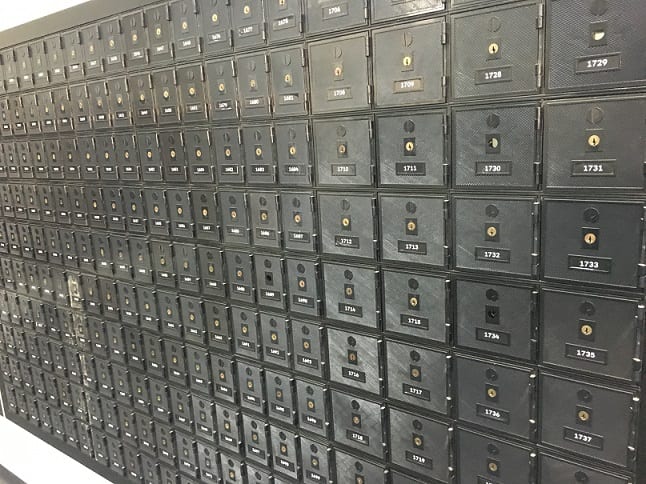 Post office boxes (PO boxes), which are like the private mailbox system in Japan. Each one has a lock and a number.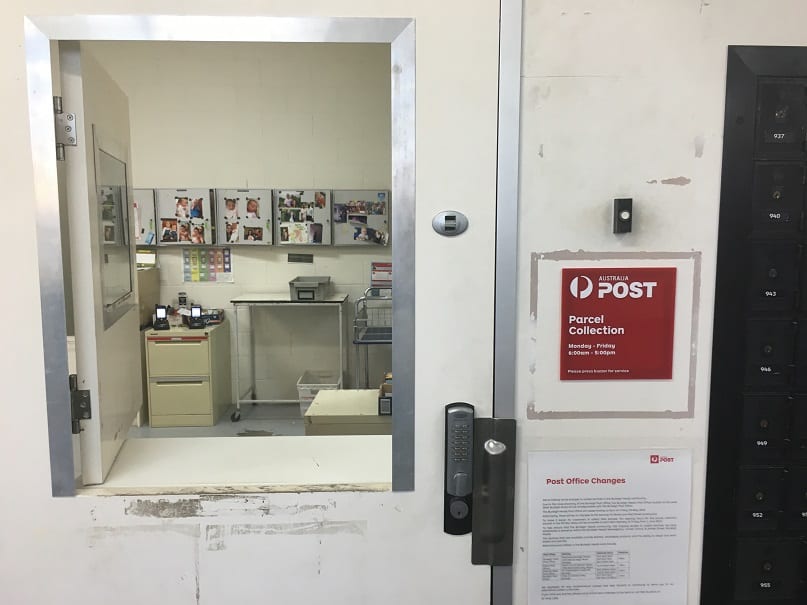 The parcel-collection door. This door is normally shut, but you ring the bell above the red sign (photo at right). When you ring the bell, the Australia Post worker opens the door to serve you. I managed to get a glimpse inside the office. The facing wall is decorated with photos of the workers' children and grandchildren.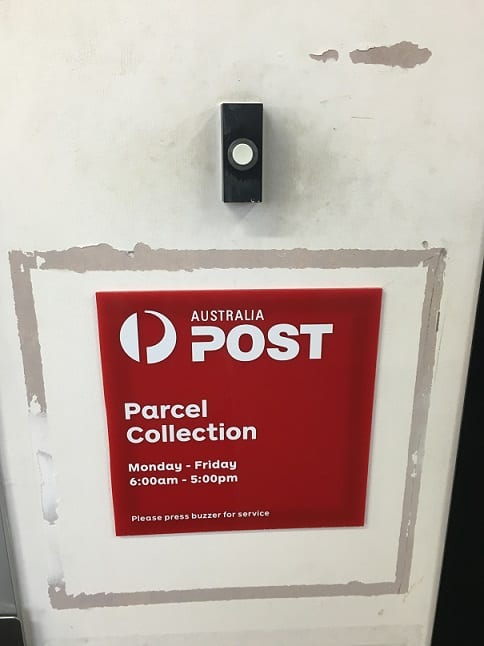 And when you look a little closer, the red sign says you can pick up your parcels between 6:00 am and 5:00 pm! Great to see in true Australian fashion they get started early in the morning. I just wish they could put a little more of their energyextend their hours a little in the evenings, too…
  When I came here to collect my parcel, the little office specifically for parcel collections, with PO boxes next to it, seemed to be emptyclosed. It wasn't easy to get to and people without a car would have some difficulty.  Apparently some office workers use their company address for personal parcel deliveries, to avoid this trouble as much as possible., but iI It seems companies are not so strict about that sort of thing and it isn't a problem. Internet shopping demand would probably increase in Australia if this system were improved.