Every year on January 26th, Australians celebrate their country on Australia Day. Festivals and events are held throughout the country on that day. Some people have parties with friends and family at their homes, some have fun on the beach, and others rent a boat and have a party. It's right at the height of summer in Australia, so the day is spent drinking beer outside and having a barbecue. (By the way, in Australia drinking alcohol on the beach is prohibited.) On this day, you can hear music and the cheerful voices of people having a party in the neighborhood.Around Australia Day, you'll often see cars that are decorated with the Australian flag on the side of the windows on either side of the car. A variety of flag-themed goods are sold everywhere from large supermarkets to small local shops. The sight of people wearing flag-themed t-shirts and accessories is unusual in Japan, I think.Can you immediately remember what the Australian flag looks like? It is blue with the Union Jack seen on the British flag featured on the top left, while on the right side is the Southern Cross in white. Right under the Union Jack is a seven-pointed star called the Commonwealth Star. The 3 colors of red, white, and blue are used, just like in America and France. In addition, the national flag of the indigenous Aborigines is black on the top half, red on the bottom half, and has a yellow circle in the middle similar to Japan's flag. I think that the image of both is completely different. The Aboriginal flag isn't sold in supermarkets and is not generally available unless you go somewhere like a souvenir shop. I'll show you a few of the goods that are sold.First, there is this type of small flag on a stick that often adorns cars.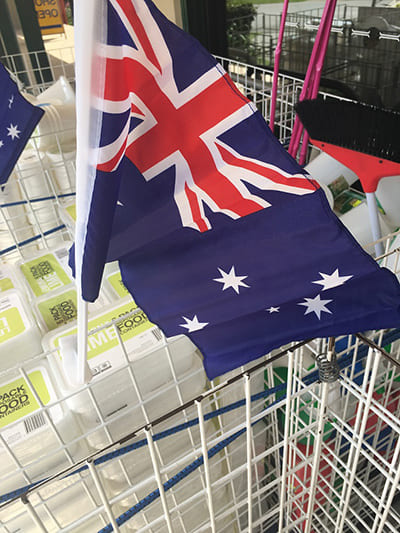 There are flag-themed tank tops (in Australia, tank tops are called singlets) and hats. There are also blue, green, and gold curly-hair wigs that you may have seen spectators wearing at Olympic games or tennis and soccer matches.(Gold and green are the colors of Australia.)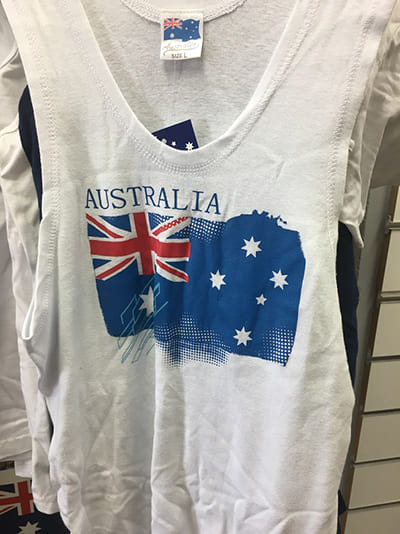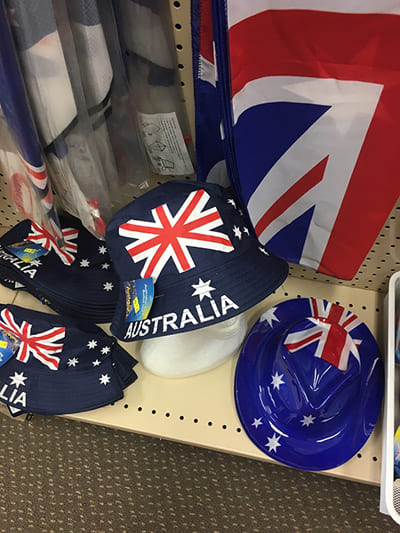 There are also these kinds of sunglasses that are difficult to see out of…the Union Jack blocks your view (ha ha).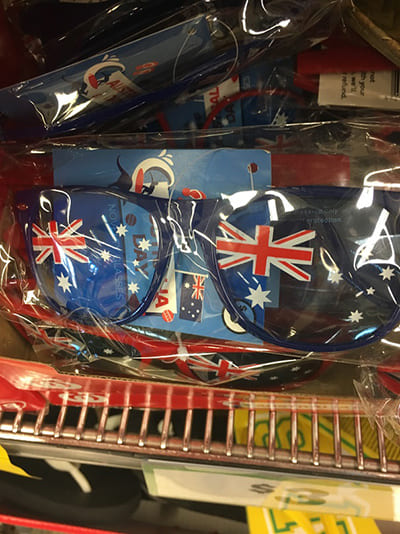 Other goods include balloons and stickers. On the bottom of the picture you can see a pile of holders, called stubby holders, for bottled and canned beer that are made out of wetsuit material.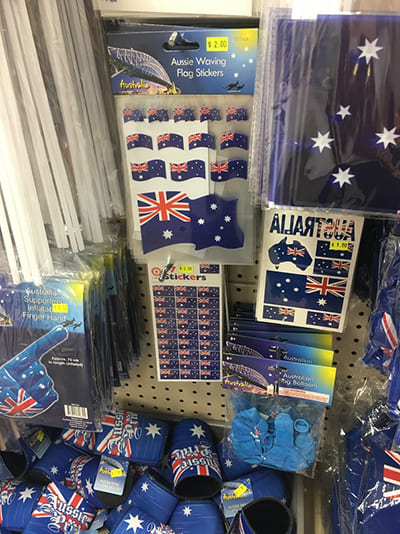 These are flag-themed aluminum trays and paper plates for barbecuing.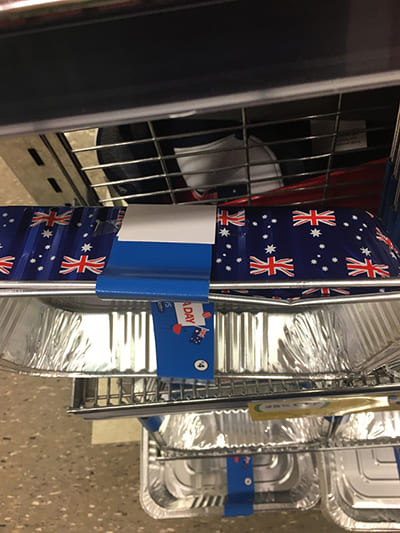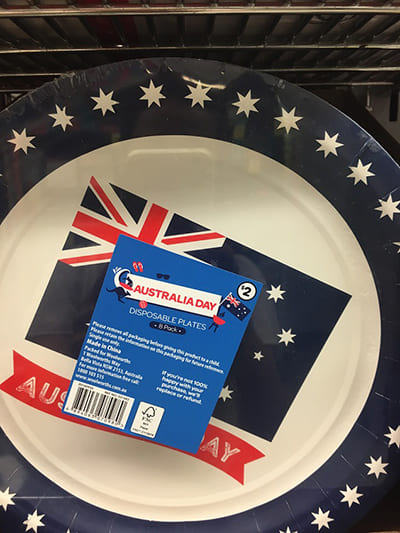 There are even flag-themed artificial nails.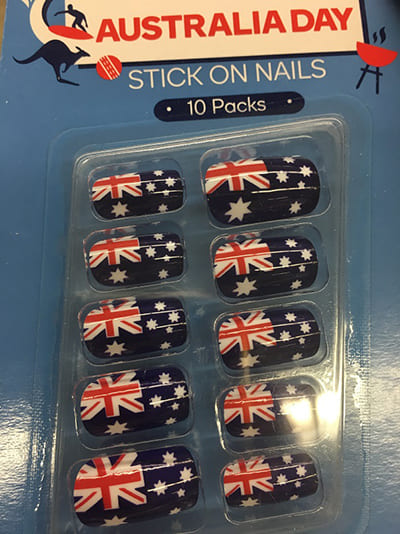 The amount of goods featuring flags doesn't end there. There are beach sandals, bikinis, rugby balls, beach parasols, and much more. Australians, who love all the trappings for a party, have a ball celebrating Australia day with flag-themed goods every year.