Australia's been going through a café boom in the last several years, and they have suddenly popped up everywhere. Here on the Gold Coast as well, people line up early at the most popular ones, and fancy new cafés immediately get everyone talking. Australians tend to be morning people, and lots of people are up and about early—so most of the cafés open around six in the morning and are closed by two or three in the afternoon. Until about ten years ago, people didn't really care too much about the quality of their coffee, and I'm thinking that the recent café boom has a lot to do with the fact that more people like coffee these days, and that the taste of coffee itself has improved since then. It's to the point where even espresso martinis have gotten wildly popular. Even the people I know who come here from Japan often remark on how good the coffee is in Australia. Some of them buy beans to take back with them as souvenirs. Certainly the coffee beans themselves are delicious, but coffee is something whose flavor can change entirely depending on who prepares it—to the point that people say that it's the skill of the barista that makes or breaks it. Which would suggest that Australia's baristas are highly trained as well. The cafés are also offering all kinds of different drinks to meet the diverse demand—you can choose regular milk or soymilk, decaffeinated coffee, or even a "babycino" which is a cup of frothed milk (basically a cappuccino without the coffee) intended for children. When it comes to the food, it tends to be healthy and handmade, owing in part to the recent health craze. One of the hottest items these days is the acai bowl, which is cereal and yogurt topped with acai and other fruit. There are also a lot of Australians who are allergic to the gluten contained in wheat, so far more cafés carry gluten-free menu items here than they do in Japan. Cafés serving smoothies made with fresh fruit and vegetables or dishes made with organic ingredients are also on the rise.Of course, the classic breakfast items you'd expected to find on an Australian menu are still going strong—things like eggs benedict (poached eggs on bread or English muffins topped with hollandaise sauce, which has a thick, mayo-like consistency) or hearty breakfasts that come with bacon, eggs, sausage, grilled tomatoes or mushrooms, baked beans (beans stewed in a tomato-based sauce), and toast—and then there are the lunch menus, which typically have things like burgers and BLTs (hot sandwiches made with bacon, lettuce, and tomato).Not too long ago, if you wanted to eat out for lunch, you had to either go to a burger chain, pizza place, or a fish and chips restaurant (fish and chips is a popular dish, consisting of fried fish served with potato fries). But thanks to the current healthy eating trend, you can now get home-cooked dishes at cafés—so I've pretty much stopped going to fast food places altogether.The problem is the cost. There's a popular café in my neighborhood that's famous for its delicious homemade bread. I hadn't been in a while, but when I went recently there was still a line at the register to order. I guess it's still popular even though it's been open for a few years now. Just a coffee and a bacon bagel topped with egg costs 30 or 35 dollars (about 2,50–2,940 yen) for one person—and it comes on paper plates! That's a bit pricier than a typical "morning set" you'd get in Japan. Even in Australia, which has the highest minimum wage in the world, that's a bit expensive. It seemed like prices had gone up since I was last in, but people were still lining up to eat there—so I guess the café craze won't be slowing down any time soon. This particular café is expensive for the amount of food that you get, but the classic breakfast favorite I mentioned earlier—eggs benedict—goes for an average of about 16–20 dollars (1,344–1,680 yen) at Gold Coast cafés. At that price, it's probably worth trying with a delicious cup of coffee. You do want to make sure that you get some advice from the locals before you head out to a café for a meal, since even then the prices aren't exactly cheap, and the quality can still be hit-or-miss.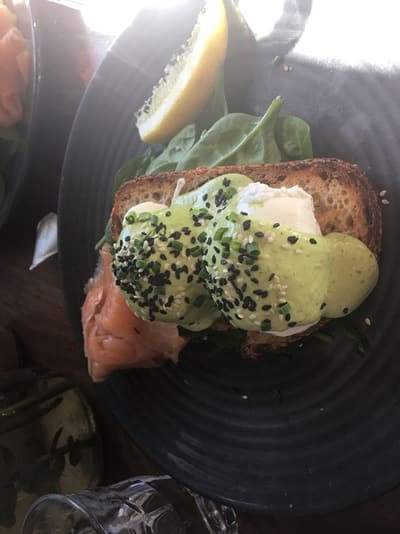 It's a little hard to see, but this is a creative version of eggs benedict that's a popular breakfast option at the busy BSKT Café. They mix avocado into the hollandaise to create a green sauce, and put smoked salmon on the toast instead of bacon. You can also have them make it with gluten-free bread.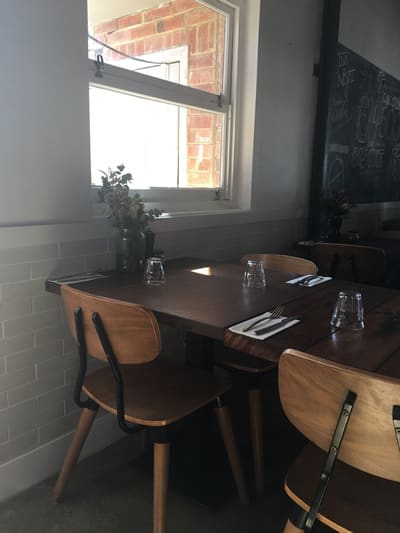 The interior of the popular BSKT Café on the Gold Coast is also simple, yet chic. It's in the perfect place right along the beach, so there's both indoor and outdoor seating, and even a sandbox for kids to play in outside.