It's about 850 km from the Gold Coast to Sydney, which is 1-hour and 20-minutes by air, or 9 and a half hours by car. Going further south to Melbourne is 1,700 km, or 18 hours by car, which is an astounding distance, but lots of people in Australia like going on long road trips in their cars, even if takes a lot of time. You don't need to pay tolls the whole way, lots of people have dogs and take them with them, plus you can stop overnight along the way because there are plenty of places along the coast to camp or stay, so, if you have the time, a road trip is a way of enjoying travel that's a bit different to traveling by air.
For the first time in 18-years, I recently drove from the Gold Coast to Sydney and then further south to Wollongong on a road trip of about 900 km. Part of the reason for the trip was to do some surfing, so I put my surfboard on the van and went south looking for good places to surf along the way, stopping and surfing at places that looked good. As you do in Australia, I stayed in caravan parks, which have cabins, permanently parked caravans, as well as spaces for pitching tents, and are cheaper than hotels, so the trip didn't cost a lot. This time I didn't take a tent but instead put a mattress in the van for sleeping. As well as the mattress I loaded the van with a camping table, chairs, gas stove, cooler, camping crockery, and so on, so I was worried that there might be nowhere to sleep, but it was surprisingly comfortable inside. I only stayed in a hotel for 1 night, in Sydney.
Driving south along the coastal highway is extremely simple: you just take the Pacific Highway and head south. Like Japan, you drive on the left-hand side of the road in Australia, so almost all the cars are right-hand drive. The lanes on the Pacific Highway are wide, so it's easy driving. It can be dangerous driving at night because kangaroos, wallabies, and other wild animals come out onto the road, so I only drove in the daytime. I saw quite a few kangaroos and wallabies hit by vehicles even in the daytime. There are no road tolls except on the motorways in Sydney. There are also big gas stations with fast food restaurants, shops, and rest areas. Some gas stations even have showers for the long-haul truck drivers. The speed limit is mostly either 100 or 110 km/h and there are speed cameras like in Japan. They put up "Speed Camera Ahead" signs, which is considerate. There are no stop lights because it's a highway, so, there are overtaking lanes along the way.
On this trip I didn't want to plan where to stay overnight but just turned up at the caravan park on the day or phoned to check for a vacancy. Some caravan parks have few vacancies and add a high-season surcharge to their prices during school vacation, Christmas, New Year, and other holidays because lots of families stay for long periods. Tents jam the free camping sites during the high season. Most of the people staying at caravan parks are there for a short period, but some big family groups stay over the summer holidays for a month or more, while others live there long-term. The people staying long-term have an address and receive mail there. Some of the cabins and permanently parked caravans have quite a nice lived-in feel, with small gardens and plants outside. There are all sorts of caravan parks across Australia from large ones with space for 50 tents as well as a pool, park, and other facilities, down to the small and cozy ones, and overseas travelers are welcome.
Without fail, every caravan park is equipped with a proper barbecue and when checking in guests are given either a key or security code for the bathroom, showers, laundry, and other buildings, which only guests may use. Some caravan parks let you have a fire, but others do not allow camp fires.
Here are some photos of caravan park facilities.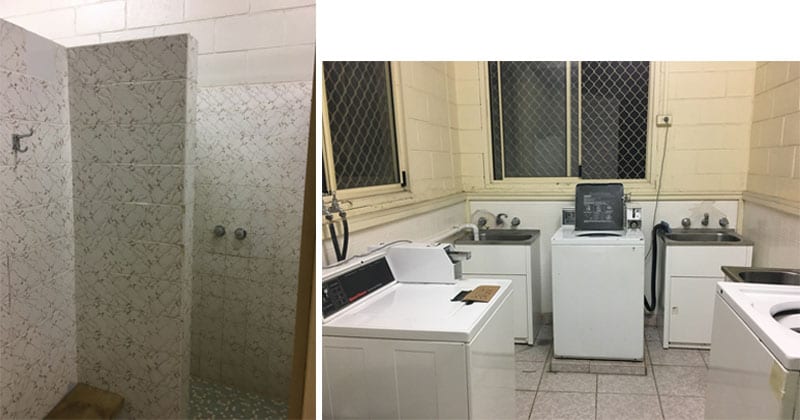 Photo1 (top left): Permanently parked caravans in a caravan park
Photo 2 (top right): Some caravan parks have a refrigerator in the barbecue area. They aren't locked and everyone looks after their own things in the shared space. An outdoor refrigerator is something you don't see in Japan.
Photo 3 (bottom left): The shower blocks are divided into male and female. Depending on the size of the caravan park, there are usually 5 to 8 shower cubicles, while the big ones might have 10 to 15. None of them have a bathtub or heating and cooling.
Photo 4 (bottom right): This shared laundry has washers and driers. Some caravan parks have a shared clothes-drying area. The people staying long-term do their washing here too, so they don't need to bring a huge pile of clothes and towels.
As I mentioned in a previous blog, Australians are generally early risers. People finish dinner early, by 5 or 6 pm, then go to bed by 9 or even as early as 8, to get up early in the morning, so when you walk around a caravan park at 9 in the night, the lights are out and everything's very quiet. Sometimes younger people might play music or make a bit of noise having fun, but the music stops by 10 at the latest, and it seems that you don't get noise all night long. That's why everyone can have a nice time staying at caravan parks in the high-season, even if they're jammed with tents. If you make eye contact in a caravan park, the usual thing is to smile or say hello. One of Australia's good points is that you can have a casual conversation with people you don't know about where you're from and so on. I met a lot of friendly Australians on this trip. When I stayed at the caravan park near one of my favorite beaches, I met a 7-year-old Australian girl. The moment we made eye contact she came over to me. She had a 4-week-old puppy with her and told me the puppy's name was Bella and that Bella was a Christmas present from Santa Claus. It seemed that her family was staying long-term, and that her family and relatives came to that caravan park every year in summer. If I were to stay there again at the same time next year, the year after, or even years later, I might see her and her grown-up dog. I have started looking forward to my next road trip very much.