It's been quite a while since I last wrote about an Australian TV program.
Currently on TV here is the Australian version of the Japanese sports entertainment program Sasuke, which has been showing on American TV since 2006 as American Ninja Warrior. Using that name, the first season of Australian Ninja Warrior was broadcast in 2017. The second season is on TV at the moment. It's on from 7:00 to 8:45 at night (varying slightly from day to day) on Australia's biggest TV network, the Nine Network (Channel 9). Australians are early risers, so this time slot is truly golden time. The fact that this program takes up one and half hours or more shows just how popular it has become.
I think you might already know, but this program is an action game on an obstacle course that appeals to everyone, young and old, male and female. You find yourself glued to the energetic live commentary and the cheering of the spectators at the venue.
Starting about 7 or 8 years ago there has been a boom in yoga and Pilates in Australia, the number of fitness gyms has been steadily growing, and there has been huge growth in the number of people doing boot camps, kick boxing, and you name it. People are training and keeping active. I have started seeing quite a lot more men and women with bulging muscles compared to a while ago. Whether male or female, the competitors in this program have done a lot of training and the strength of the women's muscles compares favorably to the men's. I find it interesting that it has more female competitors than the Japanese program.
Plus, much attention was particularly drawn by some competitors with a disability.
One was a Paralympic swimmer who won a gold medal at the 2008 Beijing Paralympics. He lost one of his feet when he was 5-years old.
Another competitor was a young guy from the navy who was severely injured in a bike accident, breaking his neck, arm, and 11 ribs. He avoided death but lost one of his legs. He took off his artificial leg to compete on one leg. Neither of them managed to finish the course, but they put in a huge effort and encouraged strength building. They said that by competing in this show, they wanted to send the message to children and young people in similar circumstances that nothing is impossible.
Something else that has caused a stir was a flood of complaints about the program. There are 20 competitors in each heat and if they complete the course they go through to the semi-finals, but the problem was that the obstacles were slightly different in each heat. There was a barrage of complaints from viewers saying "It's not fair!" because it looked as though some heats were more demanding than in the last show and there were obstacles extremely difficult to clear. This meant that a number of strong contenders who competed last year unfortunately wound up in heats with the more difficult obstacles and didn't complete the course.
It's a program that has caused quite a commotion, with its competitors doing their utmost to get to "Midoriyama."
"Midoriyama" is the steel mountain-shaped structure in the studio at Midoriyama, in Japan. It sounds very Australian when it is said in an Australian accent: "Maidoriyama".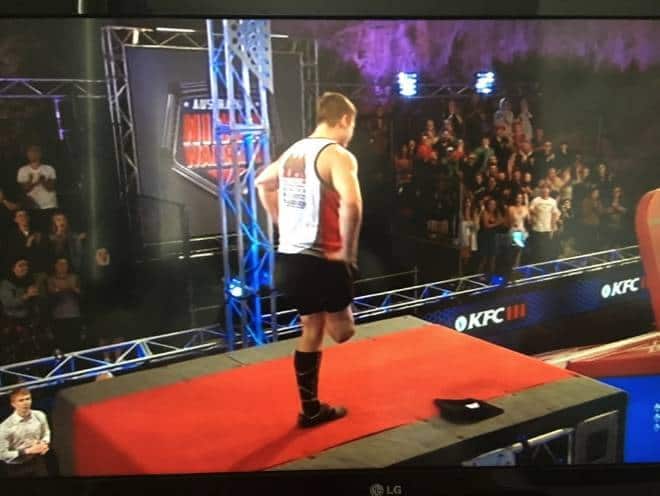 Taking on the challenge, without his artificial leg.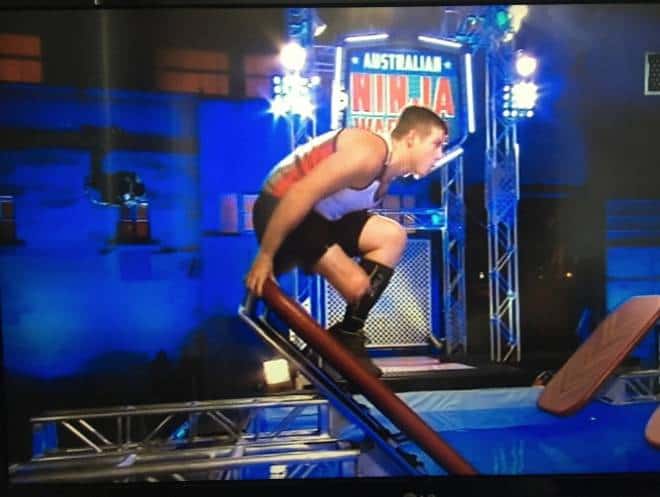 He didn't get to the end, but the spectators gave him some rousing applause.