Surrounded by ocean, Australia has the second largest fishing zone in the world after the US, but the country rankings for fish catch show it is surprisingly low, at 56th. Behind that is the importance placed on maintaining sustainable fish stocks, to avoid overfishing and to protect the marine environment.
The ranking of the five largest seafood catches in Australia is 1) salmon, 2) sardine, 3) shrimp, 4) oyster, and 5) tuna.
The salmon farmed in Tasmania is very well known, restaurants serve a wide range of dishes with salmon, salmon avocado rolls are popular in conveyor belt sushi restaurants, and you can always find sliced salmon and smoked salmon in supermarkets. The fleshy salmon you can buy in supermarkets is truly delicious grilled. I was surprised that sardines were in second rank. That's because small sardines are often used as bait for fishing and you virtually never see sardines in the seafood sections at supermarkets. Perhaps sardines are not very popular because people don't like eating them due to their fishy smell. By the way, while Japanese people think the smell of grilled fish or fresh seafood is a good smell and that it stimulates the appetite, Australians sometimes treat fishy smells as bad smells. They think that squid in particular is just beyond the pale and they cannot understand why such a smelly thing could be considered delicious. I think that is why fish with less of a fishy smell, like white-fleshed fish or salmon, even grilled, are more popular. Third-ranked shrimps are popular in Australia and people don't hesitate to eat the large, tender, fresh, and tasty ones. Supermarkets stock precooked and raw shrimps. Even raw shrimps must be cooked, unless they are labelled "Sashimi Grade." Shrimps are often on dining tables at Christmas and Easter. For Aussies who don't like fishy smells, oysters seem to a different matter. I think the smell of the sea is much stronger in raw oysters and they have a very particular kind of flavor, but oysters are popular and eating them raw with a squeeze of lemon is mainstream. The sight of people enjoying raw oysters with some chilled champagne or white wine in a restaurant is not uncommon. It's my favorite combination too. Among the people who don't like oysters raw, many like Oysters Kilpatrick (baked oysters with finely diced bacon and barbecue sauce) or Oyster Mornay (baked with creamy Bechamel sauce and cheese). You might wonder whether barbecue sauce or creamy Bechamel sauce really go with oysters, but I think it is like eating Japanese kakifurai (deep-fried crumbed oysters) with Worcestershire or tartar sauce. Oysters that aren't at the peak of freshness taste better cooked this way. I was also surprised to find it is not well known that they catch delicious tuna in Australia. A wide variety of tuna are available at the markets including bluefin, yellowfin, and albacore. The tuna is fresh, so I eat it as sashimi or I grill it, but even though such fresh and delicious tuna is available, it's a pity that I almost never see sashimi-grade tuna at the seafood section of regular supermarkets. Unless I go to a fish shop that specializes in sashimi, it's not easy to get. You can eat good, fresh sashimi if you go to a Japanese restaurant or a sushi restaurant. Salmon and tuna sashimi are now appearing in Poke Bowls, which became popular a little while ago. A poke is a Hawaiian dish, like a Hawaiian-style kaisendon (Japanese "seafood bowl"), with sashimi seasoned with soy sauce and oil, avocado, onion, edamame, seaweed, etc. on a bed of rice in a bowl. Salmon and avocado rolls are popular at conveyor belt sushi restaurants, lots of people like mayonnaise, and they go down well because they're healthy, so the poke bowl might have taken a firm grip on the hearts of Australians, but in any case, poke bowls are very popular and poke restaurants have been springing up here and there over the last five years. The recipe is simple, so if more people start making them at home, if demand for sashimi increases and there comes a time when I can buy it from a shop that's closer, from my point of view as a fan of sashimi, that would be great.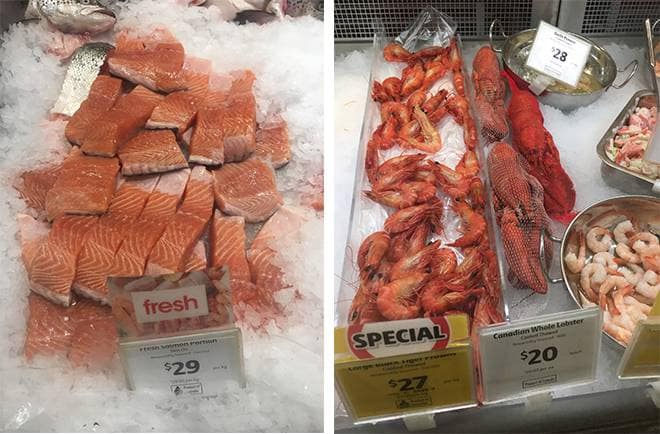 Photo at left: Sliced salmon at a supermarket
Photo at right: Shrimps at a supermarket. By the way, next to them are Canadian lobsters.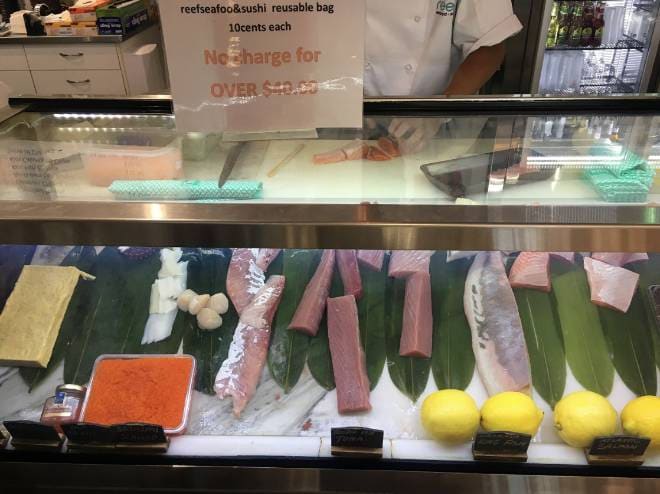 A fish shop that sells sashimi. They make the selection if you tell them your budget and how many slices you need.