In Australia, you often see people with a beer in one hand at a barbeque, having a beer or two with work mates at a pub in their work clothes before going home (by the way, in Japan you eat snacks or some edamame [green soybeans] with your drink, but in Australia plenty of people just drink their beers without eating anything), or carrying a carton (a case of 24 cans or bottles of beer) on their shoulder. Craft beers have recently become popular and you can buy many different types of beer, like fruity flavored beers popular with women, as well as locally brewed beers. While beer has an indispensable presence here in Australia, lately non-alcoholic beers have become available as well. But will beer-loving Aussies ever take to non-alcoholic beer?
There was a TV program where they interviewed people on the street asking them, "Do you think you'd like to try non-alcoholic beer?" and almost everyone flatly said, "Beer that doesn't have alcohol in it just isn't beer! I wouldn't want to try it!" But I clearly remember how, when they asked one of those people who gave that reply to actually try non-alcoholic beer, they seemed to be a bit surprised when they tried it, saying "Hmm, it's better than I expected."
In Australia, beer with 4.5 to 6% alcohol content is called "full-strength", then below that there's "mid-strength" with 2.8 to 3.5% alcohol content. You can get mid-strength beer at most restaurants and pubs, but at the moment, beer with lower content than that is not available at pubs or restaurants, apart from liquor stores.
If you go to Australia's largest liquor store chain, Dan Murphy, you can get imported non-alcoholic beers, and in August 2018, one of Australia's largest beer manufacturers, Carlton, started manufacturing and selling the first domestic non-alcoholic beer. The beer is called Carlton Zero, and I was surprised to find that the price is not much different to that of ordinary alcoholic beer. But it seems that Carlton is currently the only Australian brand selling 0% alcoholic beer. Although it's not 0%, there's Coopers Ultra Light beer with 0.5% alcohol content, but actually most low alcohol beers on the market are still the imported products.
When I asked around whether anyone had tried non-alcoholic beer in Australia, the Aussies said, "Is there such a thing?" and the Japanese people living here said, "Do they even sell it here?" I, too, have actually tried it and found that it was better than I expected (LOL). It didn't lack flavor and it wasn't watery, so for that reason I thought it was far better than non-alcoholic wine. My favorite is the 0.5% Coopers Ultra Light. Perhaps it's because the usual beers that this company makes really have that strong, beer-like bitterness and depth of flavor, and Ultra Light also has some of that flavor, that I found it so satisfying. That said, real beer is the best tasting, isn't it?
Australia is a land of tasty beers, so I guess the various brewers will probably put out more non-alcoholic beers as time goes by.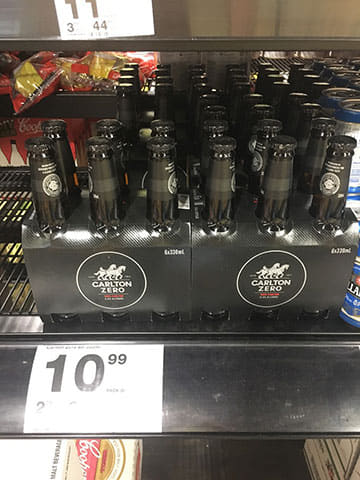 Australian brand Carlton Zero (Carlton), $10.99 for a 6-pack (about 915 Japanese yen).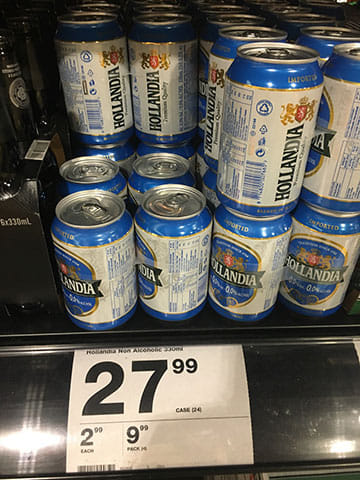 Dutch brand Hollandia 0% beer, $27.99 for 24 cans (about 2,325 Japanese yen).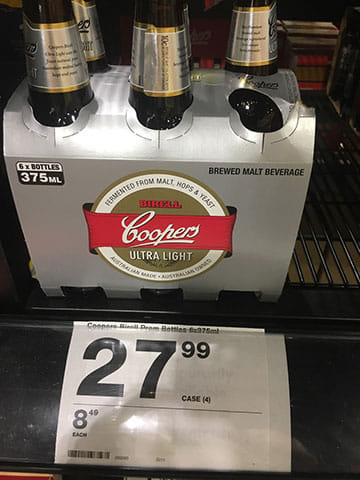 My favorite, Coopers Ultra Light. Same price as Hollandia above.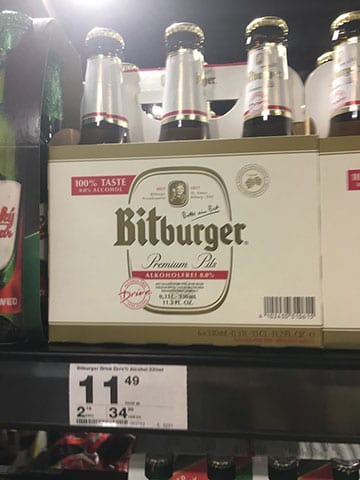 There were several brands from Germany, the home of beer. One of them was Bitburger 0%. At $11.49 for 6 bottles, it's a little expensive.