If you drive for about 50-minutes inland from the Gold Coast you'll find Springbrook National Park, which is listed as a World Heritage site. The typical image of the Gold Coast is sea and beautiful beaches, but the feeling is completely different when you head inland. Although it's called a "park", its total area is about 61.56 km2 and is divided into three sections. Each section has a variety of walking tracks and sightseeing spots. Especially the Natural Bridge section, which is home to a bridge created by weathering and is renowned for glow worms (so called because these worms live in the earth and give off a fantastic light, like fireflies), is one of the most popular sightseeing spots on the Gold Coast. There are many waterfalls in the Springbrook Plateau, the largest section in Springbrook National Park, and the walking tracks here are popular leisure spots, not only for sightseers but also locals as well as visitors from other parts of Australia. Many of the visitors come here for a drive or tour on a bike not to walk on the tracks but to see the many lookouts that give sweeping views from the Gold Coast to Byron Bay, superb views amid beautiful mountain surroundings, and views of large waterfalls. Occurring in the national park are large trees between 2,000 and 3,000 years old, as well as ferns and ancient plants said to have been occurring here for hundreds of millions of years. You will also find huge boulders here, so it feels like you're walking in jungle in the era of the dinosaurs. I usually walk a shorter track of five to six kilometers, but this time I took on the challenge of a long 17-kilometer track for the first time. The information sign said it takes about six hours, so I thought it was a bit long, but I tried it out since not many people walk the longer tracks and I thought it would be nice to take a leisurely stroll along a quiet path through the mountains. There are streams and waterfalls along the way, so rather than focusing just on walking the track, I stopped here and there. My favorite of all those spots is where the track takes you behind a waterfall and the fine spray of the waterfall comes down over you giving you a nice mist shower plus a dose of negative ions. This walking track starts with a descent and then once you get to the bottom, you come back up again. But it's actually not an up and down track, it slopes gently and is relatively easy to walk, as long as you take care on the slippery sections near the small brooks and waterfalls along the way where the ground is wet. You can walk in regular sneakers without any problem, and some people were even walking in thongs. I'm not used to hiking long distances, so by about halfway I had had enough, or perhaps I should say I was tired, of course, but I managed to finish the walk in a little under four hours. I said hello with a smile to everyone who came past, and rather than just walking in silence, I walked at an easy pace looking at the surrounding scenery and taking photos along the way, getting a little wet at the waterfalls, strolling while taking a short break and eating the rice balls I took with me, and I could get back to the starting point in less than six hours.
I think you might be aware of the huge wildfires last year. In the Springbrook area the wildfires destroyed lot of precious plants and wild animals, causing enormous damage to houses, and so on. Even large trees that had been growing for thousands of years turned to ash in the blink of an eye. I hope that through this disaster, we think about how to protect the precious natural environment and wild animals that have survived, and that as many of us as possible can translate that into our own actions, without treating it as someone else's business.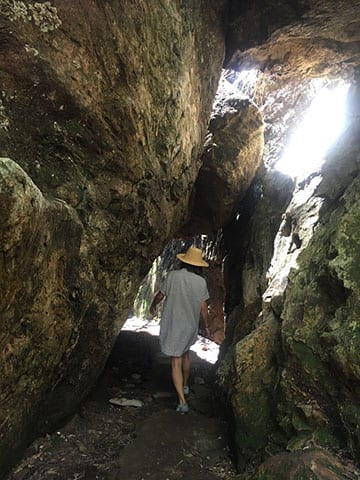 This naturally formed space between huge boulders has created a track you can pass through.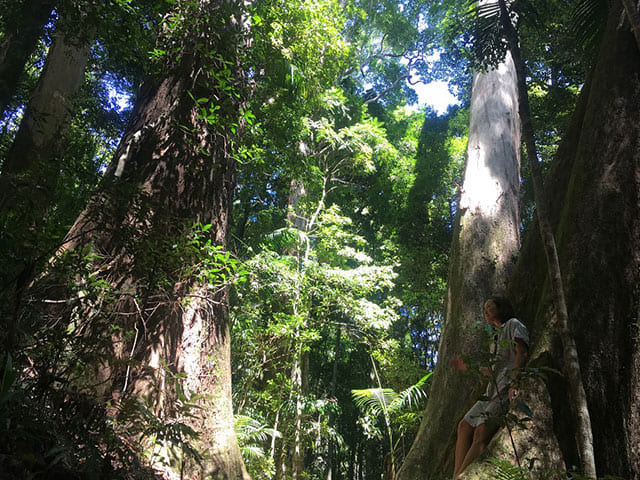 Large trees, some thousands of years old.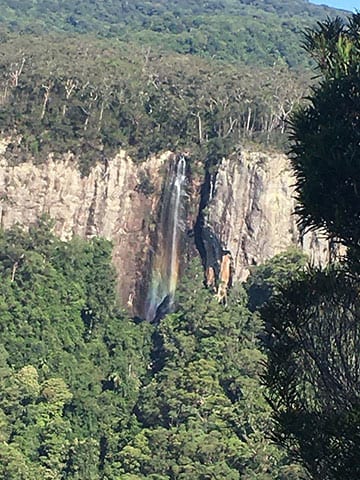 I caught a view of this beautiful rainbow in a waterfall on the day I was there.
It's rare for rainbows to stand out so clearly.