In Australia, you can't use your ordinary health insurance for dental care, so you have to pay the full amount yourself. It costs about $150 to $200 (about 12,900 to 17,200 yen) to get one cavity filled. If the inflammation has gone to the nerves of the tooth, treatment could cost up to around 300,000 to 400,000 yen. It is so much cheaper to get your teeth treated in Thailand or Indonesia, even if you include the cost of the plane ticket and the hotel, that some people go overseas for dental treatment. Once when I traveled to Bangkok, I had an appointment with a dentist in Bangkok, but most of the patients who came there were from Australia. Because treatment costs so much, they do have voluntary insurance with fixed-term payments that covers dental bills, but the insurance premiums are also expensive. About 10 years ago, I went to the dentist to have my wisdom tooth pulled out, but when they took X-rays, the tooth wasn't straight, the root was bent like a hook, so I couldn't get my usual dentist to pull it out and had to go to a specialist dentist. The specialist gave me a local anesthetic and crushed the wisdom tooth into small pieces before removing them, and I think it cost about $500. That was over 10 years ago, so that sort of treatment might cost more now. Getting my wisdom tooth taken out was unavoidable, but I am trying to be careful about brushing and flossing my teeth every day and not getting any cavities in the first place, so that I can avoid going to the dentist. The tap water in the Gold Coast area, where I live, contains fluoride, so they say you're less likely to get cavities. But when I go to the organic shop, I see they have fluoride-free toothpaste, so I'm not sure if fluoride is good or bad for you, but when I recently went for a dental check-up for the first time in five years, I didn't have a single cavity.
I remember that when I first arrived in Australia, I often saw babies wearing necklaces made of these brown stones that looked like rosary beads, which puzzled me and I thought, "They're wearing pretty refined, elegant looking stuff. I wonder if that's the latest fashion here?" But there was a particular reason for them. The brown stone-like beads are made of amber, and the oil contained in this natural resin has a sedative effect, which seems to effectively relieve irritating itchiness and pain in babies who have begun teething. A baby wearing a necklace with beads in such a refined color is indescribably cute.
Another difference from Japan that I noticed when I came to Australia is that Australians (and I think Westerners in general, as well as Australians) think that rows of nice looking teeth are a part of looking beautiful, so quite a lot of them have their teeth straightened. Nowadays, there are orthodontic braces such as Invisalign, which are transparent and hardly stand out at all, but even before they became widespread, teeth straightening was more common than in Japan, even among adults as well as children. People don't think that having orthodontic braces on your teeth looks bad, on the contrary, it makes a good impression because it shows you are looking after your teeth properly, rather than not paying any attention to your teeth and not getting them straightened. Getting braces is not at all cheap, but a lot of people want to get the alignment of their teeth fixed, even if it means making an investment in them.
Whether it's cavity treatments or orthodontics, teeth cost money.
Our teeth are something we should take care of every day for the rest of our lives.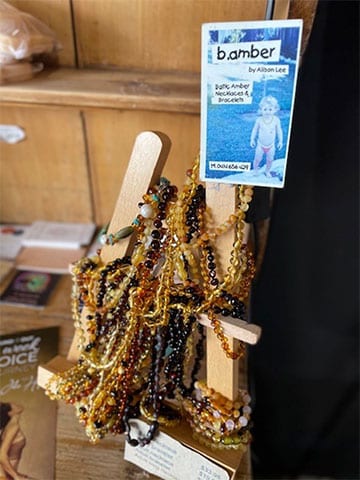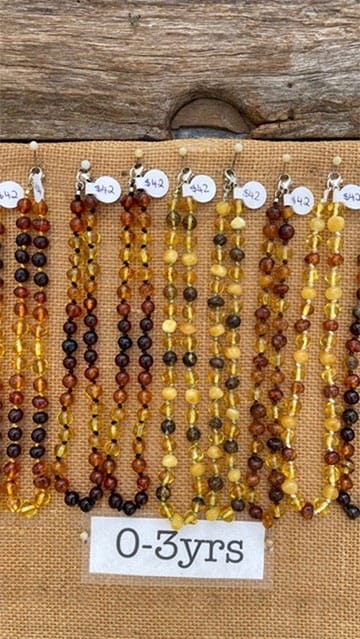 Amber necklaces for babies starting to teeth are sold in organic shops and shops that sell baby goods.