Seeing as international travel isn't possible at the moment, the focus in Australia is on domestic travel, and the airlines Jetstar and Qantas are putting their effort into sales promotions with sales on domestic flights. On TV, the travel ads have switched to promoting tourist destinations in Australia, and the travel programs have narrowed in on domestic tourist destinations. They are showcasing all sorts of Australian sightseeing spots, restaurants, hotels, and so on, but instead of the usual places like Ayers Rock and the Great Barrier Reef, they are featuring some of the more unusual spots that aren't well known yet. Watching these programs is informative and makes you want to go to these destinations. Recently I saw a program on TV that featured an oyster bar called The Oyster Shed, which is directly managed by the oyster farmers, and even though it opened only last year, it has already become a popular spot attracting a lot of attention. At Tweed Heads, a town on the border between Queensland and New South Wales, there is a large river called the Tweed River, where oysters are farmed. The oysters farmed there are a type called the Sydney rock oyster, which is well known across Australia. It is a variety of small, slightly yellowish oysters with a thick, creamy flavor and a brown-tinged shell. Apart from oysters, you can also get shrimp from the Tweed River, as well as mud crabs, which are a kind of crab you find in rivers. The Oyster Shed is located on a bank of the Tweed River, so from your table you get a view of the river and you can also see the oyster farm. The main items on the menu are oysters, but you can also get broiled salmon, broiled shrimp, fish tacos, salads, and even desserts.
I went there with four other people, so we had the Oyster Stack (see photos), a 3-tiered dish irresistible to oyster lovers featuring a whole lot of oysters.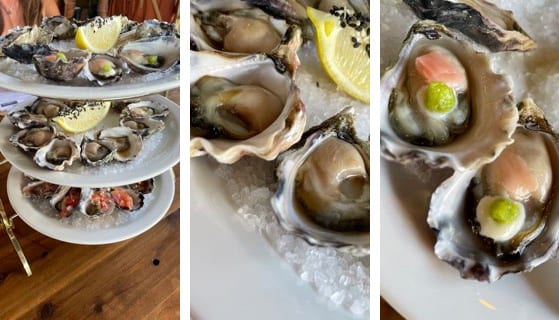 The Oyster Stack is three dozen differently flavored oysters, from natural oysters with no topping or seasoning, to ones with tomato salsa, wasabi mayonnaise and ginger topping, vinegar, chili sauce, and so on. The seasonings and toppings were subtle, so as not to smother the taste of the oysters themselves. Being an oyster bar directly managed by the oyster farmers, the oysters are really fresh and delicious. The Sydney rock oyster has a characteristic creaminess that lingers in your mouth, but ones that are a little old tend to have a slight smell that mixes in with the creaminess, which some people don't like, but the oysters at The Oyster Shed were fresh and had no smell at all.
I had a cocktail while watching the Tweed River under sunset colors. Even though it was only about a 40-minute drive from my house, I felt as though I had visited somewhere far away and different. There are lots of restaurants with ocean views near my home but the views of the river at The Oyster Shed were a new experience for me.
More and more shops are struggling amid this pandemic, but everyone is trying hard to improve things in Australia. I hope things are safe and comfortable for everyone and the economic situation recovers quickly.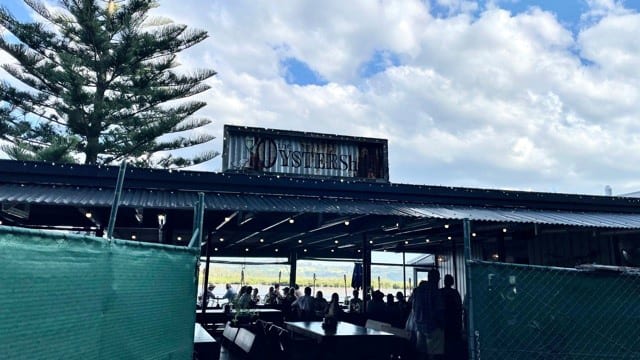 The Oyster Shed from the outside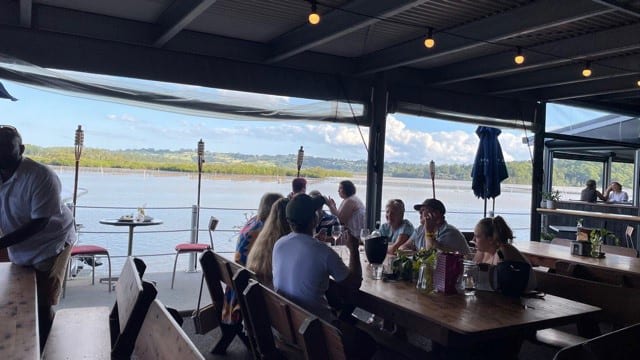 Inside The Oyster Shed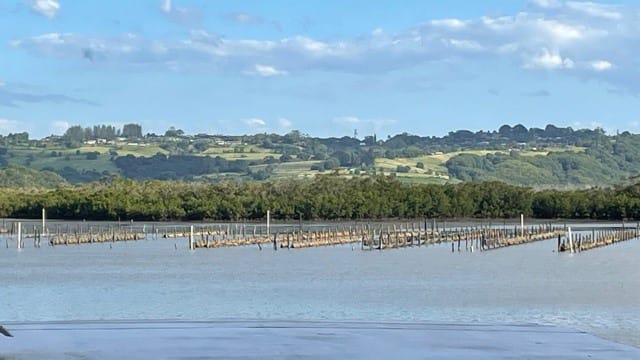 The oyster farm visible in the distance from inside The Oyster Shed